Illustrations – Allen Gladfelter
Written by Stefan Petrucha and illustrated by Allen Gladfelter, Kakieland Katastrophe is the first in a new series of graphic novels that introduce new stories in the Hotel Transylvania world we already know and love.
With character profiles at the beginning, you are reminded of the monsters and human you already know or introduced to them if you're new to Hotel Transylvania land. If you haven't already seen the movies, please remedy that immediately as you are seriously missing out!
In this story, Stephen Cling, horror author and owner of Kakieland, a new Transylvanian theme park, is our baddie. Wanting to expand his empire, Cling decides he wants a hotel and he's found the perfect one … Hotel Transylvania.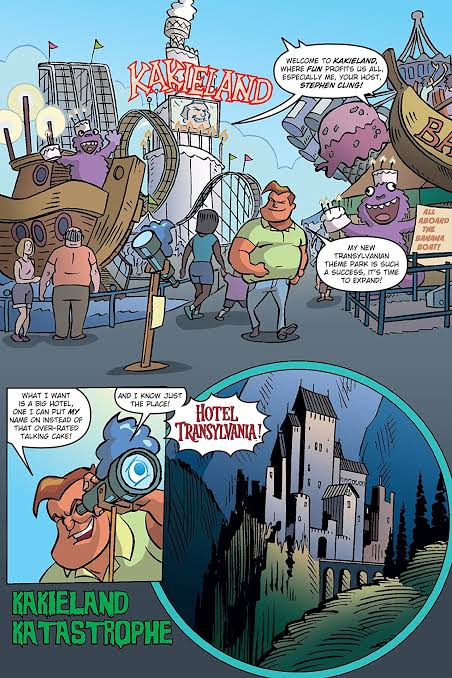 After tricking our helpful, loveable monsters into posing for some selfies that make them look scary and distributing them via the Internet to ruin the image of monsters everywhere, an angry mob arrives and turn up the heat on our monsters with flaming torches, pitchforks and protest signs. My personal favourite which is an absolute classic says 'Sorry, I never know what to say on protest signs'.
After all of the adults do their bit to attempt to fix the problem and fail, it's up to the kids (Dennis and Winnie) to save the day, the Hotel and the reputation of monsters everywhere!
This is a really fun graphic novel. The characters stay true to the way they were depicted in the movies, the storyline is interesting and the artwork is excellent. There's great attention to detail in the illustrations and enough humour and character traits from the movies shining through so it's easy to hear the characters' voices in your head as you read. It can be difficult to translate characters from movies onto the page but this is an impressive introduction and I'm interested to see where the story takes us in the next volume.
Colourists Laurie E. Smith and Matt Herms and letterer Wilson Ramos Jr. also deserve kudos for jobs well done in making the overall look come together in a way that stays true to the feel of the movies yet also creatively stands apart.
Thank you very much to NetGalley and Papercutz for the opportunity to read this graphic novel.
Once Upon a Blurb
The debut Hotel Transylvania graphic novel based on the movies! Horror author Stephen Cling visits Hotel Transylvania to try and prove monsters are still dangerous. Dracula, his daughter and her family, and the Drac pack are anything but! However, when a human child goes missing, it is up to Drac, Mavis, and the rest of the Hotel crew to locate the child before their monstrous reputation gets them chased out of town.