Illustrations – Roger Robinson
Colours – Juan Fernández
The blurb for this graphic novel sounded like a mash up of lots of movies I've enjoyed and while it's not an especially original concept, it sounded like it would be fun. We have astronauts on a suicide mission to save Earth from an asteroid (Hi, Armageddon, etc). Somehow while saving the world one of the astronauts learns a new trick. David now has telekinesis (Hello, Carrie and Matilda).
For some reason David can't remember much of anything at all (Hiya, Dory). There's a villain (Hey, every action film ever!) and a wife that's fighting to get her husband back (take your pick!). Astrid, David's wife, is a real badass and I would've liked to have seen her in action some more because she had potential to wreak havoc.
Unfortunately there was so much jumping around that if I hadn't already read the blurb I would have been completely lost and even with that information I still couldn't really connect the dots with any consistency until around the halfway mark. There were so many time shifts, back and forth to different time periods both before and after the 'event'.
The main character has no idea who they are so they're no help to the reader but they do get flashbacks, oftentimes in the middle of a fight scene. There's a lot of action, with people fighting all over the place as David's powers continue to grow stronger for some reason.
Had there been smoother transitions and some more information early on to help readers get into the story and get to know the characters this could have been a winner. As it stands I really struggled to make it to the point where the story was starting to make sense and I never really connected to the characters.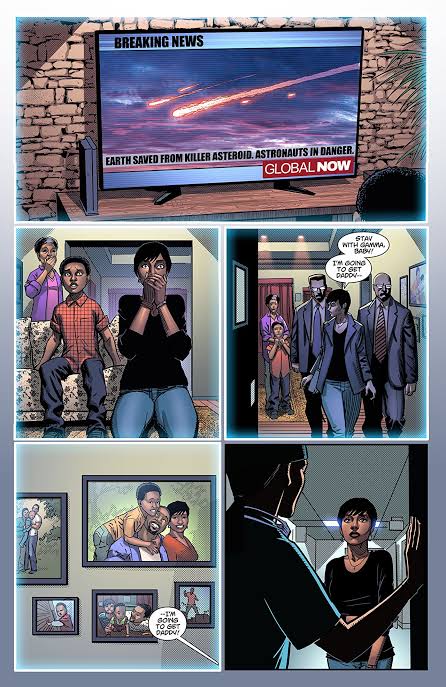 While the story will be continuing I won't be following along, which is a shame because the illustrations were really well done and the story itself had a lot of potential. There are some explanations given along the way but not enough to balance out the frustration I felt at the frenetic time shifts.
Thank you so much to NetGalley, Lion Forge and Diamond Book Distributors for the opportunity to read this graphic novel.
Once Upon a Blurb
Astronaut David Powell was one of the team of five astronauts who took on the suicide mission of destroying the Icarus2 asteroid before it could collide with Earth and annihilate all life on the planet. The team succeeded, but as a result of the explosion, David gained the ability of telekinesis, the means of moving matter with one's mind. David also lost his memories.
Now, back on Earth, David is travelling throughout the world, taking on different identities and jobs, helping people while his powers grow. Fighting to stay alive and out of the reach of the Foresight Corporation and its CEO, Lorena Payan. Hoping to one day remember his life, his name, and the mysterious woman and young boy in his memory flashes. His wife and son.
David's wife, Astrid Allen-Powell, has been receiving secret messages from an informant within Foresight, confirming David is alive and his movements. Astrid is now on a mission: to get her husband back. To put her family back together. Astrid Allen-Powell is much more than most people realise, and she will use every skill and weapon in her arsenal to get back the man she loves.