Illustrations – Benjamin Chaud
Why have I only just discovered the genius that is the partnership between author Davide Cali and illustrator Benjamin Chaud? This book takes you on a tour of one of the coolest schools ever! I could easily see kids graduating from this school and then moving on to finish their high school years at Hogwarts. That is the level of cool we're talking about here!
Henry's teacher asks him to give the new girl a tour of the school. Henry, fully decked out in his pinstriped suit with coordinating socks and tie, proceeds to show the new girl around his "there really isn't anything to see here" school.
Henry nonchalantly climbs the ladder to feed the class pet fish, a ginormous jellyfish. The pair wander past the school's music room, art room and math corner before taking a peek at the secret science experiment that's almost finished.
The shortcut to recess takes them through a twisty clear tube reminiscent of the one that ended Augustus Gloop's tour of Mr Wonka's factory. Henry's fellow classmates are playing in a tree that includes a very ho-hum roller coaster.
Between recess and lunch they drop in on some more classes, and after lunch they check out the school library and wonder what the teachers get up to in the teacher's lounge. After a few more stops the pair make it back to their classroom just in time to go home. Now that was good timing! There's even a surprise at the end of the book that I certainly didn't see coming and made me chuckle.
This kid's book is so imaginative. There's such a disconnect between the boredom of showing the new kid around school and the wild illustrations that show just why this school is so unbelievable. Unbelievably awesome, that is! The illustrations are detailed and funny.
While kids will love the illustrations and marvel at all of the incredible things they wish their school would have on offer, adults will probably even appreciate them ever more.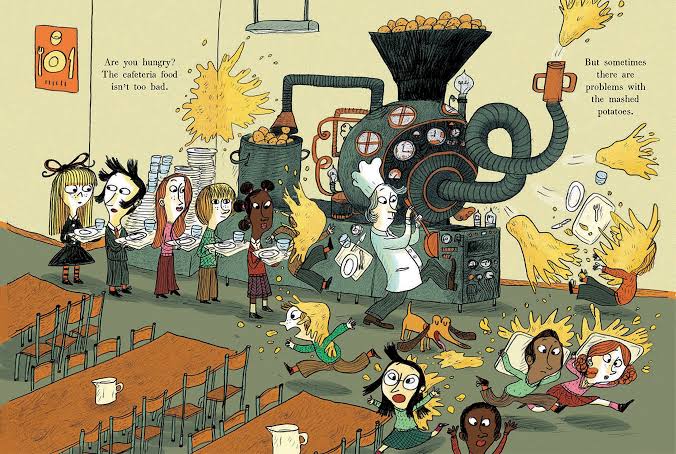 I was delighted to come across some fun allusions to Creature from the Black Lagoon, Smaug, Pippi Longstocking and The Phantom of the Opera. Once you've read the book I'd encourage you to carefully check each illustration as there are some scattered clues to the surprise ending for you to find.
I got to the end of this book and then immediately subscribed myself at the publisher's website, went to order everything my library has from this duo and told Mum she's going to love this book. I need to either recreate or move in to this school's library!
Once Upon a Blurb
Beware of … this school?! Henry is taking his new classmate on a whirlwind tour of their school. Mysterious inventions lurk, the cafeteria requires ninja skills, and some teachers may be monsters! Is this fantastical school to be believed? Or is there an even more outrageous surprise in store?
Celebrated international author-illustrator team Davide Cali and Benjamin Chaud – the duo behind Junior Library Guild selections I Didn't Do My Homework Because … and The Truth About My Unbelievable Summer … – are back with yet another rollicking tale about truth, lies, and … school!