I was bowled over by Brenna Thummler's illustrations in Anne of Green Gables: A Graphic Novel so when I heard she had written her own graphic novel I was all in. I simply adore Brenna's ability to capture an image and present it in a way that I want her to draw the entire world for me. Seriously, I can't get enough. Her use of colour is absolutely gorgeous and she's able to evoke the emotion of a scene through colour as well as the images. I enjoy finding Easter eggs so I loved that Anne of Green Gables is in view a couple of times in Marjorie's school library.
As soon as Sheets downloaded on my iPad I devoured it. That was months ago and I never got around to telling anyone how amazing it was… until now. This graphic novel is amazing!!! I've just read it for a second time and I'm still in love with the artwork. I felt there was something missing in the story that I couldn't put my finger on during my first read but I didn't feel that way during my reread.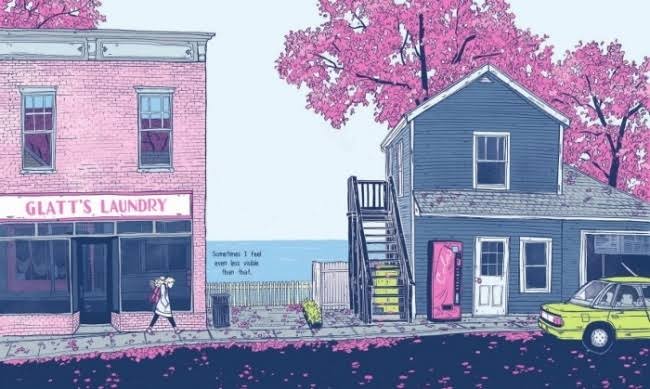 Marjorie's mother died last spring and since then her father has been essentially MIA, holed up in his bedroom most of the time. Marjorie (at 13!) has been left to singlehandedly run the family laundromat business, do the household chores, look after her father and younger brother, and attend school. Any combination of these would be a monumental ask and that's before you take into consideration that she's grieving her mother and feels completely alone. The family business is in danger of closing, with some help from Mr Saubertuck, who is the dastardly villain of the story.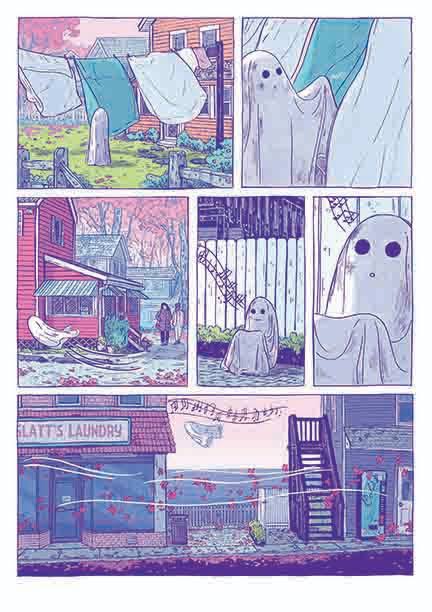 Wendell is also lonely. He died a year ago and doesn't fit in with the other ghosts. Wendell discovers the laundromat and accidentally makes life more difficult for Marjorie, but perhaps there's a way for these two lonely kids to help each other.
During my first read I had trouble getting past the fact that 13 year old Marjorie is effectively running the family business by herself because her father's grief has made him withdraw from his life. I couldn't believe that the customers could be so mean to a kid who shouldn't have been doing all of that work in the first place and that no one who was alive stepped up to help her or her family.
During my second read I focused more on the friendship between Marjorie and Wendell. It's such a sad story, dealing with the pain of grief and feeling all alone in the world. However it also touches on forgiveness and perseverance, and is ultimately hopeful.
I'm really keen to see what Brenna comes up with next. I don't care what the story is; I just want to see more of her beautiful illustrations.
Thank you very much to NetGalley, Lion Forge and Diamond Book Distributors for the opportunity to read this graphic novel.
Once Upon a Blurb
Marjorie Glatt feels like a ghost. A practical thirteen year old in charge of the family laundry business, her daily routine features unforgiving customers, unbearable P.E. classes, and the fastidious Mr. Saubertuck who is committed to destroying everything she's worked for.
Wendell is a ghost. A boy who lost his life much too young, his daily routine features ineffective death therapy, a sheet-dependent identity, and a dangerous need to seek purpose in the forbidden human world.
When their worlds collide, Marjorie is confronted by unexplainable disasters as Wendell transforms Glatt's Laundry into his midnight playground, appearing as a mere sheet during the day. While Wendell attempts to create a new afterlife for himself, he unknowingly sabotages the life that Marjorie is struggling to maintain.