I grew up with the Peanuts gang. I read the comics and knew all of the TV specials by heart. I loved It's the Great Pumpkin, Charlie Brown and watched A Charlie Brown Christmas every year. I have a Peanuts book with black and white comics that I read to death as a kid. While its pages are yellow with age, they're thankfully all intact. I know I'll never part with it.
One of the first stuffed toys I ever received was Snoopy and I have photos of me sitting holding it before I was a year old. I still have that Snoopy, although he kind of doesn't have a nose anymore. It wasn't me! 😇 Oh, who am I kidding? I'm sure it was me. It's not like I have any siblings to blame. I even completed a cross stitch as an adult of Lucy sitting at her psychiatry booth, which is as cute and funny as it sounds.
So, that was a long winded way of saying that it basically feels like the Peanuts gang grew up down the road from me, so reading I'm Not Your Sweet Babboo! felt like I was catching up with my childhood friends. I knew a lot of the stories already so they felt like the gang and I were reminiscing about the good ol' days. I was also excited to find some comic strips I'd never encountered before (I guess I wasn't home those days and they had adventures without me).
"If life were a camera, I'd have the lens cap on."

Charlie Brown
Charles M. Schulz created such a wonderful cast of characters. There are just so many smiles in this book. Peppermint Patty is excited that she doesn't have to go to school anymore because she's just graduated. Snoopy is her attorney when the public school wants evidence of her graduation. She has graduated – from dog obedience training. Peppermint Patty and Marcie learn how competitive golf can be when they become caddies at the Country Club. Marcie calls Peppermint Patty 'sir' all of the time, as usual.
Snoopy and Woodstock have some talks with 'World War II', the mean cat next door, who doesn't talk so much as bowl Snoopy over every chance it gets. Snoopy also meets the beagle of his dreams, plans his wedding and invites his brother Spike to be his best man.
Charlie Brown waits by the mailbox for Valentines, chats to the kite-eating tree and learns why you can't trust 3's. Sally welcomes the new school building.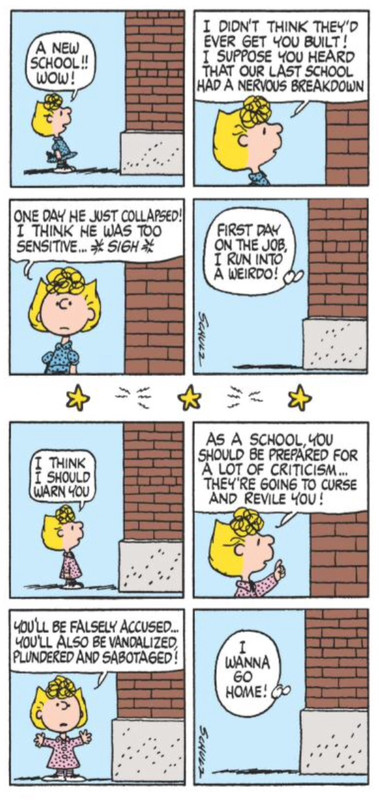 Schroeder plays the piano and Lucy fawns over him, and naturally, Linus and his blanket hang out. I would have liked Franklin and Pig-Pen to show up but I'm sure they'll make appearances in other collections.
"No, ma'am, I wasn't daydreaming … I was conceptualising!"

Peppermint Patty
I adored this book, particularly the comic strips that were new to me. Having mostly read black and white Peanuts comics I loved that this collection was in colour. Because these kids were a significant part of my childhood, nostalgia will always play a huge role in how I look at any of the characters but from my point of view Mr Schulz's characters have stood the test of time.
Thank you so much to NetGalley and Andrews McMeel Publishing for this wonderful trip down memory lane.
Once Upon a Blurb
Pick up a glass of milk, curl up with your security blanket, and enjoy the timeless brilliance of Peanuts in this new collection of comic strips!
Everyone's favorite classic characters are back: Peppermint Patty enrolls in a private school to end her academic troubles – only to discover she's just graduated from obedience school. Linus finds himself entangled in a love triangle (and stuck on top of a snow-covered roof). And Charlie Brown runs away from the law and becomes a vagrant baseball coach.
The Peanuts crew is lovable, popular, and charming, but please whatever you do, don't call Linus "My Sweet Babboo!"