🦄 Happy Unicorn Day! 🦄
The illustrations are everything in Today I'll Be a Unicorn. This gorgeous board book features Phoebe and Marigold Heavenly Nostrils from Dana Simpson's Phoebe and Her Unicorn graphic novels.
Phoebe dresses and acts like a unicorn throughout the board book accompanied by her unicorn, Marigold Heavenly Nostrils.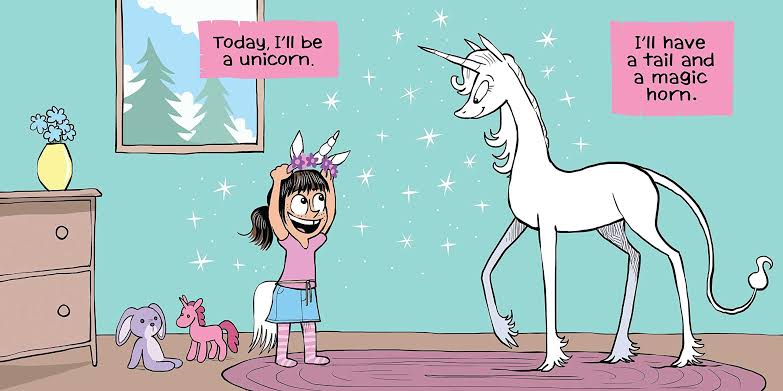 Phoebe is excited about dressing up with unicorn ears and a horn, which are both attached to a headband decorated with beautiful flowers. She loves trotting through meadows with her unicorn tail flowing behind her.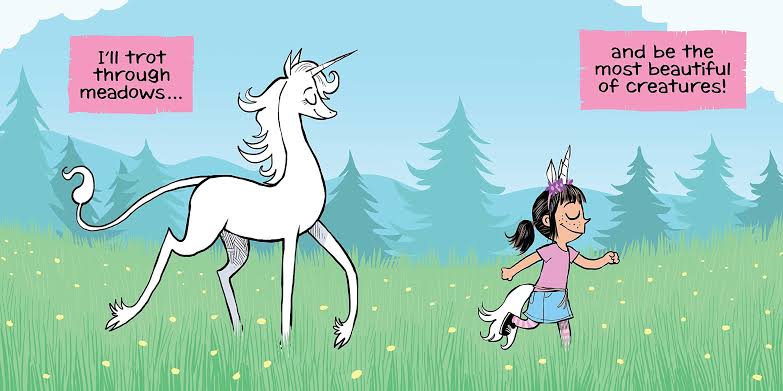 She enjoys all aspects of being a unicorn. Then she discovers that maybe being a young girl is sometimes better than being a unicorn. I'm inclined to agree with her reasoning!
Today I'll Be a Unicorn is light on words but shines with personality. Phoebe's expressions are captured so well, from excited to blissful, from dumbfounded to happy and content. I loved the choice of colours used, ranging from soft yet bright pastels to a vibrant rainbow.
I can imagine this becoming a favourite bedtime story. Thank you so much to NetGalley and Andrews McMeel Publishing for the opportunity to read this book.
Once Upon a Blurb
Who wouldn't want to be a unicorn?
In this charming, super-sparkly board book, the stars of Phoebe and Her Unicorn celebrate the magical and enchanting world of being a unicorn, along with reminding young readers that being yourself is pretty great, too.
Who wouldn't want to be a unicorn? You get to trot majestically through meadows, perch high up on rainbows, and wear tiaras made of starlight. Phoebe lists all the wonderful things she'll get to do and can hardly contain her excitement about having a tail and magic horn. That is, until she learns that unicorns like to eat hay instead of pizza. Maybe she'll be a unicorn tomorrow instead!