🦄 Happy Unicorn Day! 🦄
Despite its promising title, Unicorn Food is not a book of recipes to help you feed your unicorn a nutritionally balanced diet, nor does it contain recipes that include unicorns as an ingredient. It's okay! You don't need to retrieve your pitchfork! There's not a single unicorn listed in the ingredients of this book! 😜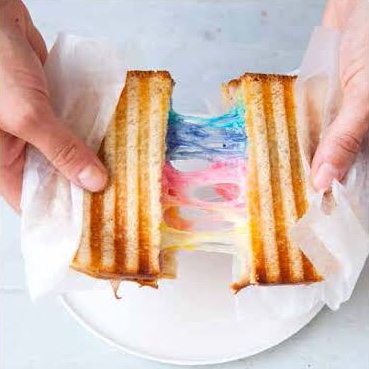 Instead you will get to marvel at some of the most beautiful food you've ever seen. Using natural food colourings like juices, spices or natural powdered food colourings that you can purchase from specialty cake decorating stores or our good friend, the Internet, you won't find preservatives in any of the sweet or savoury delights in this book.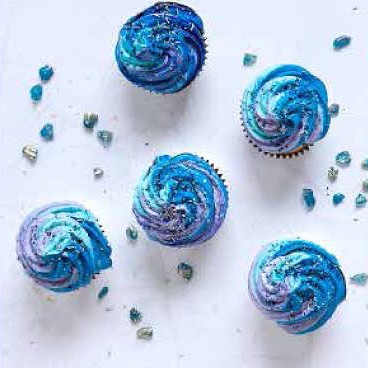 You'll find such yummies as unicorn poop (pretty little rainbow meringues), unicorn maki rolls, unicorn noodle bowls with the most extraordinary purple and blue noodles, crogue-unicorn (toasted cheese sandwiches with 4 colours in the cheese), and blueberry galaxy cupcakes.
I already thought donuts were out of this world but there's even a recipe for cosmic donuts, which include edible silver glitter and bright blue icing!
I'm fairly certain that I'll be indulging in swirly pastel unicorn cheesecake in the near future. I can also guarantee that I will never attempt the unicorn cake with a starring role on the cover of this book. I can only imagine the epic fail that would be the result of me attempting to replicate this one. However if someone would like to volunteer to make one for me I won't object.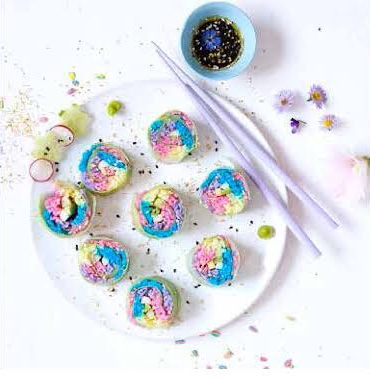 The photography in this book is sufficiently droolworthy and if you're my kind of chef it will show you the hilarious difference between what the food was supposed to look like and what your talent for disaster has actually whipped up. I expect the recipes in this book will wind up featuring at many parties in the near future.
Thank you very much to NetGalley and Quarto Publishing Group – Quarry for the opportunity to be one of the first to drool over this book.
Once Upon a Blurb
This is not a book on how to feed your pet unicorn a healthy diet. But unicorns have magically inspired each of the 32 all-natural recipes in this book, from the show-stopping Unicorn Cake and Cosmic Donuts to Rainbow Veggie Sandwiches and Celestial Swirl Soup.
Add technicolor sparkle to your sushi and fairytale magic to your mocktails. It's all deliciously natural – no nasty additives or preservatives – just beautiful food colorings made from berry juices and vegetables. All ingredients are straightforward and easily sourced! Astound and delight your family, friends, followers, and kids with these and more spectacular dishes:
Croque-Unicorn, a grilled sandwich of rainbow cheese
Veggie Noodle Bowl of colored noodles and a rainbow of star-shaped vegetables
Rainbow Pancakes topped with melted white chocolate and sprinkles
Unicorn Macarons sporting fondant horns
Unicorn Milkshakes with twisted marshmallow arches.
Brightly colored, not too serious, and equal parts whimsical and practical, Unicorn Food is shared experience. Create the most unbelievably Instagrammable dishes ever seen. Cook, post, and enjoy – the treats and the likes. Everyone will be drooling over your pastel masterpieces.