Illustrations – Hollie Mengert
Yes, another unicorn book! Whenever I discover another unicorn book be assured you will hear about it. 😃
Unicorn and horse may share a pen but they do not share a personality. Unicorn is a dancing, prancing, cheery unicorn who eats pink cupcakes for every meal. Horse is not. Horse has the funniest surly, snarky attitude and is secretly jealous of unicorn, with all of his friends and rainbow farts. Yes, this unicorn farts rainbows!!! 💨 🌈
All is normal, with unicorn happy and horse not. Then unicorn is kidnapped by a couple of thieves wearing convict stripes and Zorro masks. Uh oh! Will horse save the day or will he enjoy having the pen to himself?
The illustrations are sweet, colourful and quirky. There aren't a great deal of words in this book but the illustrations more than make up for it, bringing all of the emotions of the characters to life. Besides our chipper unicorn and cranky horse, we also meet some mice, squirrels, a bird, a fox and a turtle, who are all just gorgeous.
I'm not going to tell you that my favourite illustration is of the unicorn farting rainbows because that would be too obvious. Instead I'll tell you my favourites of the two main characters. I love horse standing under the dark cloud with rain dripping off him and a soaked flower crown hanging around his neck.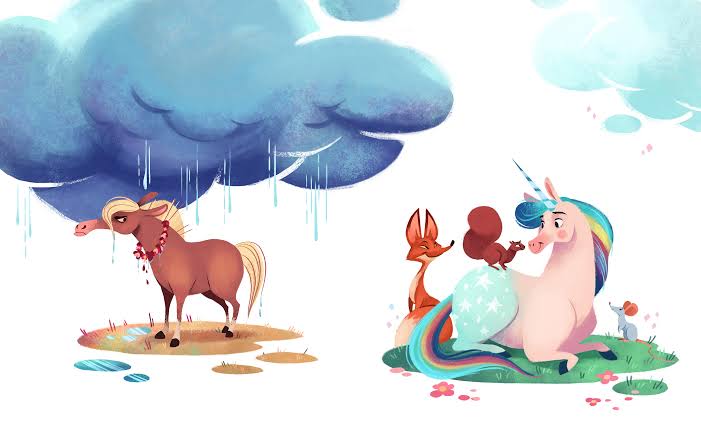 I adore the pink cupcake picnic with unicorn, fox, two squirrels and two mice together on a pink picnic rug, unicorn regally offering a cupcake to horse in one of his hooves. The fox is sitting behind unicorn with a cupcake in paw and its tongue is sticking out. 😍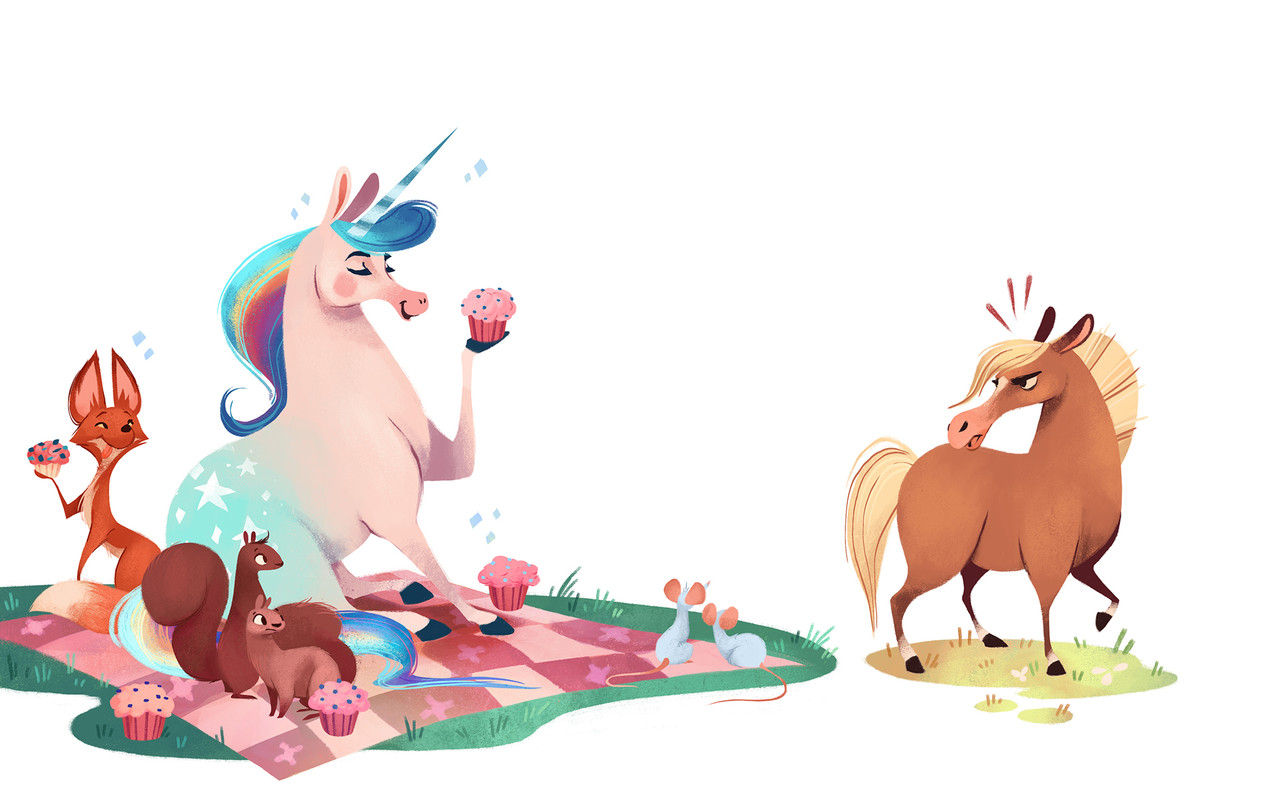 I probably found this story funnier than I should have but between the rainbow farts and horse's expressions, this was right up my alley! Ultimately it's a lovely story about friendship and how isolated envy can make you. At the end of the day there's always going to be enough rainbow farts and pink cupcakes to go around.
I need to read this book about another hundred times before I return it to my library, at which time I expect I'll need to buy my own copy.
Once Upon a Blurb
Unicorn is a unicorn. And Horse is, well … not.
Horse is brown. Horse is plain. And Horse can't stand the unicorn he shares a pen with. Unicorn dances. Tra la la! Horse does not. Blah blah blah. But when robbers kidnap Unicorn for a local circus, what will Horse decide to do?
Packed with forty-eight pages of hilarious illustrations and deadpan wit, Unicorn (and Horse) is a funny yet endearing lesson on envy with one important truth: We are sometimes unicorns. We are sometimes horses. And happiness doesn't always come from pink cupcakes for breakfast.