Illustrations – Omar Lozano
Okay, Ninja-rella is really fun! As one of the Far Out Fairy Tales graphic novels, the original gets twisted in some imaginative ways. I love that Ninja-rella isn't hoping to go to the Prince's ball because she wants her happily ever after, being saved from her circumstances by the Prince and then marrying him. No, this version of Cinderella wants to save herself and the Prince by becoming his "extremely awesome royal ninja bodyguard".
Having learned to be smart from her mother and strong from her father, Cinderella transforms herself into a kick-ass ninja, now known as Ninja-rella, after her mother's death. Of course, her father remarries a woman with two daughters and after he too dies, Ninja-rella is relegated to servant by her cliché evil stepmother.
On the evening of the ball the most adorable little fairy godninja rocks up to outfit Ninja-rella in appropriate ninja attire and provides her with her glass katana sword!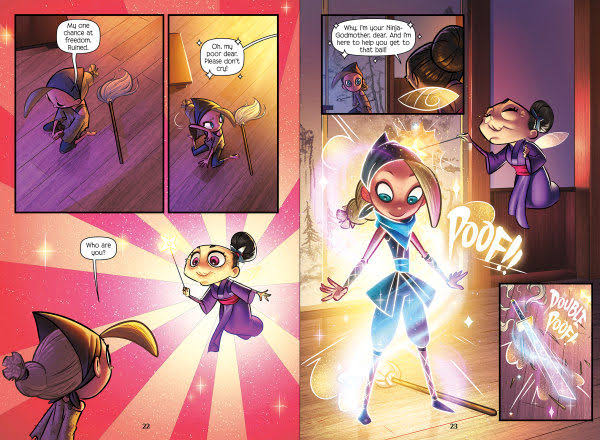 There's no pumpkin or talking animals in this version so Ninja-rella makes her own way to the ball.
Ninja-rella has some brilliant moves and her expressions are priceless. I appreciated that it's her strength and skills that shine in this story instead of her beauty. I really connected to her and loved her determination and attitude.
The illustrations were fantastic, capturing Ninja-rella's emotions and moves well. I always enjoy the bonus material at the end of the Far Out Fairy Tales stories: an explanation of the original story, illustrated representation of the main differences between the original and Far Out version, questions to get the reader to think about what they've read and a glossary that explains tricky words.
My main nitpick with this story is that I was disappointed Ninja-rella ran from the Prince so he wouldn't see her rags at midnight. I would've thought this Cinderella wouldn't give a damn about her clothes and what others thought of them. However I concede it's a necessary evil to move the plot along to the all important search for the owner of the glass katana.
As a side note, I always found it bizarre in the version I grew up with that at midnight all of the fairy godmother magic is undone – except for the slipper the Prince took door to door. Surely the glass slipper should have vanished or transformed back into its pre-magic form like everything else?
Once Upon a Blurb
Cinderella's stepmother and two stepsisters treat her like dirt. Each and every day, they force her to clean their clothes, cook their meals, and only give her rags to wear and crumbs to eat. But each night, in secret and in shadows, Cinderella trains to be a ninja! More than anything, Cinderella yearns to become the Prince's personal bodyguard. When the opportunity to prove her worth to the Prince finally arrives in the form of an invitation to a royal costume ball, Cinderella's stepmother won't let her go! But this time around, Ninja-rella isn't going to take "no" for an answer …