So, I decided to read a love story to coincide with the royal wedding and naturally chose a picture book. The Fright Club members are all practising their scares, from the ghost's Boo! to the butterfly's Blah!, but Fran K. Stein is doing something weird with pink paper, scissors and glue.
Several of the Club members try to guess what Fran is making (the ghost's paper butt guess is the best one) before Bunny explains what Fran is really up to. It turns out that it's Valentine's Day and Fran has made a pink paper heart, which leads Sandy the witch to wonder the scariest thing of all…
"Do you think Fran … gulp … is in LOVE?"
Bunny then tells the bewildered Fright Club members what love is, terrifying them more and more with each new piece of information. Fran is reminded what love really is when his Valentine appears. Aww! 💕
The illustrations in this book are adorable! With muted colours and expressive characters I loved every picture. My favourites are those that show the horror of the Fright Club members when Bunny is explaining what love is.
This culminates in a two page illustration with the characters' "EEEEWWW!" expressions. Sandy the witch looks decidedly nauseous and may vomit at any moment. The ghost has its eyes screwed up tightly and its tongue has escaped its mouth, looking to be mid "Blech!" The spider's eyes are goggled. Vladimir, the werewolf, mummy and butterfly also have priceless expressions.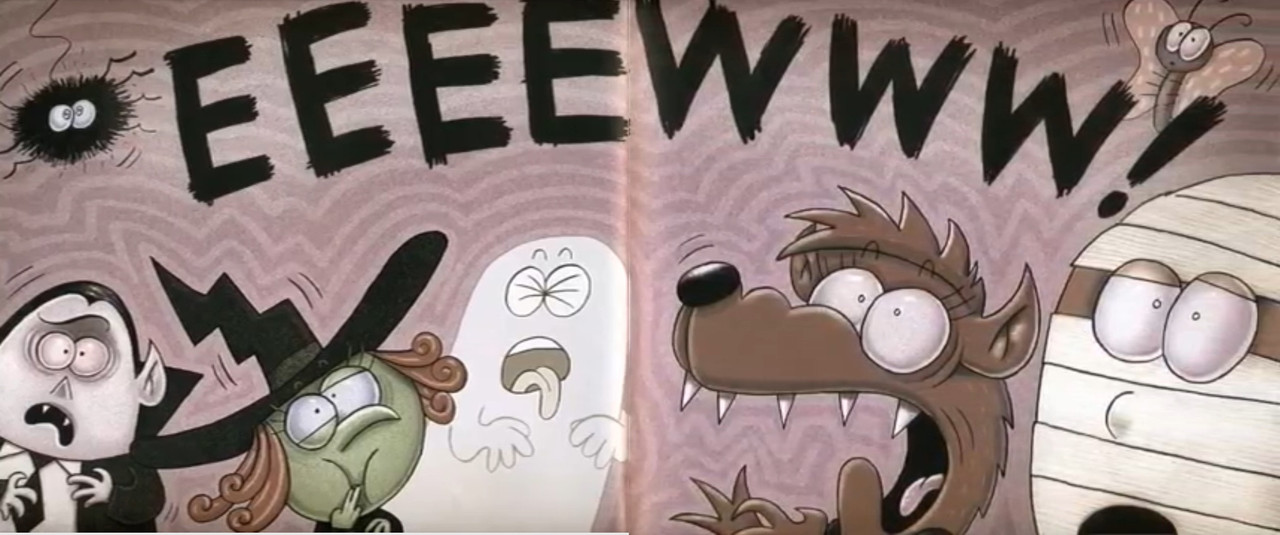 I've read this book three times over the last couple of weeks and I love it each time. In fact, if any of you are desperately searching for a Valentine's Day present for me 😜 I'd love my own copy of this book. I definitely have to read Ethan Long's other books, especially this book's companion, Fright Club.
Once Upon a Blurb
Something strange is in the air on this dark, cold night.
The members of Fright Club are always ready to scare, but tonight Fran K. Stein has something else on his mind. He's busy making something, and the other monsters want to know what it is.
Could it be a mask with fangs? A big pink nose? Or maybe a paper butt? No … it's a Valentine!
That means one thing … EEEEK!! Is Fran in love? What could be scarier than falling in love?!?