Illustrations – David Leonard
Inky the octopus lived at the National Aquarium of New Zealand for two years before his great escape. Museum workers discovered mysterious prints on the floor one morning in 2016 and Inky was no longer hanging out with his tank mate Blotchy. Workers believe that after the lid on Inky's tank wasn't secured properly the night before Inky took the opportunity to escape through a drain pipe in the floor that led to the sea. Inky the Octopus is a sweet rhyming children's book that tells this true story from Inky's perspective.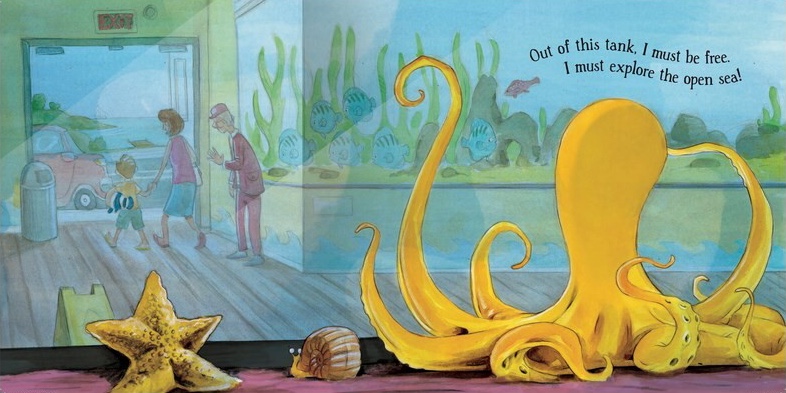 When I first saw this book I was cautiously optimistic. I had previously read Rosie the Tarantula: A True Adventure in Chicago's Field Museum and found it disappointing so I wasn't sure what to expect from Inky's story. While I thought that Rosie's story wouldn't really be of much interest to anyone that hadn't bought the book at the museum's gift shop (sorry, Rosie!), I was delighted to discover that Inky's story would have a much wider appeal.
Erin Guendelsberger's rhyming is lovely. It flows well and is fun whether you read it aloud or to yourself. I expect children will enjoy seeing Inky embarking on his adventure and if other adults are like me they'll enjoy making up new imagined adventures and friends for Inky.
I plunge. I swim. I breathe. I whirl.

I float. I spin. I glide!

I'll follow my heart wherever it leads.

I'll travel far and wide!
Whether Inky is peering through a spyglass he's holding with one of his tentacles, pleading with Blotchy to join him on his great escape or whirling with a blissful look on his face once he's in the open sea, all of David Leonard's illustrations bring Inky's character to life. The expressions of joy, astonishment and horror of the various residents of the Aquarium as Inky sneaks past on his way to freedom are fantastic as well. I adore the great use of colour throughout the book.
There are even some wonderful bits and pieces to enjoy once you've finished reading the story. Immediately following Inky's imagined story you'll find information about Inky's life, including a classic quote from the Aquarium's manager who laments that Inky "didn't even leave us a message" and a photo of Inky. You'll also read about some Other Odd Octopuses and learn some very cool facts on the Are You Squidding Me?! pages. You can find out more about Inky's story here.
Long story short, this is an interesting, informative and fun picture book that I expect you'll want to read more than once.
Once Upon a Blurb
Out of this tank, I must be free.
I must explore the open sea!
Inky the octopus is bored with aquarium life and wants to escape to the ocean! But just how can an octopus in a tank get to the open seas? Find out in Inky the Octopus, the only tale of the mischievous octopus to be officially endorsed by the National Aquarium of New Zealand.