This is one of those books where adult me and child me would have been at opposite ends of the reviewing spectrum. Adult me thinks that this book is simply beautiful. As the main character ponders different colours and imagines herself as a tree weathering the seasons I felt this lovely sense of tranquility.
As she and her mother gaze out her bedroom window and wonder what the crows are thinking when they see them I paused and thought about all of the native birds I feed. I often wonder myself what they're thinking and whether they've named me like I've named them. I wonder what my name is in bird world.
I loved Jillian Tamaki's illustrations that capture the joy of playing in the ocean, the diversity of a school playground and the majesty of birds in flight. The exploration of colour in the illustrations complements the girl's musings about various colours along the way.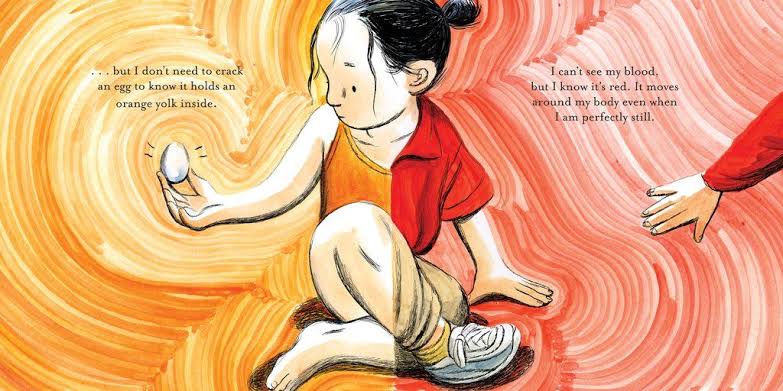 Adult me has read this book three times already but still thinks there's depth to the story I'm probably missing.
Child me (and I'm not ashamed to admit this) would have liked the pretty and colourful pictures but would have wondered where the story was and asked why the girl turned into a tree. Yes, I was a very literal child and I loved my Roald Dahl books so if a story didn't come with a defined plot and interesting (hopefully interesting and quirky) characters, I'd be a bit "meh" about the book.
However, it's adult me reviewing this book so I'm calling it gorgeous.
Once Upon a Blurb
Caldecott and Printz Honor-winning illustrator Jillian Tamaki brings us a poetic exploration of colour and nature from a young child's point of view. They Say Blue follows a young girl as she contemplates colours in the known and the unknown, in the immediate world and the world beyond what she can see. The sea looks blue, yet water cupped in her hands is as clear as glass. Is a blue whale blue? She doesn't know – she hasn't seen one.
Stunningly beautiful illustrations flow from one spread to the next, as time passes and the imagination takes hold. The world is full of colour, and mystery too, in this first picture book from a highly acclaimed artist.