Illustrations – Rick Parker
There are so many negative reviews for this Harry Potter spoof but I loved it! While I expect a lot of die hard fans of the Potterverse will be greatly offended that anyone would dare parody the brilliance of J.K. Rowling it felt to me like someone from MAD magazine had been hired to provide an overview of the series and I laughed from beginning to end.
It is over the top. There's toilet humour. Cameos include Elmo, Yoda, Larry King and Elmer Fudd. There are jokes that are so terrible I had to laugh at their absurdity. Harry's scar morphs from scene to scene, from question marks to dollar signs to Prince's love symbol.
The names of the characters we know and love get a makeover. Harry Potty is friends with Don Measley and Whiny Stranger. Barista Frappe teaches Defence Against the Dark Farts at Nosewarts. Harry is constantly trying to defeat Valuemart and his Odor Eaters. Students use their toilet plungers to cast spells including "REMEMBERALLTHISSTUFFICIS!" and all poor Valuemart wants is a nose.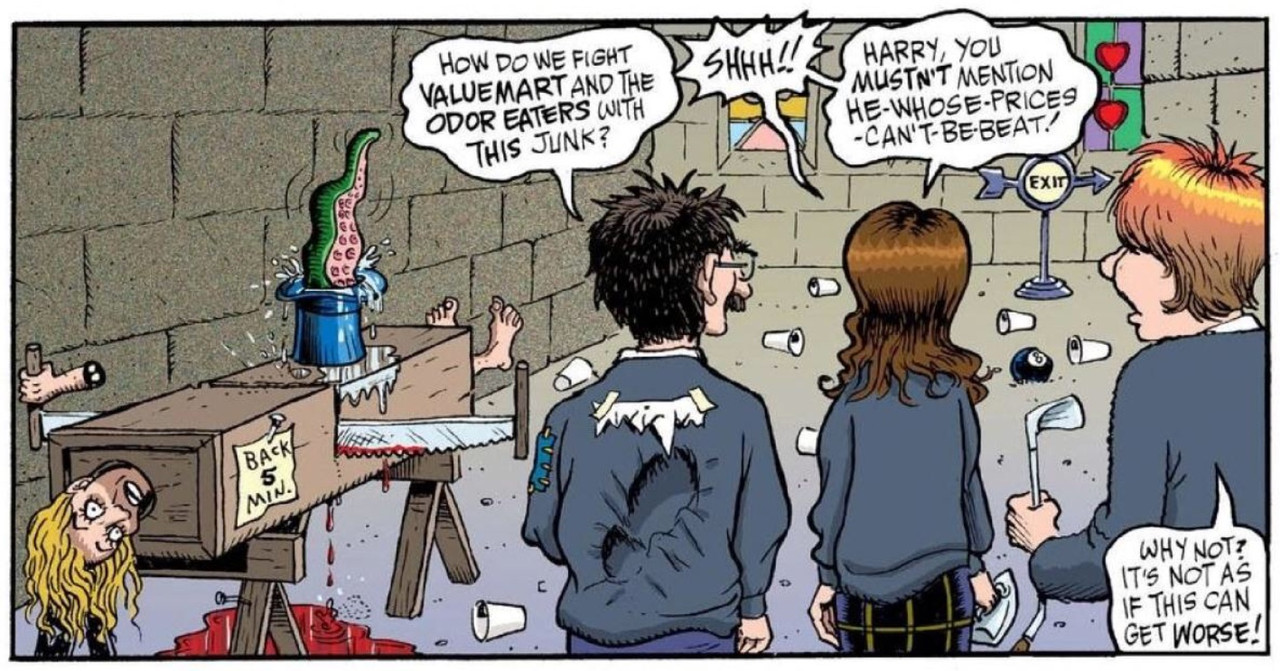 If your blood boils at the thought of this heresy then this is not the graphic novel for you, but if you're not horrified that someone would dare poke fun at Harry and his mates then you may find yourself enjoying a good chuckle like I did. I definitely want to read this one again!
Once Upon a Blurb
The creative team behind the hit Tales from the Crypt #8 "Diary of a Stinky Dead Kid" team up again to launch this new parody series from Papercutz! Following the killing of their mentor Dumb-as-a-door by the seemingly traitorous barista Frappe, Harry Potty, Don Measley and Whiny Stranger must find a way to defeat the nose-less dark lord Value-Mart (He-Whose-Prices-Can't-Be-Beat) and his followers, the Odor Eaters in order to avenge the death of Harry Potty's parents and bring balance to the world of magic.