Illustrations – Aurélie Neyret
I feel like cheating with this review and just telling you to check out the review Lola wrote, which you can find here. Thank you Lola for already articulating so well what I wanted to say. 😊
So, onto my ramble.
I quite liked the stories of Mr Mysterious in Part One and Ms Mysterious in Part Two. The initially unseen depth of their sweet but sad stories were unexpected, although to be completely honest I felt Cici had no business playing Nancy Drew and interfering in their lives in the first place.
I loved Cici's inquisitive nature but wasn't a fan of the sneaky way she went about her investigations. I loved that she cares about people and wants to help once she solves their 'mystery' and understands what she can do to help (not that she was asked to help in the first place) but I hated that she spends the rest of her time lying to her mother and using her friends.
Because Cici is so Cici-centric all we know about one of her friends until the very end is that they are a whinger. Seriously, would you want to be friends with someone who can only describe you as a complainer, even if they're right? It's not that I hated Cici. A lot of the time I found her endearing and sweet but she really irritated me too. Thankfully she does learn lessons along the way about the way she's treated her friends and mother.
My brain went a little nutty during the first story when all of the kids are lying to their parents and sneaking off to go hang out in the middle of the bush with a strange old man. Granted, he was a lovely but sad old man and I doubt he would slap a mosquito actively draining all of his blood. He could've been a creepy old man though. I know it's just a story but my adult brain is practically hyperventilating (no, I don't know how that's physically possible either) at the thought of sending a message that it's okay to lie to your parents to secretly meet a stranger in a remote location! Nuttiness aside, I adored the old man in the first story. He was an absolute sweetheart.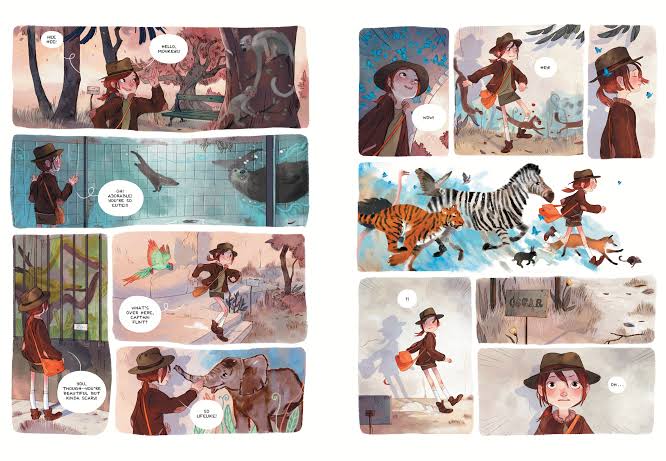 Naturally I loved that the scene of the second 'mystery' was the local library. Woohoo! Cici manages to solve Ms Mysterious' mystery the first time she checked out the book that Ms Mysterious has been checking out every week for many years (of course). There's no romantic hiding in the depths of my icy cold heart but I admit I really liked the love story of Ms Mysterious and her beau.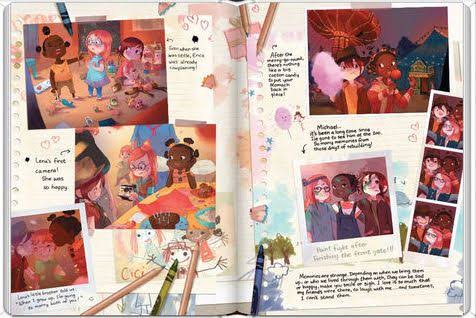 The illustrations were gorgeous and I loved the soft warm colours used throughout the book. The layout was really well done, with layers showing crayons, pencils (with pencil shavings) and pens laying on top of pages in Cici's journal that made it seem as though the reader is peeking over her shoulder at the page she's working on. She's also pasted in relevant bits and pieces, including postcards from her friends, newspaper articles, letters and photos. The creativity of telling the story through graphic novel format interspersed with journal entries and drawings makes this visually a really interesting book.
I wouldn't mind revisiting this book again in a few months. I wonder even as I'm writing this if I've been a bit harsh on Cici's Cici-centricity. I'm interested to know if I'll find her more endearing and less irritating next time. I hope so because the stories are quite good. I'd probably give the stories alone 3.5 stars but because I loved the illustrations so much I'm rounding up.
Once Upon a Blurb
Cici dreams of being a novelist. Her favourite subject: people, especially adults. She's been watching them and taking notes. Everybody has one special secret, Cici figures, and if you want to write about people, you need to understand what's hiding inside them. But now she's discovered something truly strange: an old man who disappears into the forest every Sunday with huge pots of paint in all sorts of colours. What is he up to? Why does he look so sad when he comes back?
In a graphic novel interwoven with journal notes, scrapbook pieces, and doodles, Cici assembles clues about the odd and wonderful people she's uncovered, even as she struggles to understand the mundane: her family and friends.