Illustrations – Erik Mehlen
Like many others I have a fairly significant case of dentophobia. My childhood dentist, in their infinite wisdom, told me that because I have deep crevasses in my teeth it was inevitable that I'd end up with a mouthful of fillings regardless of how well I brushed. This was after they'd already tortured treated me throughout my childhood, pulling all of my stubborn baby teeth that refused to leave me.
So, while this is a children's book and I was reading it with that in mind, part of me was also keen to see if it had any wisdom to share with someone who hasn't been to a dentist since their wisdom teeth were removed. I'm no closer to making a dental appointment now than I was before reading this book.
I liked the idea of applying dental fears to dinosaurs because dinosaurs make everything better, but overall the book just didn't work for me. The rhyming worked sometimes and at other times it felt forced, for example, rhyming toothpick with picnic.
The pictures were cute and colourful. There's a dinosaur with braces.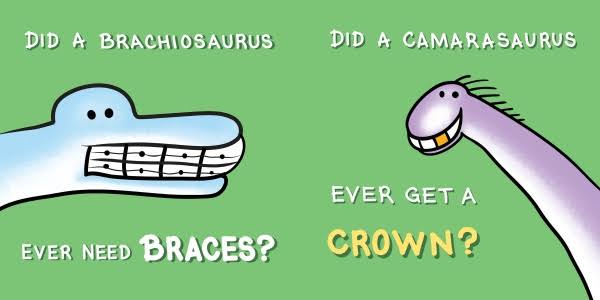 A family sit together munching on their lunch during a picnic with the sun smiling overhead. There's even a dinosaur in need of dentures, wrinkly mouth and all.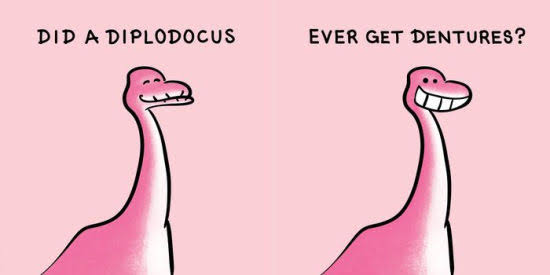 There's some facts about each dinosaur featured in the book at the end and also a glossary of toothy terms.
I thought it might be me being picky so I read it to my mother, who worked as a dental nurse before she retired. Naturally I pretended she was a child I was reading it to and showed her the illustrations as I read. It didn't work for her either. Having said that, I haven't read this book to a kid with dentophobia and a love of dinosaurs. If you want to check it out for yourself, here's the link to the book on the publisher's website.
Thank you very much to NetGalley and Schiffer Kids, an imprint of Schiffer Publishing Ltd. for the opportunity to read this book.
Once Upon a Blurb
What if a brachiosaurus needed braces? If a tyrannosaurus used toothpaste, would it squash the tube? A young child on the way to a dental checkup wonders if dinosaurs ever had cavities and if they had to brush their teeth, floss, get braces, and use fluoride or mouthwash. This whimsical picture book includes eleven common terms related to dental and oral health, along with a glossary of name pronunciations and fun, scientific facts about each of the eleven dinosaurs mentioned in the story. It takes an imaginative, humorous look at dinosaurs' dental health and eases children's fears about going to the dentist, while cleverly encouraging them to take care of their own teeth.