I'm sure you're already familiar with rockabilly. You've got plenty of men in suits or leather biker jackets and jeans, hair greased, admiring their cars, bikes and/or women. You've got the sexy, sassy bombshells, where oftentimes the only thing bigger than their butts are their breasts. The women are decked out in poodle skirts, short shorts and various combinations of not much, with plenty of Bettie Page inspiration and beehives competing to make it to heaven first. The beer's flowing and the cigarettes are lit.
Are you as familiar with psychobilly? I hadn't heard of the word before this book but once I started that section I realised I did know it after all. I love the way psychobilly is described in the introduction:
"I like to think of psychobilly as what happens to the rockabilly crowd once midnight strikes."
Besides all of the gorgeous artwork, there's also a playlist running through the book, with each new song flagged by a jukebox for rockabilly or vinyl record for psychobilly.
There are quotes scattered throughout the book by the artists and I think Leon Ryan nailed it with
"I'd rather draw something to be hung and enjoyed in dorms and filthy garages than ignored in a respectable gallery."
I like an eclectic mix of bits and pieces people call art, including some that reside in respectable galleries. Rockabilly/psychobilly artists, though, these are my people! There's an honesty to this artwork that I love. These are people inspired by such awesomeness as cartoons, video games, movies, and music.
I'm no art critic, thank goodness, but the gaggle of butts and breasts aside (I'm not going to whinge because it's part of the style) I really enjoyed this art. There's something immediately appealing to me about a style that doesn't care what you think because it's just doing its thing, whether you're paying attention or not.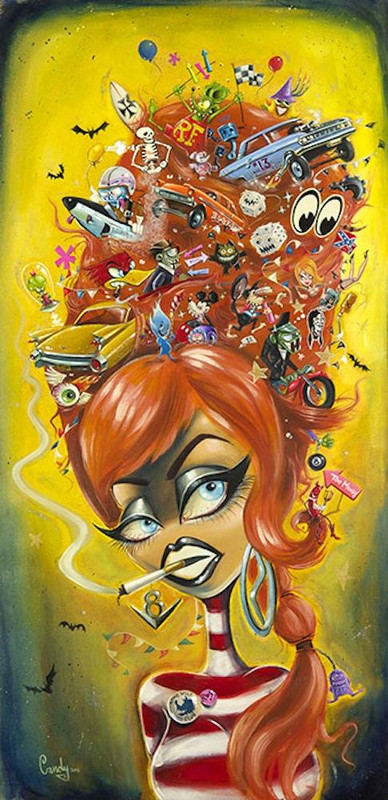 There was a lot to like in this book and so many artists to appreciate. If you're in the market for a rockabilly/ psychobilly tattoo, you'll find plenty of inspiration here. There's even an artist index at the end of the book where the artists' websites are found so you can find even more awesomeness.
I don't have a specific rockabilly favourite but some of the ones that drew my attention included:
🎙 Candy's cat eyed woman with the orange beehive that is practically exploding with odds and sods, including three cars, some bats, a skeleton, fluffy dice with teeth, balloons and this green guy of some species holding a checkered flag. Candy's website is here.
🎙 Nano Barbero's Rockalavera Rockabilly Weekend México 2015 poster. Nano's website is here.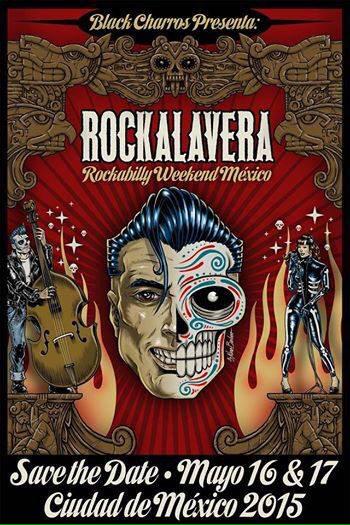 🎙 Mark Rehkopf's 'I don't know what the hell is going on here but I love it' piece that I've discovered is the cover art for Nick Johnston's Public Display of Infection. It's got UFO's, eyeballs in trench coats overlooking the scene from the top of buildings, and there's too much else to describe but it's awesome!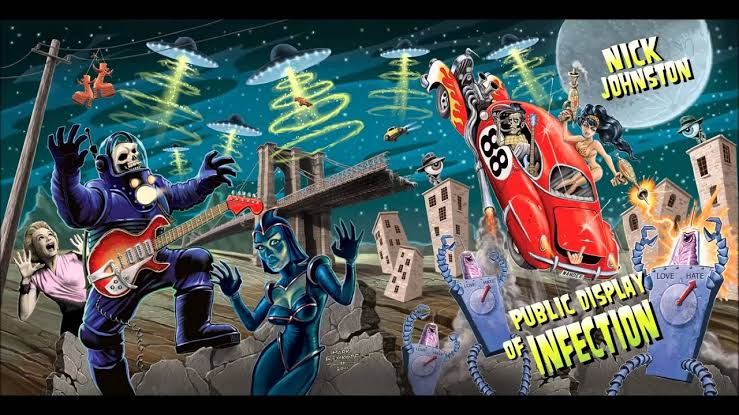 In the psychobilly section I really liked:
🧟‍♀️ Miss Cherry Martini's style but couldn't choose a favourite so you can find her art here.
🧟‍♂️ Zach Bellissimo's art, which is here. I wandered around for a while and didn't find the illustration I was looking for (yet), although I found so much else to love.
🧟‍♀️ Kimberly Poizon's pages, so of course I looked her up too! Her art can be found here.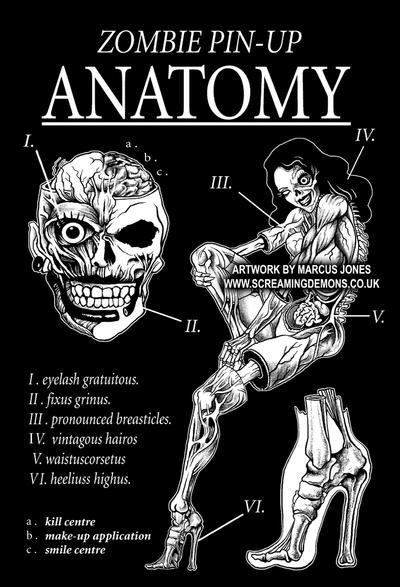 🧟‍♂️ Marcus Jones' Zombie Pin-Up Anatomy. (I was going to leave it at that, with three artists in each category, but then I found this image and my coffee almost escaped through my nose in a very attractive snort.) Here's the black and white version; the full colour one in the book is so much better. Marcus' art can be found here.
It may seem I've already shown you all of the Woohoo! moments in this book but I haven't even come close. I've shown you about the equivalent of a dollop of cream on top of a mountainous ice cream sundae. Sure, you can enjoy that dollop but if you don't stay long enough to try the various flavours of ice cream, sprinkles and hot chocolate fudge sauce 🤤 you won't realise what you're missing out on. It's highly likely your biggest Woohoo! moments are still inside the book waiting for you to discover them.
Going into this I expected to find maybe one or two pictures I'd love and a whole pile of 'yeah, it was okay'. I'm leaving it trying to figure out if I can afford to buy myself a copy because this is a serious contender to be added to my coffee table for future Woohoo! moments.
Thank you so much to NetGalley and Schiffer Publishing Ltd. for introducing me to so many extraordinarily talented artists I may not have come across otherwise.
Once Upon a Blurb
A visual road trip from Route 66 to Route 666, this rockin' collection of more than 600 artworks presents the unapologetically fun and undeniably cool spirit of rockabilly and psychobilly. The 55 artists featured here represent a global subculture and are some of today's best lowbrow and cartoon artists, the de facto styles of the genre.
Whether you're burning for nostalgia or learning more about the phenomenon, this massive collection is a study of some of the main themes of modern rockabilly culture: respect the past, be proudly defiant, and stay true to what you like.
Here you'll see a broad range of stylistic influence from the 1930s to the 1990s as well as other sub-pop cultures like jazz, ska, surf, burlesque, punk, and horror adorning album art, show posters, comics, pin-ups, and more. Complete with a playlist curated by the artists, this is a must-have volume of art by artists who are finding success despite being outsiders.