Illustrations – Gorobei
I loved Choose Your Own Adventure books as a kid and I've loved graphic novels since then so a combination of these in game form seemed like a trifecta that couldn't fail. In Hocus & Pocus you have the choice of character and which magical creature you will take on your adventure. Aimed at kids in middle school this interactive graphic novel includes "choices, puzzles, mysteries, and powerups". For this adventure you will need a die, pencil and eraser.
Pocus has pink hair so naturally she was who I wanted to be for my first adventure.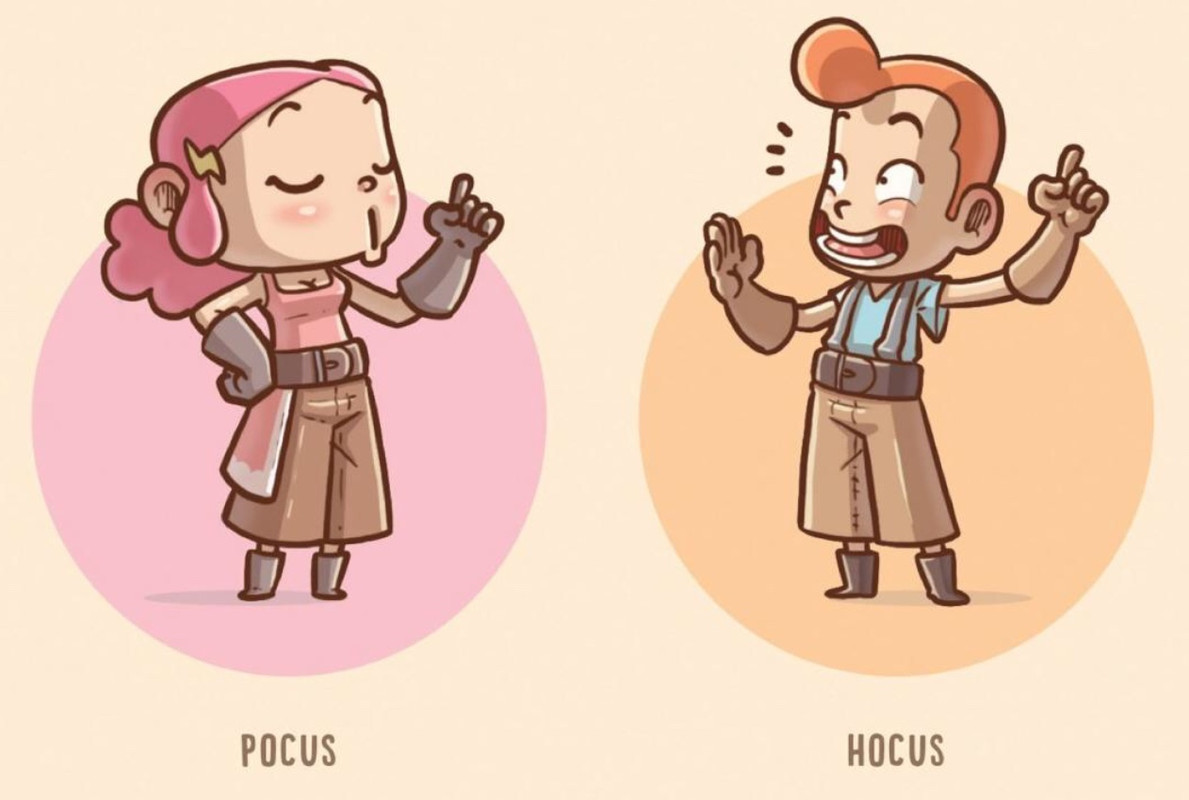 My choice of magical creature was also easy; the Boxobullfrog, "who keeps a bunch of weird things in its mouth to take when you need them". I barely looked at the other options. Why wouldn't I want a creature that produces handy weirdness when required?!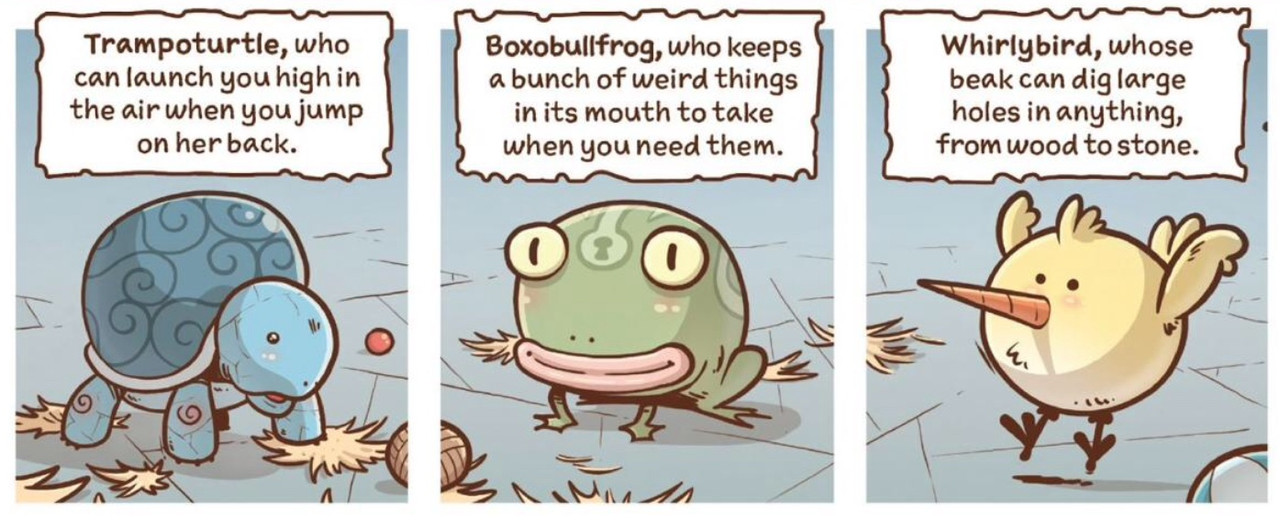 So with my character and creature chosen I took off on my adventure and fairly soon I was lost. I ended up on the exact same path in the forest several times and I thought for a while that I was going to be lost forever. There were times where I wandered around paths with no story. I went from a panel where all I needed to do was choose a number, flipped to the number and found another panel where all I needed to do was choose a number.
On my second adventure I decided to be Hocus with his hair sprayed pompadour. I kept my Boxobullfrog because "weird things in its mouth"! There was no other option for me although this little critter wasn't as useful to me this time around. While I didn't get lost on a path this time I had to return to the map of the castle so many times I felt the urge to scream in frustration. If I wound up at the Groundhog Day map again in a future adventure I'd write down each number I followed from it so I didn't accidentally wind up at the same place so many times more than once.
There are rules to follow regarding whether your magical creature is awake or asleep which involve searching for its food in the drawings and marking boxes on your Adventure Tracker. I probably would have loved this part when I was in the age group the book is intended for but now that I'm old it felt too much like homework to me and so I may have cheated, deciding that my magical creature was always going to be awake when the story gave me the option of obtaining their help. I expect a lot of kids will enjoy making notes each time they find some food for their creature or a star.
Because my brain has a habit of connecting pieces of information that have no relevance to one another (thanks, brain!) this book reminded me of an article I read last week where someone was discussing the differences between Pass the Parcel from the good ol' days and now. Back when I was a child sometimes the music stopped on you during a game and sometimes it didn't. When the next layer was opened there'd be a cheap plastic toy or a lolly or nothing. Apparently every layer now has a toy (that's not some cheap plastic thing) and everyone has to win something or they'll feel left out. Hold on; my brain is about to try to connect the dots for you.
In this story it felt as though no matter what I chose everything would end up fine in the end and that it was more an illusion of choice than the real deal. There was always the possibility in the Choose Your Own Adventures of my childhood that the wrong choice could be dangerous for the character and potentially lead to their demise but when I read this graphic novel straight through I didn't uncover anything dastardly, which was disappointing. I was encouraged by the amount of panels I came across when I read from cover to cover that I hadn't already seen so you could potentially read this a number of times and discover different parts of the story, albeit with the same ending.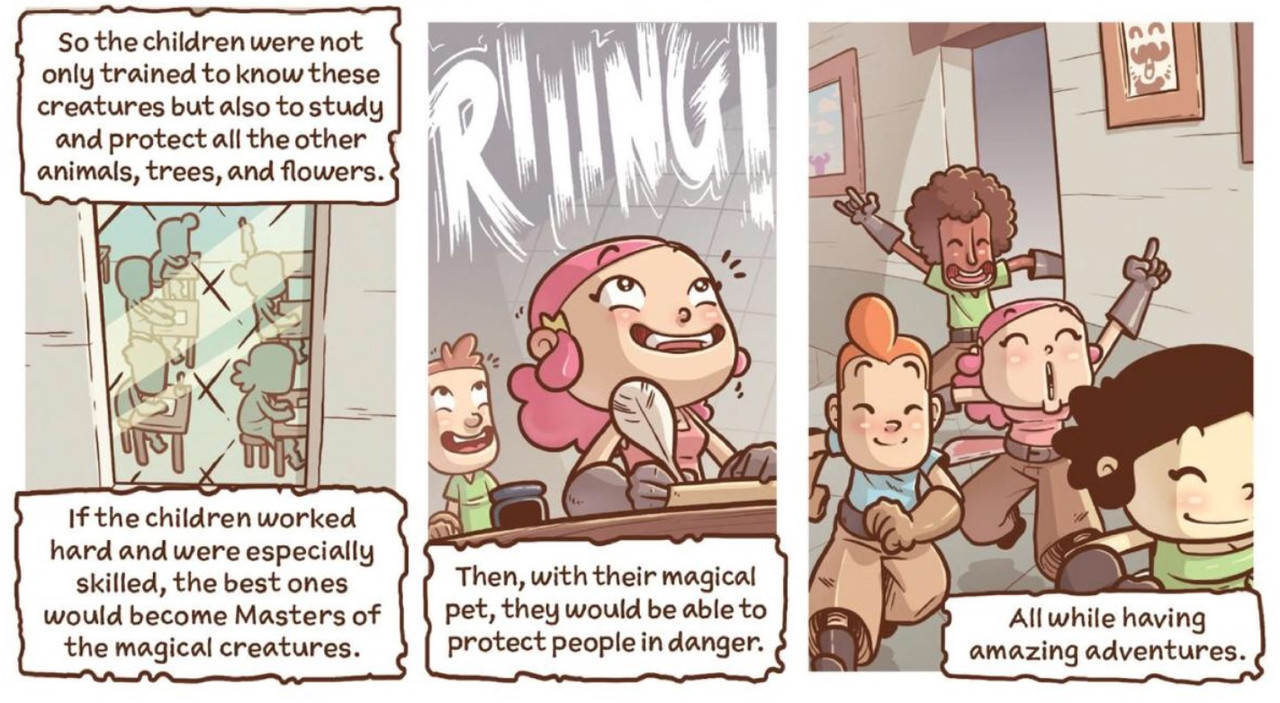 The illustrations were cute. I particularly liked the tree at the crossroads in the Woods of the Treemen that looked like it was shrugging, not knowing which path to choose either.
Thank you to NetGalley and Quirk Books for granting my wish and giving me the opportunity to read this book.
Once Upon a Blurb
Introducing a new series of interactive graphic novels – first published in France, and translated/transported to English language readers by Quirk Books.
Enter a world inspired by all of your favorite fairy tales – complete with gingerbread houses, a girl dressed in red, and seven children lost in the woods. Hocus & Pocus offers a new kind of reading experience – part game book, part graphic novel, and part Choose Your Own Adventure story. Readers can play as Hocus (a girl) or Pocus (a boy), choose a magic animal companion, and enter a colourful fairy tale forest of riddles, magical objects, and unusual characters. Succeed or fail, it's all up to you!