Illustrations – Stevie Lewis
I first met Patience and Fortitude over thirty years ago when Venkman and Stanz passed them on their way to meet Egon and spend some quality time with the library ghost. I learned their names this week. I've wanted to live in the New York Public Library since my first Ghostbusters experience. Now that I've read this book I know that if I ever get to visit this wonderful place I will be imagining Patience and Fortitude's adventures as well as keeping an eye out for my favourite spectral librarian.
One morning Fortitude wakes before dawn and discovers that Patience isn't sitting on his plinth.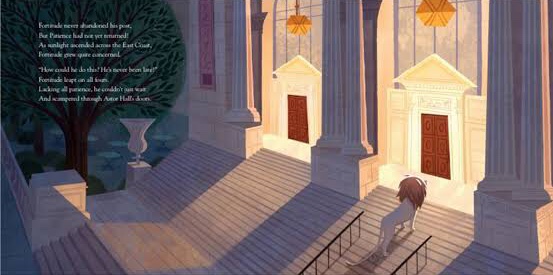 Concerned, Fortitude enters the library and searches for his friend. He asks for help from those he meets inside including the statue called Frolicsome Girl. Fortitude knows he needs to find Patience before dawn so they can return to their posts and greet the library's visitors.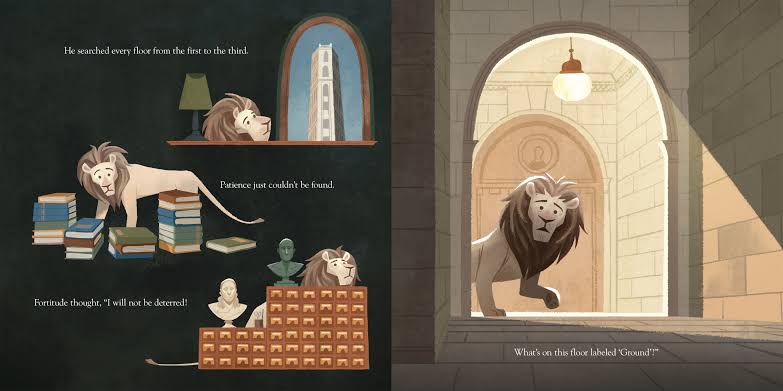 This is one of the best kid's books I've read this year. The rhymes are lovely, the story is about friendship, the setting is a library, the illustrations are beautiful and the answer to the mystery of Patience's location is bookish! I've read this book twice so far and I've smiled my way through it both times. My eyes may have gotten a little misty towards the end of my reread; it's just such a beautiful story!
What I found especially interesting was the Get to Know the New York Public Library! page at the end of the book. I was able to learn about the different rooms Fortitude visited in his search for Patience, as well as the statues and paintings he spoke to. The dot points made the story really come alive for me and solidified this library's place on my bucket list. My favourite fact was about Patience and Fortitude, which reads in part:
They have perched there since 1911 and were given their names in the 1930s by Mayor Fiorello LaGuardia in recognition of the qualities he felt New Yorkers would need to survive the Great Depression.
I have to buy this book and find a kid to read it to!
Once Upon a Blurb
Steadfast Fortitude and curious Patience are waiting every morning to greet visitors of the Library.
That is until, one early morning, when Fortitude finds Patience is missing. The city is about to awake, and the lions absolutely must be in their places before the sun rises. Now, Fortitude must abandon his own post to find his best friend in the Library's labyrinthine halls.