One thing you should probably know about me is that I absolutely adore abandoned photography so this review was never going to be unbiased. Most of the photos I've seen until now have been of abandoned America so I was really excited to see how amazing abandoned Japan looked. This is the coffee table book of my dreams!
From the snowy mountains of Hokkaido down to the southern tropics of Okinawa, these modern ruins or, 'haikyo', provide a paused and romantically silent contrast to a country known for the brightness, sound and movement that swells in so many of its thriving metropolises.
Shane Thoms took me on a journey through hospitals that looked like they belong in a horror movie,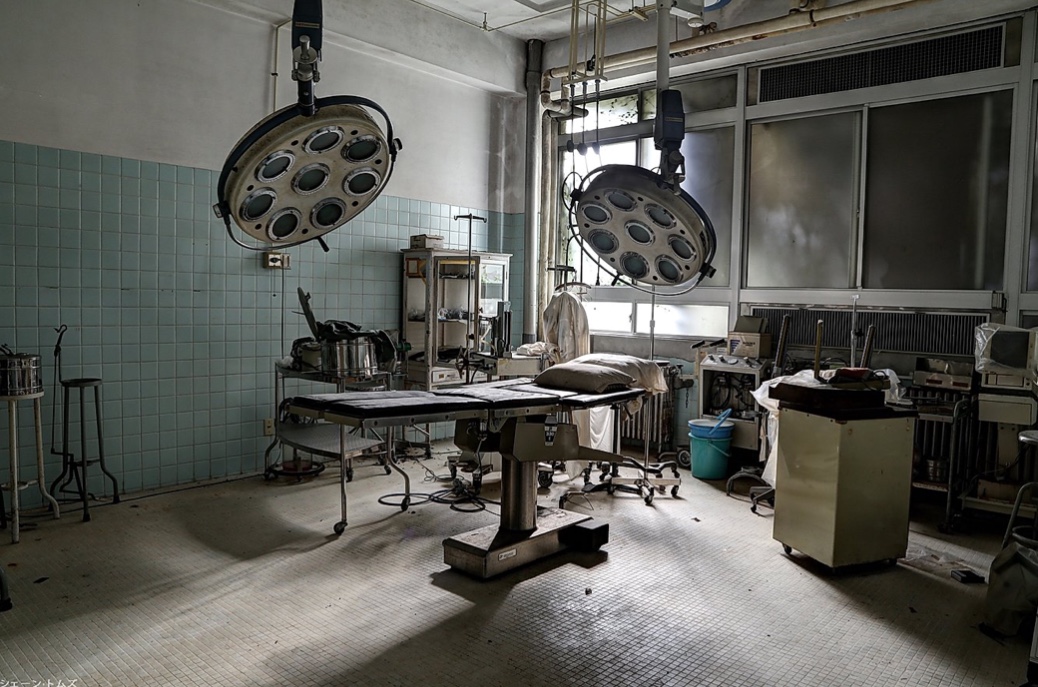 resorts, hotels and restaurants whose still intact chandeliers tell a luxurious tale of days past, mines and industry that once employed thousands, theme parks and leisure with rides that still look like fun despite the rust, and schools where what looked like a gigantic stuffed walrus remains in perpetual time out, facing the wall in shame.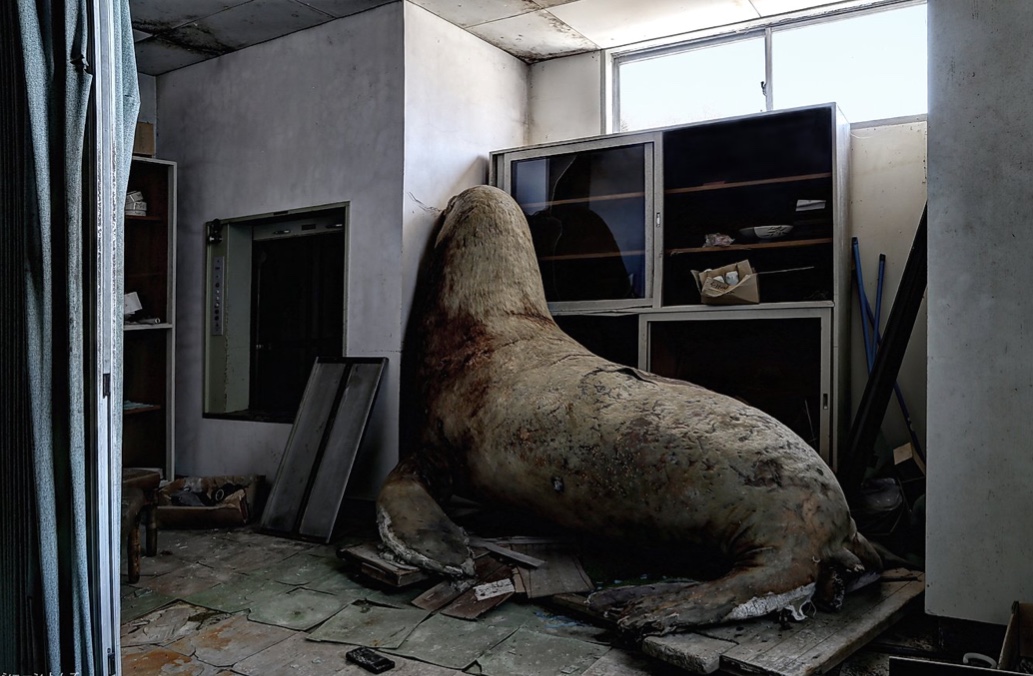 Besides enjoying the overall haunting beauty of this type of photography I also like to look closely, searching for telltale signs of the people who have lived within the walls; their stories whispering through the faded portraits gathering dust on the floor or calendars on the wall frozen in time during a specific month many years ago. While most of the photos have muted colours there are pockets of green where plants are growing through the floors or finding their way through broken windows.
I always wonder about the story behind each abandonment, how a building that has housed or entertained so many can be seemingly forgotten and left behind for nature to reclaim.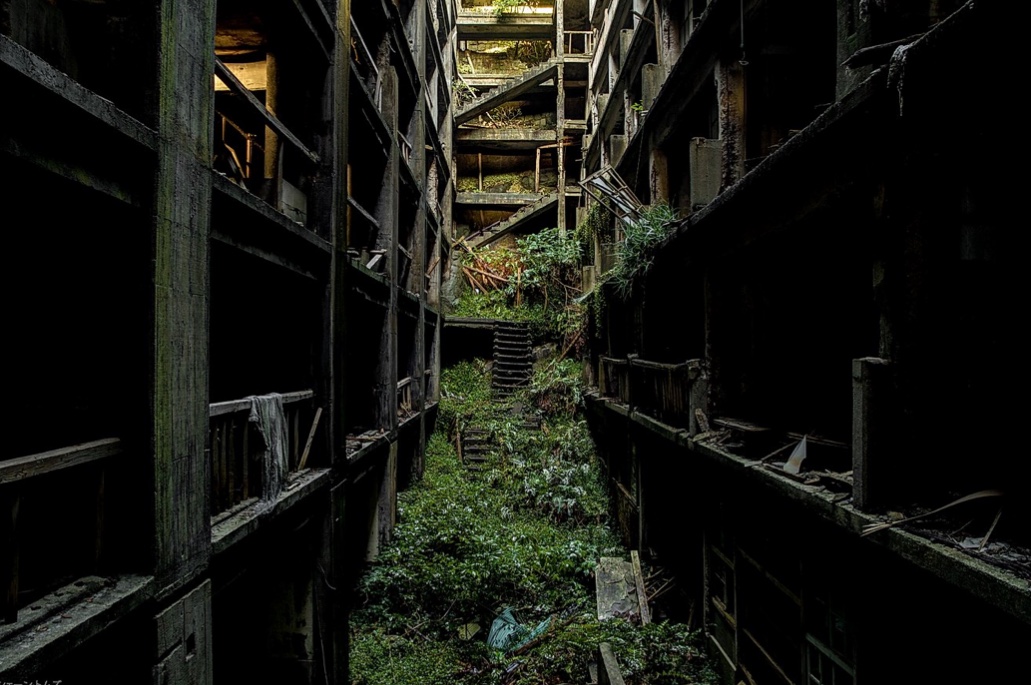 There's an inherent sadness wandering through the shadowy halls; even the sunlight appears subdued as it fights its way through grime and mould.
I was surprised by the lack of graffiti in these photos but particularly liked the pink UFO captured mid flight. I loved the abandoned bathhouse with the cute sculpture of a person made from water containers that's standing in the middle of the room.
I wanted to visit Nara Dreamland, an entire abandoned theme park, with its rusted rollercoasters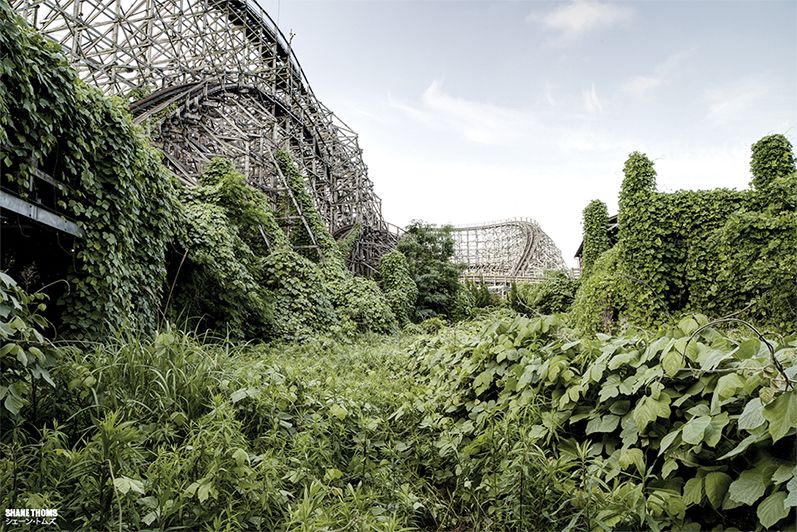 and demonic looking witch with fangs who overlooked the entrance to the haunted house.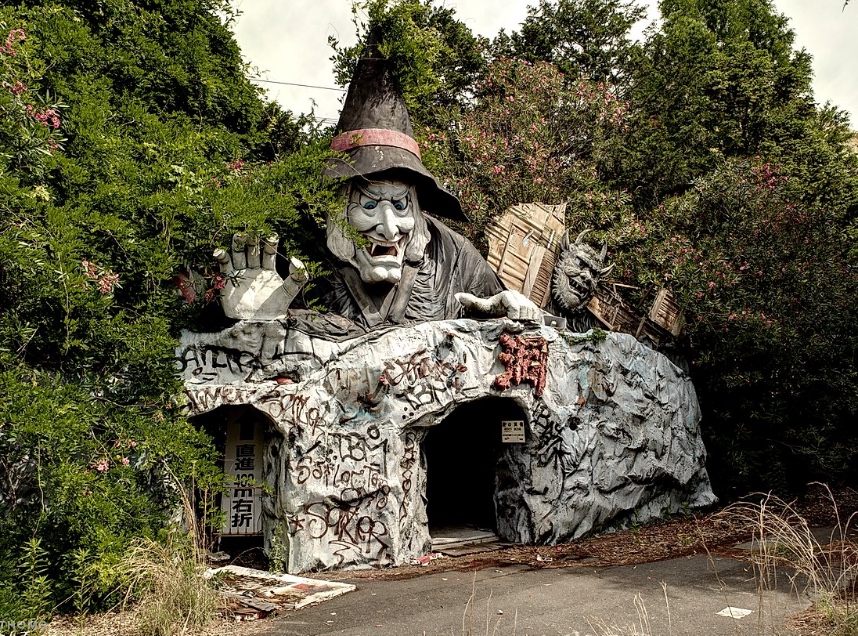 Sadly this particular haikyo was purchased and its dismantling began in 2016.
I really need to buy this book so someone else has the opportunity to appreciate this library book instead of borrowing it time and time again.
Once Upon a Blurb
Stepping away from the lights and into the shadows, one adventurous photographer embarks on an underground voyeuristic journey, documenting a curious collection of images that provide a rare and intimate glimpse into a secret, mysterious and sometimes bizarre world. Miniature jungles sprout and thrive in the rooms of a discarded beachside resort. Filled with curiosities and eccentric furniture, a long forgotten love hotel crumbles away on the outskirts of a small country town. Inside a large snow covered building, a giant taxidermy walrus sits wedged in the corner of a darkened, dust filled room.
After years of abandonment, vines and foliage take over from past crowds to engulf roller coasters, carousels and water slides in a swampy amusement park. Rows of stools await more customers as the years pass by in a dilapidated strip club filled with retro treasures. Each with its own unique story to tell, the end result is the presentation of a fascinating realm where one can contemplate Japan's hidden journey from permanence to disposability, composition to decomposition and construction to deconstruction.