Beetlejuice!
I love that this book is a celebration of Halloween, horror culture and all things Burton-esque. The recipes are from Beetle House, a restaurant that's now on my bucket list because I need to experience the atmosphere and food, but more importantly its owner wasn't allowed to celebrate Halloween as a kid and has found a way to make it a daily occurrence. I celebrate people finding ways to triumph over any kind of repression, especially when they can turn it into creative expression, so it fills me with joy that this restaurant exists.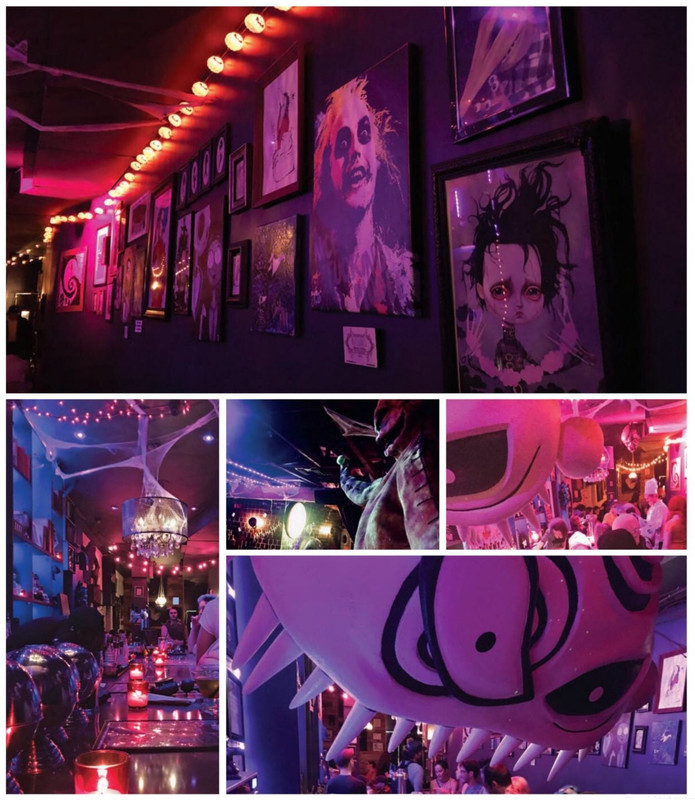 All of the recipes can be veganised; there's a page dedicated to vegan alternatives to specific ingredients before you make it to the first recipe. While I obviously want to try most offerings on the menu I decided to give myself the daunting task of choosing my 'Most Want to Taste Test' item in each chapter. Here goes…
Sauces & Dips for the Recently Deceased: Dead Sauce – with butter, honey, garlic, sea salt, lime juice, sour cream, mayonnaise and sriracha sauce, this "super-tasty citrus sauce is spicy, sweet, and garlicky."
Nightmares Before Dinner: Beetle Bacon Bread – "a hearty sundried tomato and bacon "pizza" with a sweet balsamic reduction, soft mozzarella cheese, and crisp scallions." Mmm, bacon! 🥓🤤
Herbs, Plants & Cauldrons: Fall Salad – this includes such yummies as butternut squash, roasted red peppers and dried cranberries.
Platos de los Muertos: Big Fish – salmon, sweet corn succotash, roasted red pepper purée, basil oil and micro shiso leaf.
Tricks & Treats: Willy's Mango Panna Cotta – "topped with passionfruit foam and served with diced kiwi, fresh strawberries, and Cocoa Puffs".
Poisons, Potions & Elixirs: The Franken-Martini – "combines vanilla vodka with a double chocolate liqueur" and topped with whipped cream, chocolate syrup and a chocolate bar.
There's also a Put the Fun Back in Funeral chapter with ideas for menus, props and accessories for themed parties.
Beetlejuice!
I loved the photos of the droolworthy food with accessories including skulls and scissors, and the fun gothic touches in the layout. I was disappointed that not all of the recipes come with photos, although a higher proportion were pictured than most of the other cookbooks I've seen. The best compliment you can give the majority of my cooking is that it's edible so I like to have a reference to show me what the final product is actually supposed to look like. I was glad to discover that the recipes in this book don't need a bazillion ingredients or dozens of steps to make them, and I'm pretty sure I could give some of them a whirl.
Thank you to NetGalley and Quarto Publishing Group – Race Point Publishing for the opportunity to drool over this book.
B-! On second thought, maybe I don't need him in my life right now.
Once Upon a Blurb
Some like it goth! If you love movies like The Nightmare Before Christmas, Edward Scissorhands, or The Evil Dead, then you'll love the official cookbook of The Beetle House, the Tim Burton-inspired restaurant with locations in New York, Los Angeles, and more. Featuring chef and owner Zach Neil's signature recipes like "Edward Burger Hands," a juicy burger stuffed with smoked bacon, fried egg, pepper jack cheese, avocado, with a sriracha cream sauce and "Wonka Wings," chicken wings with a custom Fanta orange soda glaze, and so many more. Plus you'll get an array of craft cocktails from the Coco Skellington to the Beetle's Juice. Featuring more than 50 recipes plus a section on how to host your very own Burton-themed party with crafts, costume, decorations, and more this is the perfect book for the goth, the movie buff, and Halloween lover all the world round.