I loved Zach's The Nightmare Before Dinner so was keen to see what yummy horrors he'd be serving up here. There are sixty plant-based recipes inspired by movies and TV shows on the menu, with a selection of Sickening Starters & Sides, Monstrous Mains, Depraved Desserts, Cursed Cocktails and Atrocious Accompaniments.
It wasn't always immediately clear to me what the connection was between the recipe and its inspiration. Having said that, there were others that were immediately apparent and delightfully appropriate, like The Exorcist inspired Regan's Pea Soup Vomit (With Bits).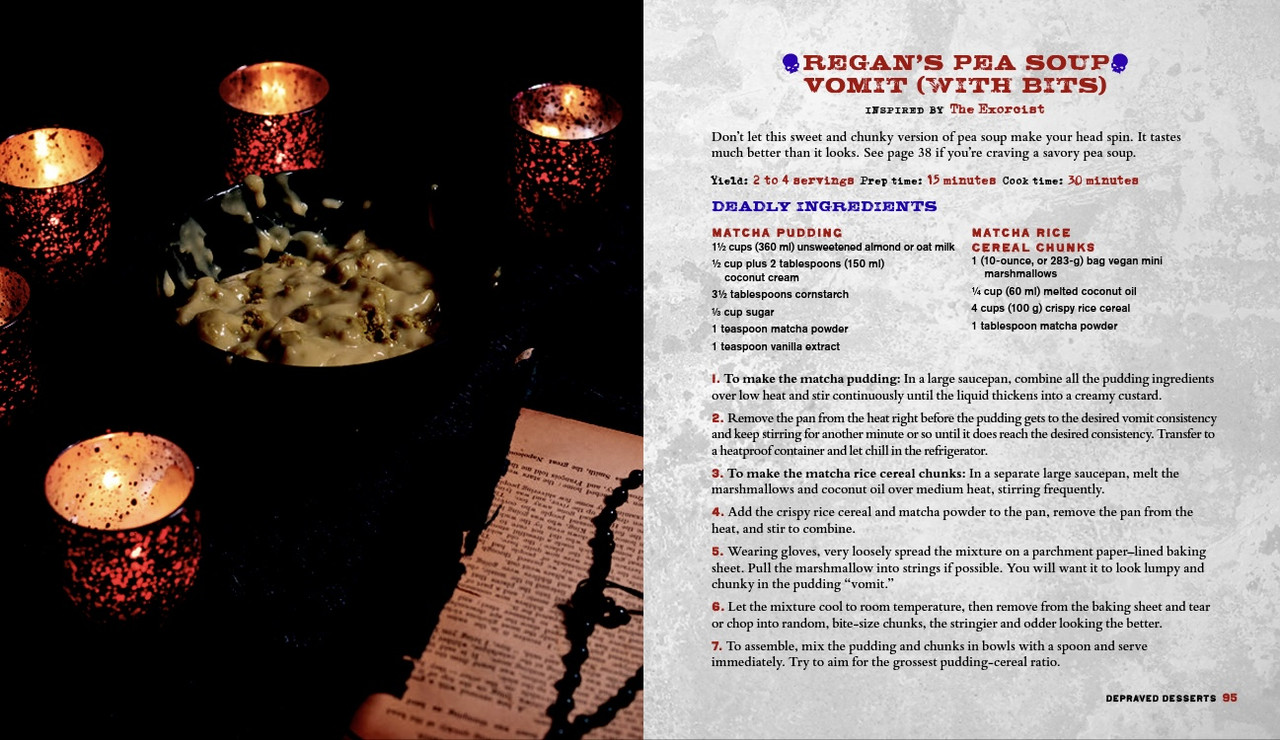 One of the things I love about cookbooks is being able to drool over photos of the finished products. The presentation of the food in this book was one of the drawcards for me.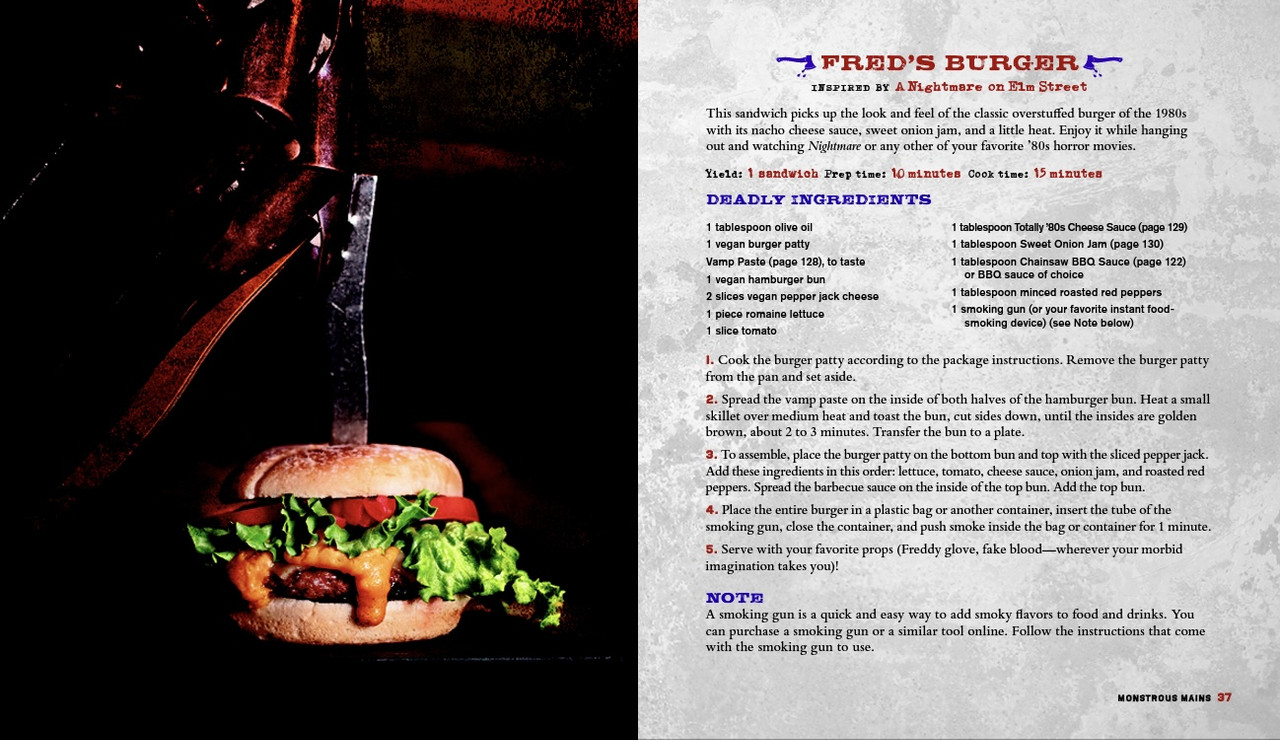 Some recipes, like The Crow inspired Devil's Night Cauliflower Wings, featured a movie poster instead of the food. Some recipes had no accompanying photos at all.
I'm most interested in spectacularly failing to replicate the Trick 'r Treat inspired All Hallows' Eve Lasagna and Dexter inspired Blood (Orange) Cheesecake Trifle. Both of these came with photos so I'll get to compare my efforts with what the food was actually supposed to look like.
Thank you so much to NetGalley and Rock Point, an imprint of Quarto Publishing Group, for the opportunity to read this book.
Once Upon a Blurb
From the mad mind of acclaimed chef, Zach Neil comes this killer plant-based cookbook inspired by your favourite horror movies and TV shows. The follow-up to his best-selling cookbook, The Nightmare Before Dinner, the Death for Dinner Cookbook delivers gruesome goodness in 60 stick-to-your-guts comfort-food recipes, from startling starters and monstrous mains to depraved desserts and cursed cocktails, including:
Crystal Lake BBQ Sliders, inspired by Friday the 13th – The only thing better than warm sunshine, campfires, and working up an appetite after escaping the clutches of Jason Vorhees are these pulled mushroom sliders.
Children of the Hominy, inspired by Children of the Corn – An ancient recipe from Gatlin, Nebraska, this pozole will make anyone rise up from the stalks. 
The Hills Have Fries, inspired by The Hills Have Eyes – This hill of hand-cut french fries smothered in a béchamel and chilli sauce and topped with fresh scallions, red onion, fakon, cilantro and lime sour cream will have everyone watching you.
Blood Orange Cheesecake Trifle, inspired by Dexter – Complete with blood orange, vegan cream cheese, and hints of lemon, this dessert is the right amount of sweet and airy – no gloves or plastic wrap are required to make. 
Never Sleep Again, inspired by Nightmare on Elm Street – Stay awake (and alive!) with this alternative take on an old-fashioned cocktail made with a shot of espresso.
Though the recipes may look terrifying, they are easy to make and will impress even the most stubborn carnivores. So, get ready to throw the ultimate Halloween party or some epic movie nights. Let's just hope Freddy, Michael, and Jason stay on the screen and off the guest list. [cue the beet-juice splatter!]