One thought was so urgent that it drowned out all the others: she'll only be two worlds away – will it be enough?
Tess is my kind of heroine. She's smart, stubborn, determined and a good friend. She conducts scientific experiments in a raincoat that's seen better days and her lab is otherwise known as the detention room. She has a pet tarantula named Violet and will quite happily ruin brand new clothes by climbing up a chimney. Oh, and she can travel between different realities!
"Could it be true, then, to say that everything which could exist, does exist somewhere? That every choice made creates a 'branch' effect, where both outcomes can come to independent fruition, each entirely unknown to the other? It would mean an almost unimaginable abundance of universes, but who is to say such things cannot be true?"
I'm pretty sure I've never been emotionally attached to a tarantula before, but Violet somehow spun some web magic over me and I became fiercely protective of her. I also became very fond of Moose the mouse and grinned whenever Hortense the hockey stick was mentioned. I quickly moved from "huh, a pet spider" to "I'm going to boycott this book if Violet and Moose don't make it to the end alive".
Then there were the humans. While Tess was a great main character, Wilf and Millie were the ones I wanted to simultaneously adopt and be best friends with. Millie was an absolute sweetheart, while Wilf managed to snag the best lines in the book (most of my smiles, smirks and chuckles came courtesy of her). Of all of the characters they're the two I desperately need updates about. I'm not greedy; just a book each where their individual stories are the focus would satisfy me. 😜
The settings came to life for me, particularly the chapel and Ackerbee's. I love Ackerbee's even more now that I've seen photos of the building it was based on, the Lafayette Building in Dublin. I need to live in that attic!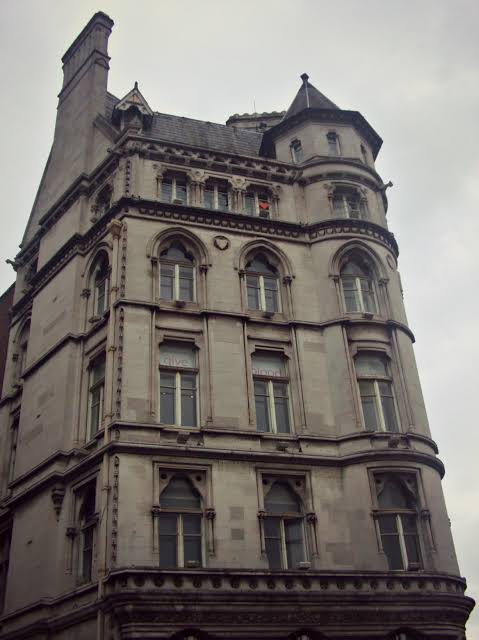 I can't tell you how much I love that 'home' in this book doesn't consist of buildings and 'family' doesn't require you to share DNA with people. Tess' home is with those who love her, including Miss Ackerbee, Rebecca, Wilf and all of the other girls at Ackerbee's Home for Lost and Foundlings, and Violet, of course.
If I'd read this book as a kid I would have loved that it didn't talk down to me. While there were some wonderful analogies that made complex ideas easier to understand (my favourite image was sheets of paper illustrating parallel universes), it never felt like anything was overly simplistic. I definitely would have gotten my science geek on after reading this.
Sara Mulvanny's cover artwork and Sophie Bransby's design drew me to this book in the first place and now that I've finished reading I can appreciate all of the elements that were included. I also liked the web at the beginning of each chapter; it was simple but effective.
Eensy weensy nitpick: I wasn't overly sure why Moose could travel between realities when Tess had to leave Violet behind each time she went to Thomas' world. Maybe I missed something though. Also, unlike Moose, Violet never seemed to eat.
While The Star-Spun Web works as a standalone there are enough loose ends to warrant a sequel. I can imagine what's next for some of my favourite characters but I'd much prefer to hear Sinéad O'Hart telling me all about them. I need to see Tess reunite with her father, visit other realities, relearn how to move between realities without needing the Star-spinner and foil Mackintosh and Mrs Thistleton's dastardly plan.
Thank you so much to NetGalley and Stripes Publishing, an imprint of Little Tiger Group, for the opportunity to read this book and for introducing me to a new (to me) author. Now if you'll excuse me, I need to add Sinéad's debut, The Eye of the North, to my wish list.
Once Upon a Blurb
With her passion for scientific experimentation and her pet tarantula Violet, Tess de Sousa is no ordinary orphan. When a stranger shows up at Ackerbee's Home for Lost and Foundlings, claiming to be a distant relative come to adopt her, Tess hopes to find some answers to her mysterious origins. But as she adjusts to her new life at Roedeer Lodge, it becomes clear that Norton F. Cleat knows more about Tess – and the strange star-shaped device left with her when she was abandoned as a baby – than he's letting on. And when Tess discovers that the Starspinner is the gateway between her world and a parallel world in which war rages, she realises she may be the key to a terrible plan. A plan she must stop at all costs …