Illustrations – Pete Petrovic
I loved Chrissie Perry's Penelope Perfect series so when I learned my library had ordered this book I reserved it immediately. You know, before an actual child could get their hands on it. 😜 It initially reminded me of the early Dork Diaries books (when Nikki's dramas were still realistic), although I enjoyed this more.
Amelie (the first part is pronounced 'Um') is a lovely young girl who means well but essentially has no filter. Her mouth is always set to chatterbox and she winds up in trouble with her classmates and teachers for saying the wrong thing at the wrong time to the wrong person fairly consistently. Amelie is friends with Pepper, Charlie and Sophie, and frenemies with Paris. If Amelie was Nikki from Dork Diaries then Paris would be Mackenzie, albeit with more potential for becoming a true friend.
I adored Pete Petrovic's illustrations! They're cute, imaginative and funny. Besides the inclusion of one of the best dragons I've ever seen, I loved all of the word art, especially this one.

Several illustrations made me laugh, particularly those that very literally depicted what was described, like this one (apologies for my dodgy photos).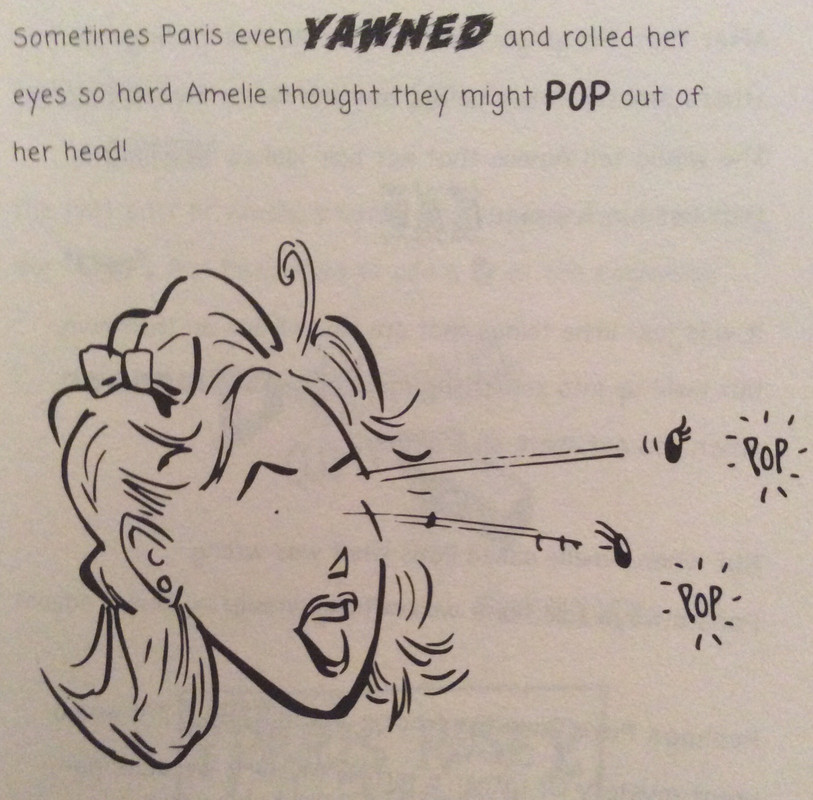 This was a fun read and, as it's the first in a series and I'm hooked, this won't be the last you'll be hearing about Amelie and her big mouth from me. I'm ready to hit that 'reserve' button when my library buys the second book (called Oops, I've Told a Little Lie!) for me the children who are this book's actual target audience.
Once Upon a Blurb
Blabbermouth =​ a person who talks too much =​ Amelie Anderson Amelie is a blabbermouth. She's not a bad kid – she's just so bubbly that sometimes words fizz right out of her mouth! And then things go wrong. Terribly wrong. But she's determined to fix all that. It's time for a reputation make-over!