Celine is an ordinary girl but when she goes to the sea she becomes Queen of her kingdom. After chasing away its current rulers (a flock of seagulls) Celine decides to build a fortress to protect her subjects. She wants things to remain the same but when the tide cannot enter her kingdom it loses "its sparkle". Now Celine needs to figure out what went wrong and how to fix it.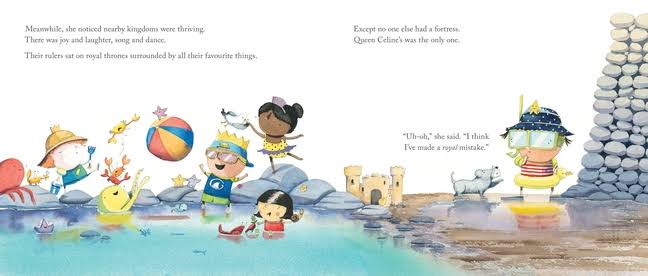 Celine's royal attire includes a very cool duck inflatable float ring. I loved the illustrations, all of which include plenty of detail to appreciate. All of the sea life are very expressive. My favourite background detail shows a seagull making a fish walk the plank.
This is a sweet picture book that is told quite simply but covers a lot of ground. Celine admits she was wrong, learns from her mistake and takes the steps she needs to to fix the problem. Celine's story shows that everyone is happier and there's more capacity for fun when everyone is included. There's also an ecological message.
Once Upon a Blurb
Celine Beaufort was an ordinary girl. 
She did ordinary things, 
On ordinary days, 
In ordinary ways. 
But every now and then, Celine was a Queen, Of a kingdom by the sea. 
Celine Beaufort is queen of what she is quite certain is the most beautiful rock pool in the world. It's perfect. And to make sure nothing ever changes, she decides to build a wall around it. Unfortunately, that turns out to be a royal mistake. As self-proclaimed ruler, it's up to Celine to right her wrong and restore her rock pool to its former glory, this time with everyone welcome.