Illustrations – Allison Colpoys
Up in the sky, amongst the stars

There's something you might not see …

But over your head and just above

There's an umbrella of my love

To show it's you I'm thinking of

Wherever you might be.
Warm and fuzzies abound in this gorgeous picture book. We follow four children, who are introduced in the beginning of the book as Joe, Brian, Grace and Izzy, as they navigate the world under their love umbrellas. No matter what they're feeling or what they're doing, they're assured of the love of their family, which follows them wherever they go.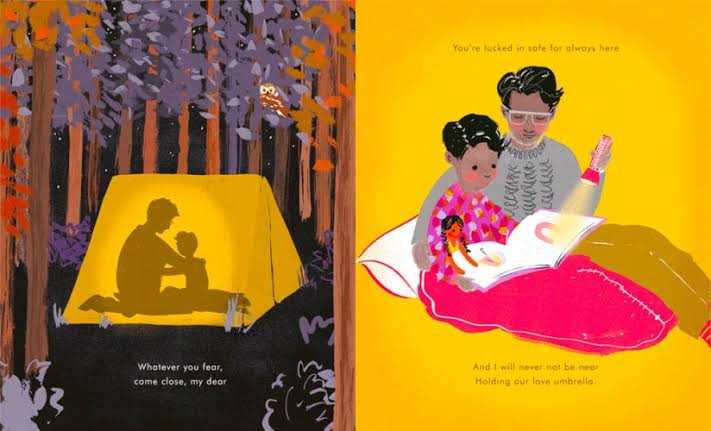 This is the kind of book that makes me almost wish I had a child I could read this to each bedtime. Because the love umbrella works whether you're with your loved ones or not I can also see the value of using this book if your child has separation anxiety or if a caregiver needed to be absent from the home for a period of time for work, illness or miscellaneous. Multiple ethnicities are represented, as are different types of families, although I didn't find any children with a visible disability in any of the illustrations.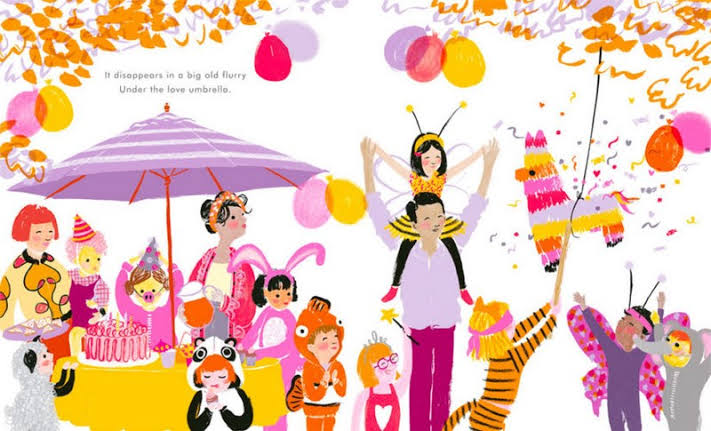 I'm always up for a challenge so I loved the idea of trying to discover all of the umbrellas pictured in the book and if I was reading this with a child I'd be encouraging them to help me find them. My personal favourite 'hidden' umbrella was the moving truck number plate – BR0LLY.
The illustrations are lovely. The umbrellas in the stars and fireworks are particularly creative and there are plenty of details to appreciate, including a framed picture of a bear wearing a tutu and holding (you guessed it!) an umbrella.
I wouldn't usually choose a book for bedtime reading with fluorescent colours but for some reason it works here, especially when there's a dark background.
I'm probably more partial to the idea of love umbrellas because once upon a time, when a work friend and I were having a bad day or needed some emotional support we'd ask to borrow an umbrella from the other. We'd end up having a coffee and a chat, and even if the problem wasn't solved by the end of the conversation we felt better knowing we could share it with someone who cared. We gave each other umbrella themed gifts and each had one of those umbrellas you find in fancy drinks on our desks at work.
Just looking at that flimsy little paper umbrella made me smile each time I glanced at it; it reminded me that whatever type of day I was having there was someone in the next office who cared enough about me to be there for me no matter what, and vice versa. It prevented me from ever feeling alone. Although it's many years later I still associate umbrellas with emotional support and it makes my heart feel all gooey that the kids who are read this book are going to associate the imagery of umbrellas with love.
This book will have you thinking about who's under your Love Umbrella. ☂️
Once Upon a Blurb
Whatever you fear, come close my dear
You're tucked in safe for always here
And I will never not be near
Because of our love umbrella
From this award-winning creative duo comes a book about the wonder of ever-present love. A stunning celebration of the joy and comfort that is always with us, wherever we roam in the big, wild world.
Who's under your Love Umbrella?