Illustrations – Claire Keane
I was so excited about this one for a couple of reasons. Obviously the cover was a big one because it's gorgeous! I loved the elephant and wanted to give it a massive hug; I couldn't wait to see the rest of the illustrations. Then there was the fact that 'The Blue Day Book' and I have history. After much thought I deleted three rambling paragraphs outlining my history with the original. You're welcome!
Let's just say I had high expectations for this new edition and it guts me to say that I'm disappointed. The text from the original book seems to be intact but there are also additions; when I read the original I didn't think it was broken and I still prefer it. Because I loved the cover illustration of this edition so much I assumed I'd fall in love with every illustration but that wasn't the case.
I really appreciated the introduction to this illustrated edition. I gained some insight into how 'The Blue Day Book' came to be in the first place and learned some of the journey of its creator in the years since its publication. I understood why there was one central elephant rather than a zoo of creatures telling the visual story.
No one is immune from painful life experiences. This book acknowledges those and then makes a point about perspective. The author notes in the introduction "but when I really took stock of my life I realized it actually wasn't that bad". While I'm a fan of looking at your circumstances from different perspectives and trying to make the best out of bad situations, there are things in life that really are that bad and all the perspective in the world won't change that.
Twenty years ago I probably would have flung the original book at anyone who had pretty much any crappy life event but I'd be hesitant to do the same now as I know the impact platitudes can have when you're not in a good place.
My favourite quote is from the introduction, which reads in part
so often it's the little things that matter most. It's the endless little setbacks that finally break us, the fleeting gestures of kindness and moments of levity that lift our spirits, and the small personal victories that spur us on to far greater endeavors.
While I'd happily share the photographs in the original book with kids, I wouldn't put the illustrated edition in their hands. My sensitivity may be showing here but I really didn't like the wording and illustrations that accompanied the pages that allude to suicide. I also wasn't a fan of the drunk elephant with bloodshot eyes that's trashed the bar and don't get me started on the "pathetic, sniveling victim" page.
I spent more than half of this book glad I wasn't reading it when I was having a bad day.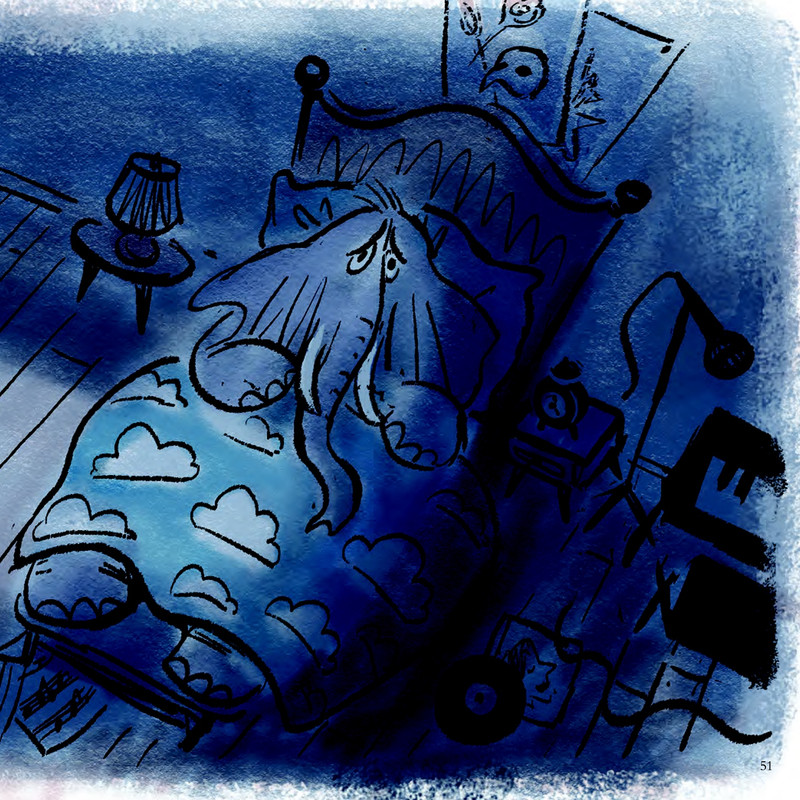 Then when the positivity began to trickle in it started with becoming rich and famous before announcing that "best of all, there's romance." Thankfully it moved on to positives I can get behind like getting outside and going for a walk but by then the book had lost me. I really hope I'm an exception and look forward to reading reviews written by people who adore this edition.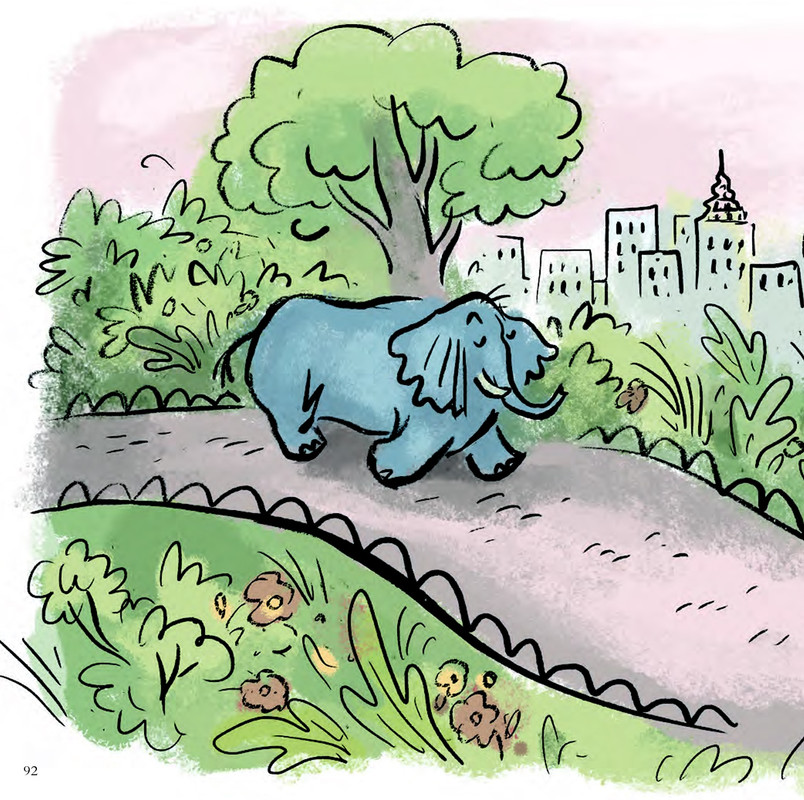 Thank you to NetGalley and Andrews McMeel Publishing for the opportunity to read this book.
Once Upon a Blurb
The Blue Day Book Illustrated Edition is a marvelous relaunch of the original collection that conveys inspirational and poignant text, now brilliantly paired with illustrations of a wonderfully expressive elephant. Not only are the words designed to lift the spirits of anyone who's got the blues, the whimsical illustrations create a beautiful, visual story for readers to follow along. No one who has lips will be able to read it without smiling; it's guaranteed.
Nineteen years after its first printing, Bradley Trevor Greive's global bestseller The Blue Day Book has become a modern classic and is still bringing smiles to readers around the world. And because we all still have bad days now and then, the time is right for an illustrated edition of this uniquely funny, compassionate book that inspired an entire genre of uplifting gift books.
This special edition features stunning new illustrations created by Claire Keane, the artist and animator who created the art for Disney's Frozen. Still included, of course, are the original, warm, supportive messages and humorous insights guaranteed to raise the spirits of anyone feeling down and blue.