Marigold's name earned plenty of nerd points for me when I read Dana Simpson's introduction to this collection. Dana explains she put her name into an online unicorn name generator and what popped out was … Marigold Heavenly Nostrils! Best story of the week!
After forcing myself to have a short break from this series I needed to know what was next for this girl and her unicorn (or perhaps that should be 'this unicorn and her girl').
Phoebe decides she doesn't want to rule the world. Marigold learns that humans are better with a soundtrack. Todd the candy dragon, a goblin, Dakota and Max were back, but my new favourite superhero and villain were absent. Phoebe starts a journal. Marigold comes down with sparkle fever. Phoebe's room disappears. Then Phoebe and Marigold return to music camp and get to hang out with Sue and Ringo, the lake monster.
Phoebe's father solved the 'hiding the Christmas presents' dilemma.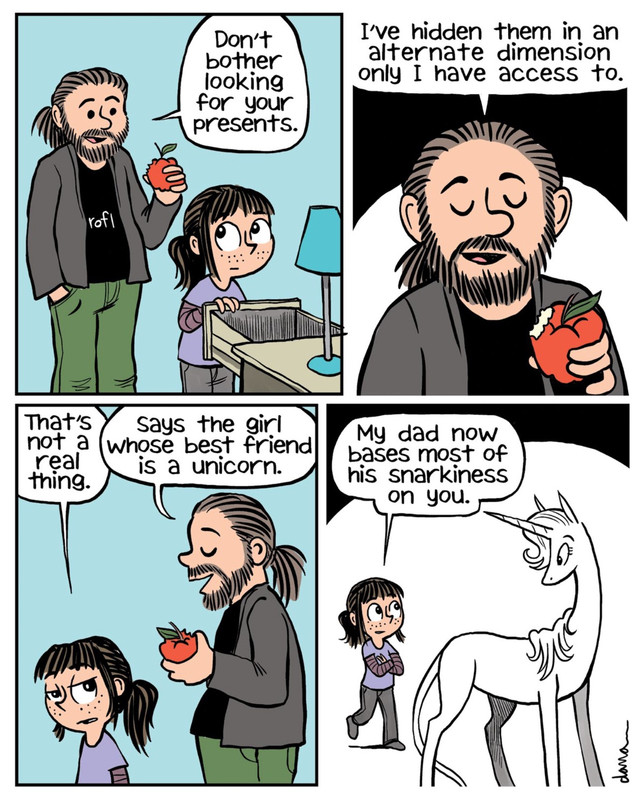 Though this isn't my favourite collection and some comics have become a tad repetitive I still really enjoyed this read. It already feels like I'm reading about old friends and I wish I had a kidlet to enjoy this series with.
Once Upon a Blurb
Get ready to be bedazzled!
Dana Simpson's Phoebe and Her Unicorn is back with more sparkles than ever! In this fourth volume, join in the adventure as Phoebe and Marigold confront messy rooms, trouble at school, and a nasty case of "Sparkle Fever." Follow the pair back to Camp Wolfgang, where their old pals Sue (a.k.a. "Monster Girl") and Ringo, the lake creature, remind them that being weird is WAY more fun than being normal.