It felt like my heart grew a few sizes while I was reading this graphic novel. When the dress she makes for Lady Sophia causes a stir at the Royal Spring Ball, Frances is offered a position as a personal seamstress for an unknown client. Her new client turns out to be Crown Prince Sebastian of Belgium, who is trying to keep a secret that he fears will cause his father to disown him.

During the day Prince Sebastian has to meet potential brides with his parents but in the evenings Lady Crystallia is wowing Paris' fashion world with Frances' innovative dress designs. Caught between trying to be the Prince his parents, especially his father, expect and who he truly is, Sebastian finds unconditional acceptance and a growing friendship with Frances.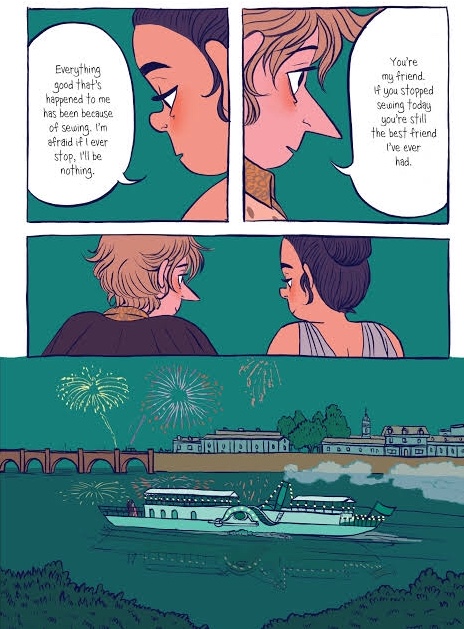 I adored Sebastian immediately. Frances won my heart when she accepted Sebastian without hesitation and she kept winning me over with gems like, "He wasn't confused about himself. The thing that ruined Sebastian was how afraid he was of what you'd think of him."
Content warning for a forced outing. Thankfully this is challenged but I expect this content will be painful for some readers.
This is such a gorgeous story of being true to yourself and of acceptance. The illustrations are brilliant and the dresses are stunning. I loved the characters, the friendship, the love story and the resolution. And everything else, except the outing. I can't believe it's taken me so long to read this for the first time. It deserves all the stars!
Once Upon a Blurb
Paris, at the dawn of the modern age:
Prince Sebastian is looking for a bride – or rather, his parents are looking for one for him. Sebastian is too busy hiding his secret life from everyone. At night he puts on daring dresses and takes Paris by storm as the fabulous Lady Crystallia – the hottest fashion icon in the world capital of fashion!
Sebastian's secret weapon (and best friend) is the brilliant dressmaker Frances – one of only two people who know the truth: sometimes this boy wears dresses. But Frances dreams of greatness, and being someone's secret weapon means being a secret. Forever. How long can Frances defer her dreams to protect a friend? Jen Wang weaves an exuberantly romantic tale of identity, young love, art, and family. A fairy tale for any age, The Prince and the Dressmaker will steal your heart.