Illustrations – Lee Garbett
Colours – Antonio Fabela
Willa and Edison have left Chicago and are on a train to Kansas City. Barrow is determined to stop Willa, no matter what, so he stops all the trains. Stuck in the middle of a forest isn't as safe as it used to be. Since G-Day the bugs have supersized and Willa narrowly escapes being a dragonfly's dinner when a badass warrior farmer with a sword, Lucas Serrano, saves her. Riding a butterfly, no less.
"So now we're trapped in the middle of nowhere with a bunch of farmers turned crazy survivalists. What could go wrong?"
There's so much going on in this volume. Giant bugs are now above us on the food chain! There are explosions! You don't know who you can trust because it seems like practically everyone has a secret and/or ulterior motive.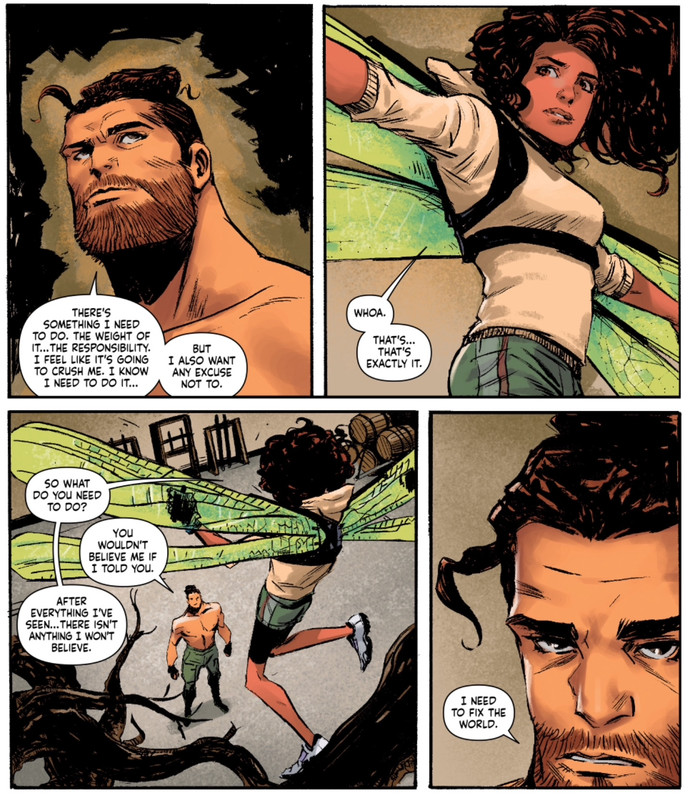 It's so much fun!
I really enjoyed the first volume. It ended with a cliffhanger and here I am again, sitting on the edge of a cliff. Now I have to wait until August to see how this all plays out in Skyward Volume 3: Fix the World.
Once Upon a Blurb
Now a fugitive, Willa leaves Chicago and goes on the run! But when she takes refuge with some low-G farmers, she stumbles into a plot to attack the city. Oh, and on top of all that: giant, man-eating bugs! Maybe we should have led with that.
Skyward Volume 2 collects issues 6-10.