I love abandoned places photography! I adore the atmosphere, the haunting quality of the images and imagining the history of the buildings and those who have lived in or visited them.
Most of the collections of abandoned places I've seen have focused on the buildings' interiors. This book includes some interior photos as well as some bird's-eye view shots that show an interesting blend of interior and exterior. However, a greater proportion show the overall exterior of the building, with sections of facades crumbling on some and nature overrunning others, and I really enjoyed those photos. I particularly liked those that highlight the contrast between neglected architecture and flourishing greenery surrounding it (and oftentimes growing over it).
The descriptions that accompany each image are succinct; you learn enough to provide context but not so much that the information overwhelms the picture. Each section includes a short introduction to the overall location: The Americas and Caribbean, Western Europe, Eastern Europe, Africa and the Middle East, and Asia and the Pacific.
Each time I look through this book (three times so far) different photos catch my eye and details I've previously missed stand out. I do have a few favourites that I expect will remain, no matter how many times I return. The one that stands out the most and that I most desperately need to visit is Pidhirsti Palace in Lviv, Ukraine.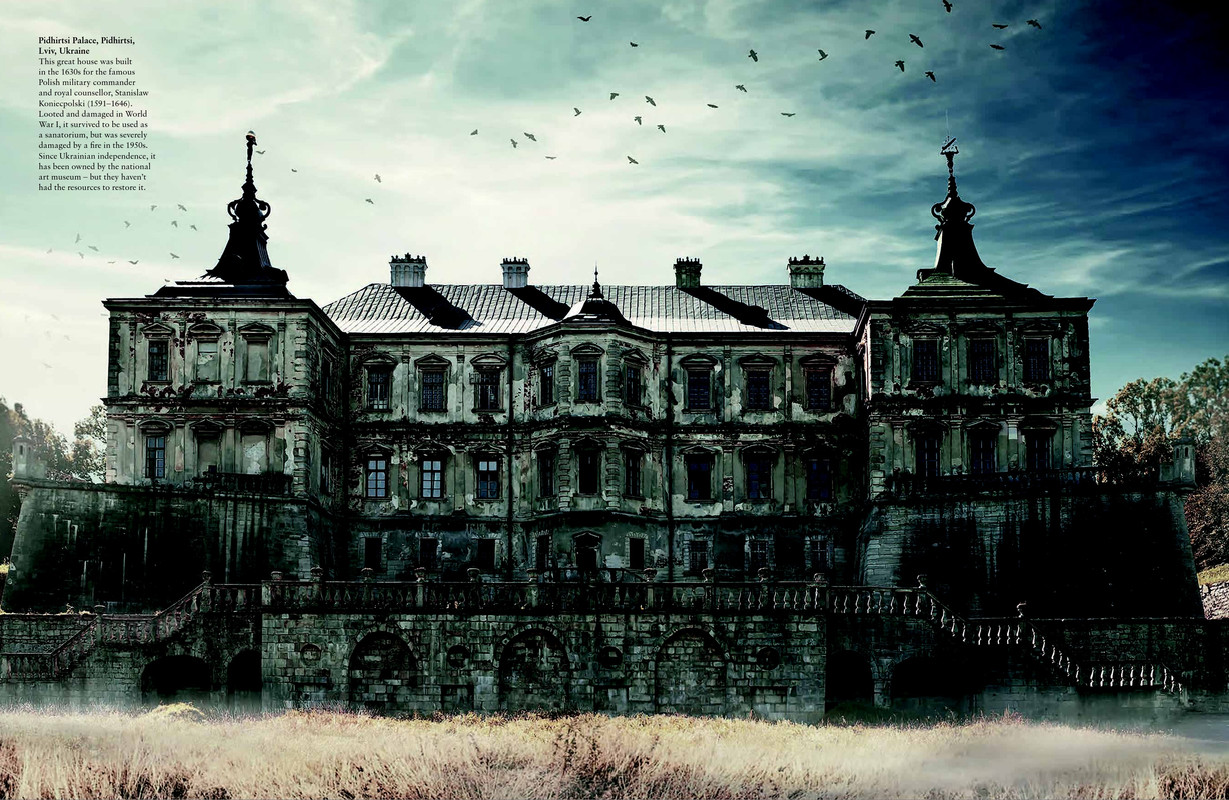 The original photo by LALS STOCK can be found on Shutterstock here. Editing of the image in this book (or it may be because I'm reading an ARC) has given it a creepier feel than the original, but that has added to my love for this particular photo.
Although the colour feels off (again, this could be due to my viewing an ARC on an iPad) my favourite photo that showed some interior was of Ladendorf Castle in Mistelbach, Austria.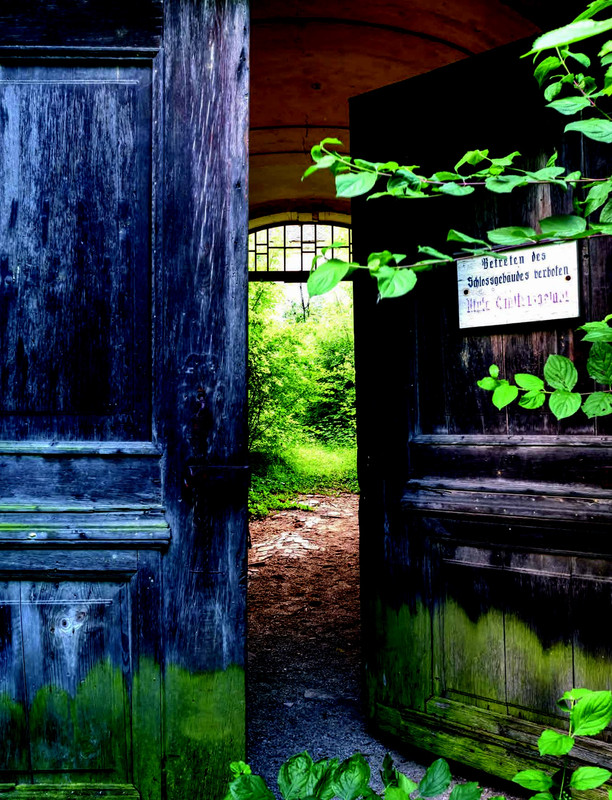 I loved that this open door felt like an invitation and, although it's actually a courtyard you're getting a glimpse of, I immediately imagined that a path out of view behind this building would lead intrepid explorers to another world. (That is one of the reasons why I love photography so much; it awakens my imagination.) This photo of Ladendorf Castle is by Viennaslide and can be found on Alamy here.
I was quite disappointed to learn that the photos were all sourced from stock image sites: 123RF, Alamy, Dreamstime, FLPA, Getty Images, Globallookpress.com, iStock and Shutterstock. In the past I've enjoyed collections of abandoned places photos by a single artist; I find this provides more of a cohesive feel to the project and gives me a sense of their 'eye' by the end of the book. I also enjoy the anecdotes a photographer can provide based on their experiences shooting at specific locations.
These details are missing here; this isn't necessarily a bad thing but is certainly something I would have liked to have known before I started reading/looking. Also missing are the interior photos that show details of abandoned items that I love to pore over; they provide a small but important connection for me to the history of the buildings and the people who spent time there.
To be taken with a grain of salt as this relates to the ARC: There were some photos that appeared underexposed and others that appeared to have been edited so the colour was unnaturally saturated in places. These may be artistic choices by the individual photographers or the book's editor or could be due to the fact that I viewed an advanced copy on an iPad. These comments may be entirely irrelevant once this book has been published.
Thank you to NetGalley and Amber Books for the opportunity to view this book.
Once Upon a Blurb
From imperial residences and aristocratic estates to hotels and urban mansions, Abandoned Palaces tells the stories behind dilapidated structures all around the world.
Built to impress, built with style and grandeur, built, above all, to last: it's all the more remarkable when buildings such as these fall into disrepair and become ruins. From ancient Roman villas to the French colonial hill station in Cambodia that was one of the final refuges of the Khmer Rouge, Abandoned Palaces charts the decline of what were once the homes and holiday resorts of the super wealthy.
Ranging from crumbling hotels in the Catskills or in Mozambique, to grand mansions in Taiwan, to an unfinished Elizabethan summerhouse, to a modern megalomaniac's partially completed estate, they were deserted for reasons including politics, bankruptcy, personal tragedies, natural and man-made disasters, and changing tastes and fashions. Filled with stunning, nostalgic images, this volume is a brilliant and moving examination of worlds left behind.