Illustrations – Emily Carroll
If ever a story seemed destined to become a graphic novel, it's Speak, which I finally read for the first time less than two months ago, and it was everything! I feared I'd Humpty Dumpty while reading Speak, which is why it took so long for me to gather the courage to finally begin reading it. I wish I'd had a Speak to tell me I wasn't alone when I was Melinda's age.
I asked my library to buy this graphic novel for me and they did! I love my library! I was under the delusion that I'd read this once and then move on. Hah! As if I wasn't going to then buy a copy for myself immediately so I could reread it to my heart's content!
Much like my experience with the novel I kept the graphic novel near me, planning to read it all month, but once again I was afraid of Humpty Dumptying. It's due tomorrow and someone else has reserved it so I could avoid it no longer. But like Speak before it, it was AMAZING!!!
I'm left with a cacophony of exclamations fighting to be the loudest in my head:
"Where has this graphic novel been my whole life?!"
"Everyone need to read this!"
"How different could my life have been if this had been published when I was Melinda's age?!"
"This graphic novel is going to introduce Laurie's story to a whole new audience!"
"The illustrations portray the aftermath of sexual assault perfectly!"
Everything I said in my Speak review stands but Emily Carroll's illustrations have brought Melinda's story to life in a way that, while maintaining Laurie's sensitive portrayal, provides a whole new dimension to it, showing what life after sexual assault can look like.
You get to watch Melinda's expressions as she attempts to navigate high school, the same high school where It walks the halls. You can't help but see how the trauma is affecting her throughout the story. You witness her growing from a scared rabbit to someone who not only has a voice but uses it! I got to see her turkey-bone sculpture outside of my imagination and it was perfect! (Apologies for the dodgy image. I took a photo of this page in my library book.)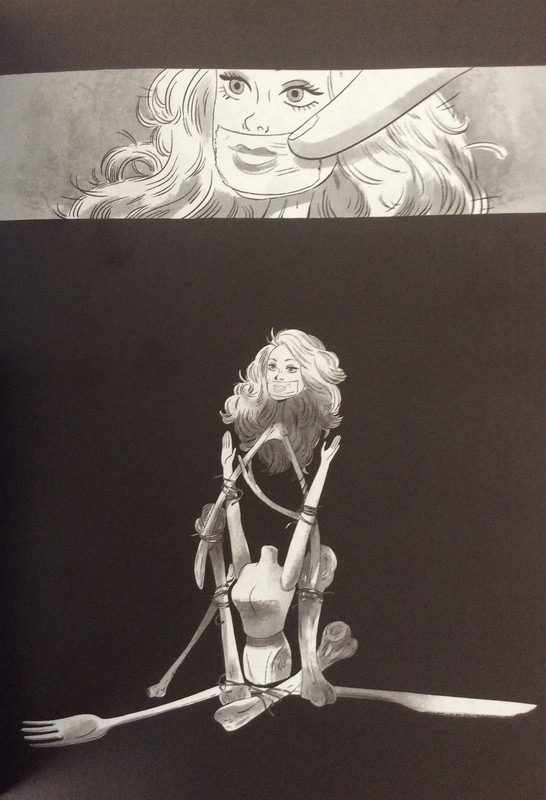 I got to see what Melinda's final tree looks like and I loved it. The only thing that could have made that image even better for me would be if a splash of colour had been added. Greyscale works perfectly for this book but a hint of colour (probably green for symbolism) would have delighted me.
I've never done this before but I'm going to add a couple of Post-it's before I return this book to the library. While I'd never actually deface a library book I want to add the phone number of my state's Rape Crisis Centre to the list of resources and a little something to let future borrowers know that they're not alone.
Content warnings include sexual and physical assaults, depression, emotional neglect, self harm, isolation, bullying and a whole bunch of high school crap that seems vitally important at the time you're living it.
Once Upon a Blurb
The modern classic Speak is now a graphic novel.
"Speak up for yourself – we want to know what you have to say."
From the first moment of her freshman year at Merryweather High, Melinda knows this is a big fat lie, part of the nonsense of high school. She is friendless – an outcast – because she busted an end-of-summer party by calling the cops, so now nobody will talk to her, let alone listen to her. Through her work on an art project, she is finally able to face what really happened that night: She was raped by an upperclassman, a guy who still attends Merryweather and is still a threat to her.