Magic! Gargoyles! A spell library! Wraiths! Time travel! A 1,000 page compendium of unbelievables that I need to read urgently! Breakfast! This is such a fun series!
Kat has already faced spells, curses and unbelievables, and risked her life by travelling to the past to retrieve invaluable items. Now she needs to attempt to find the Mallory amulet, which has been missing for over two centuries. This will likely be more dangerous than any of her previous missions to the past and it doesn't help that her personal life is a mess.
My best friend was pulling away from me. My partner in the occult arts no longer had time for me. And my ghost mentor was actually ghosting me. This was not what I expected my senior year of high school to be like.
Four families have been bound together for centuries. Kat, the Langley heir, has been spending her weekends completing as much magical training as possible with Evan, the Kingsley heir, to prepare themselves to defeat the Dark One. Kat's feelings towards Evan have been growing but she doesn't know where she stands with him, and besides, when Langleys and Kingsleys fall in love it never ends well.
The Langley and Kingsley families protect the Radcliffes. The fourth family, the Mallory's, are the historians and secret keepers; they're so secretive that no one even knows who the current Mallory heir is.
The coolest ghost I know, Toria, was MIA when this story began but she remains one of my favourite characters. I loved getting to spend some quality time at Dumbarton with Kat's aunts, Vivian and Jacqueline. Abrasive Jacqueline is really growing on me and I still wish sweetheart Vivian was my aunt. She always manages to snag the best lines – "Dear, the dead aren't always at your beck and call. … They do have their own afterlife to live."
While I adore Dumbarton (I need to live there!), I was excited to finally visit the Kingsley ancestral home, Ravenshurt, inspired by this real life awesomeness in Belgium, a neo-Gothic castle called Château Miranda.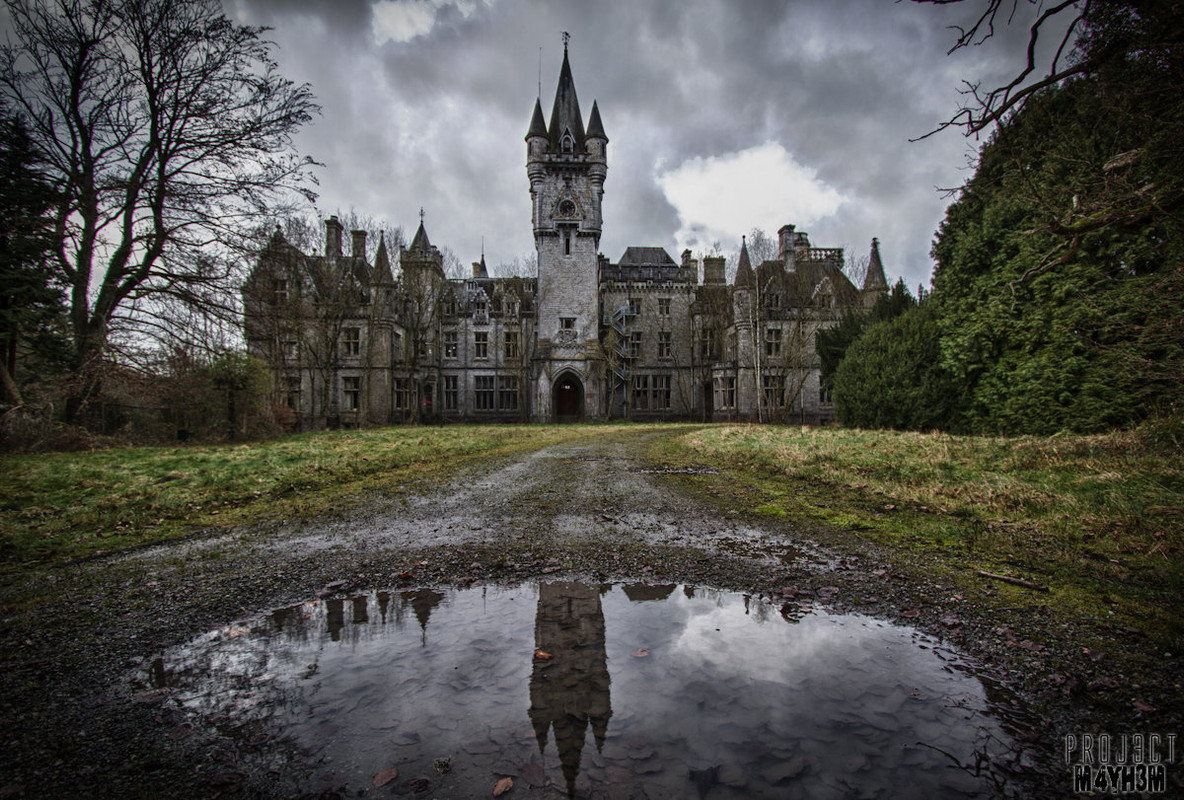 I finally know who the current Mallory heir is and the reveal was worth the wait! No, I'm not telling you who it is! I also found out some useful information about the Dark One and I have my suspicions about who may be in cahoots with them but I hope I'm wrong.
While the first two books in the series are told solely from Kat's perspective, Evan's voice is also included in this book. I enjoyed learning more about him (he loves manga!) but don't feel he's had enough page time yet for me to readily distinguish his voice from Kat's.
I got sucked straight into the story, even though it's been almost two years since I read the second book in the series. It did take me a little while to click back into remembering who all of the ancestors were and the specifics of Kat and Evan's previous time travel adventures. I was so grateful to have the second book on hand when I finished the first and think it would have helped me initially if it hadn't been so long between reads.
I highly recommend reading this series in order. In theory you could just jump right in there and start with this book but you'd be setting yourself up for some major spoilers of the first two. The inclusion of family trees for the four families could be helpful for both continuing and new readers of this series.
Breakfast Bliss: blueberry pancakes, bacon and orange juice. May I please come and stay at Dumbarton, Aunt Vivian? You won't even know I'm there! I promise to be quiet as I devour everything in your spell library and refrigerator.
Content warnings include mention of death by suicide.
Thank you so much to K.C. Tansley and Beckett Publishing Group, LLC for the opportunity to read an ARC of this book. I'm really looking forward to book 4!
Once Upon a Blurb
She'd do anything to save her friends and family. But will that mean sacrificing the ghosts she's grown to love?
Kat is trying to settle back into her senior year at McTernan Academy, but destiny keeps getting in the way of schoolwork and friendships. Continuing her magical training means abandoning her best friend, until an attack by a mysterious entity on campus proves that the only place they'll both be safe is Dumbarton, the ancestral home of the Langley family.
Evan struggles with his coursework, a flirty new housemate, and his daunting responsibilities as the Kingsley heir and new owner of Ravenhurst manor. He tries to hold onto his normal college life, but he knows it's only a matter of time before he and Kat have to travel into the past again … And Kat is in mortal danger every minute they wait to retrieve the last amulet they need to defeat the Dark One.
As her normal life slips further away, Kat must face the terrible cost that comes with time travel. Completing her quest in the present requires changing the past. She knows that the results of her actions can be disastrous – because the ghosts of her ancestors tell her of their tragic fates. A trip to eighteenth-century Connecticut might change everything. Kat tries to protect everyone she loves, but risks destroying every relationship that matters to her.