Illustrations – Cliff Chiang
Colours – Matt Wilson
Spoilers Ahead!
A note about spoilers: I don't know how to review this Volume without including them, especially since I'm using this review to remind myself of what I already know when I make it to Volume 3. Please proceed with caution if you haven't already read this Volume.
Tiffany, Mac and Erin had a really weird All Saints morning in 1988 and now their friend KJ is missing. Or maybe they are because here they are, standing in front of Erin (same Erin, but all grown up) in 2016. Cue The Twilight Zone theme right about now.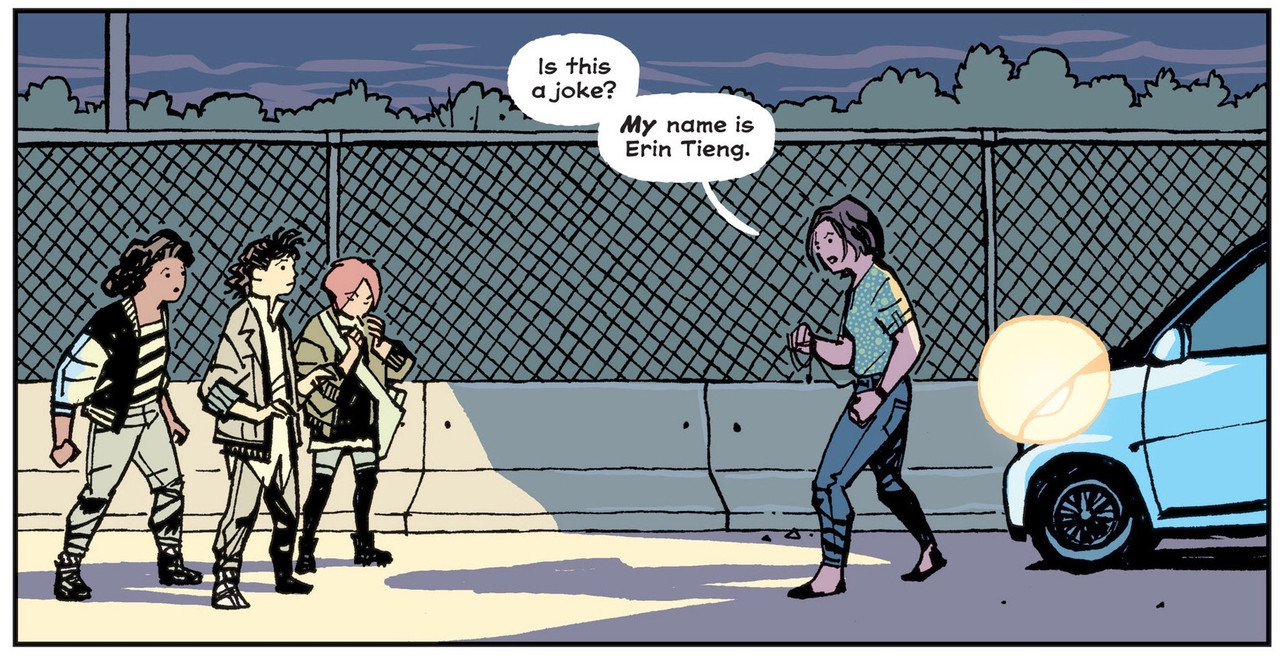 Meanwhile, the old-timers in 1988 seem to think they know what happened. Our girls have been "timelined", same place, different time. Except they could be "anywhere in time" so that doesn't exactly narrow things down for the old-timers.
The Cardinal is the lady in the stormtrooper cosplay, the guy with the white beard is Grand Father, whose mother was born in 2016, and the one on the left? Yeah, that's a pterodactyl!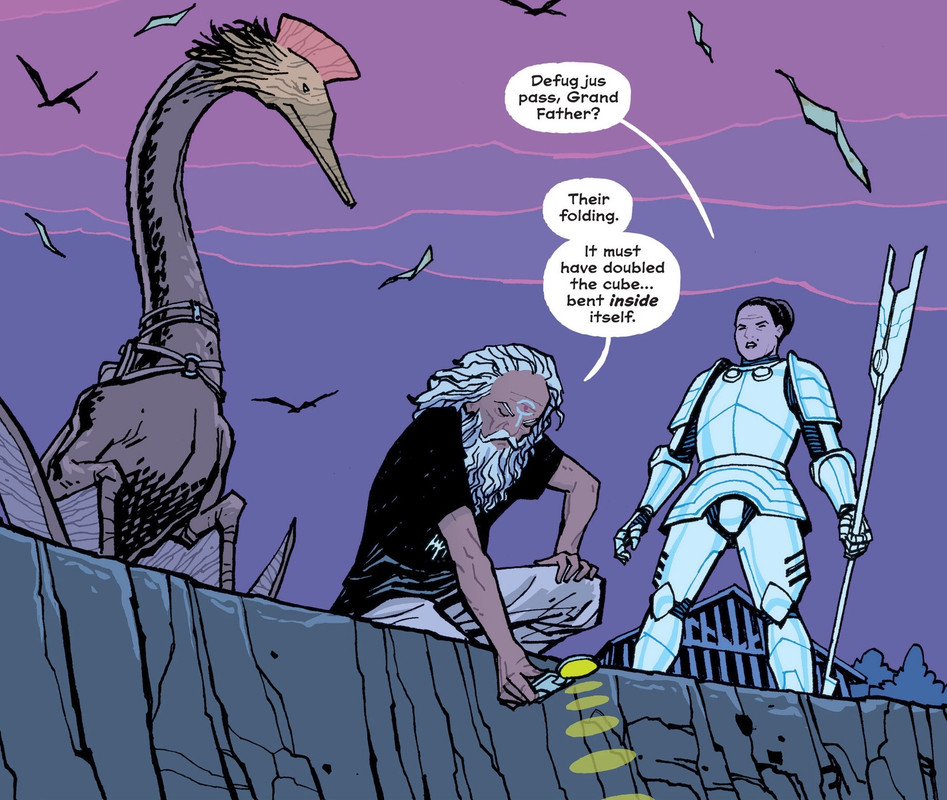 Then, as if two Erins weren't enough, a third one shows up.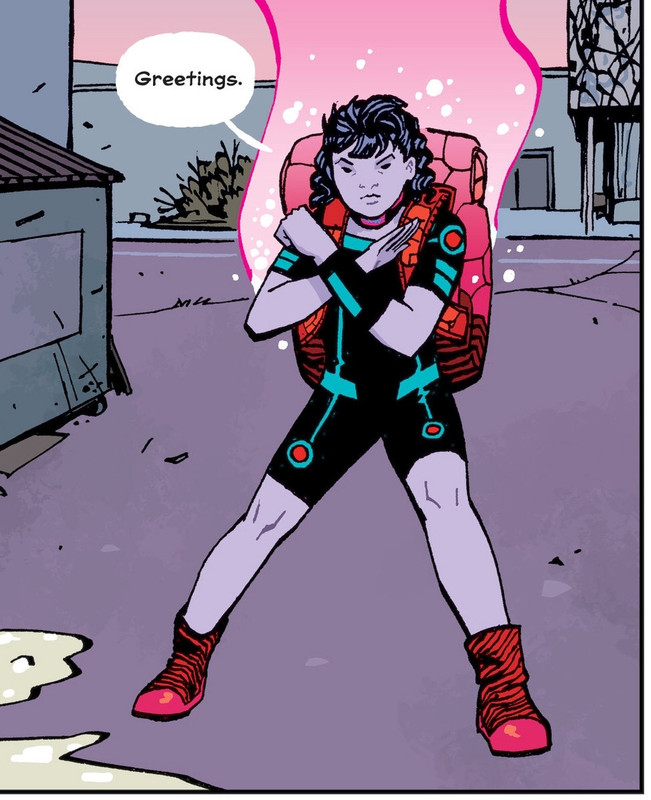 This one actually seems to know what's going on and I'm guessing this is probably not all that unusual of a conversation for a Uber driver and their passenger to be having.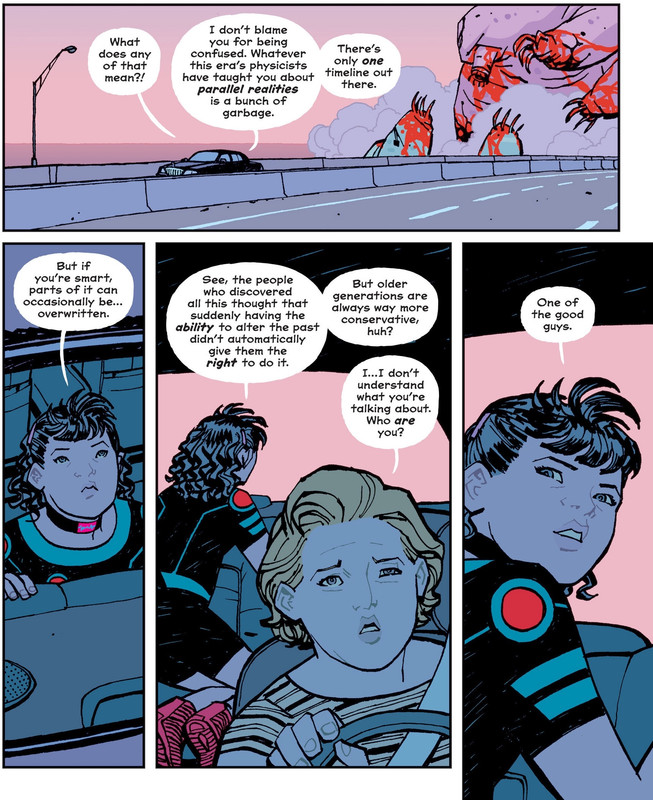 This creature shows up. He's a gigantic tardigrade.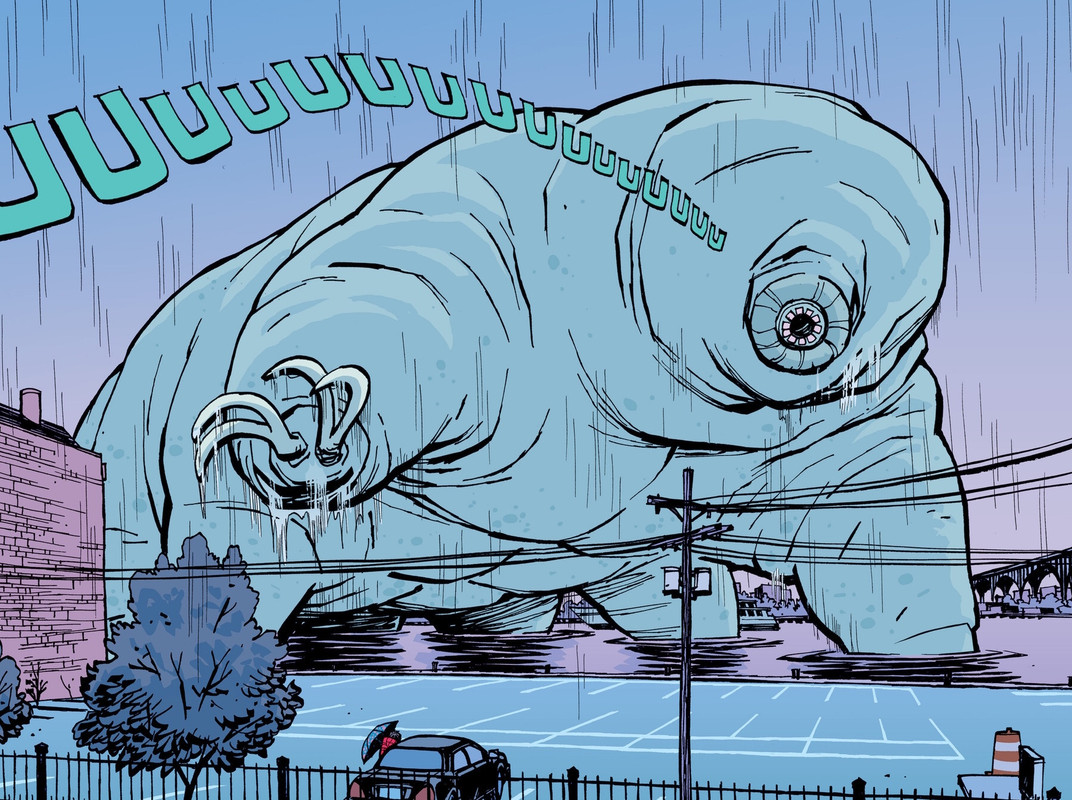 Then there's this maggot.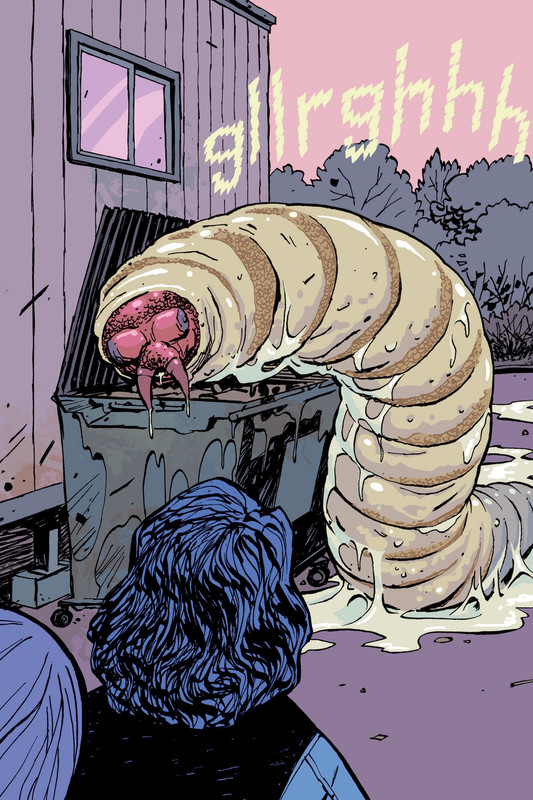 Okay, so the massive creepy crawlies aren't the prettiest. But at least this happens.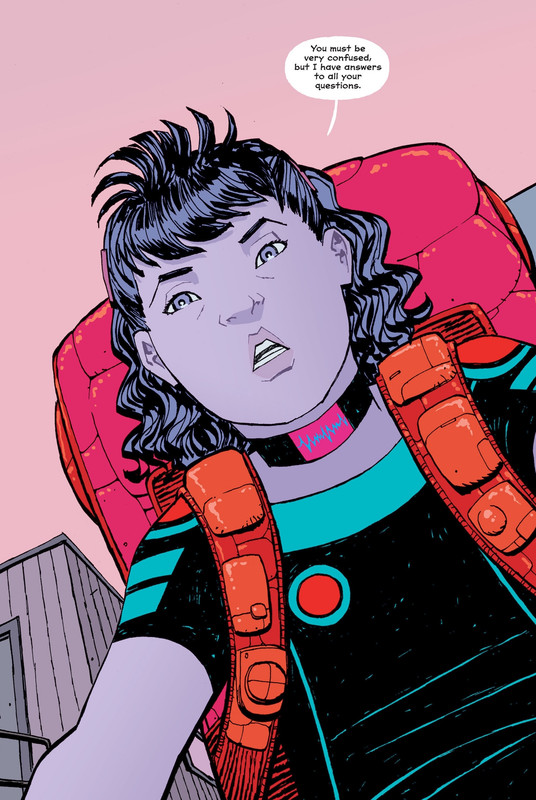 Yes, please Erin III. Please give me all the answers.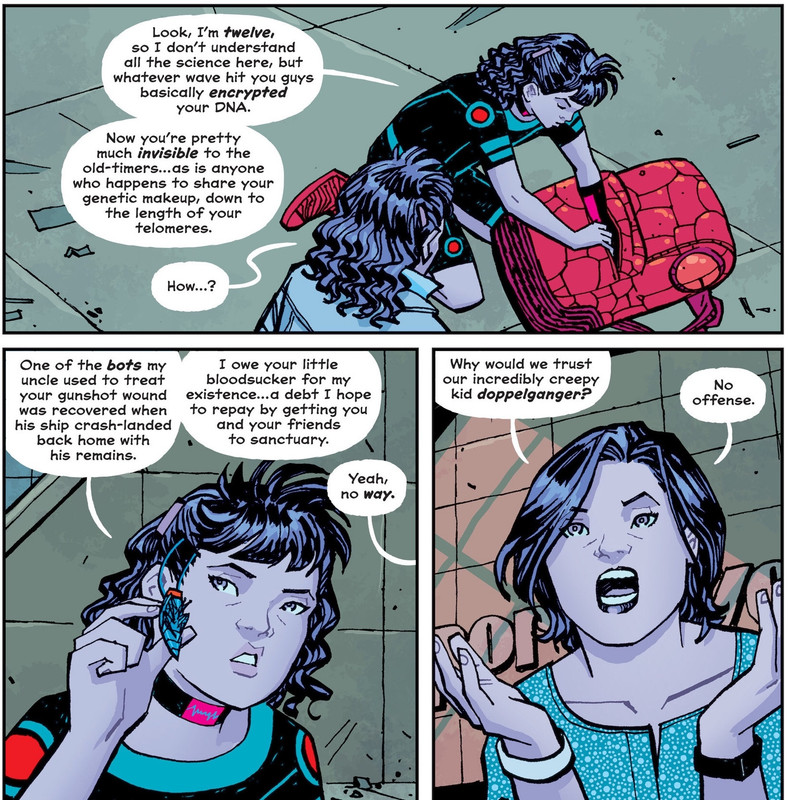 We learn the Erin I'm calling Erin III (red backpack Erin) is actually a clone and she knows Naldo and Uncle (?) Heck, the teenagers from another time that helped our four original paper girls in the first Volume. Although when both of the new Erins are telling our paper girls different things, who are they supposed to trust?
We may not know much about the old-timers (or anyone, really) yet but we now know that old-timers travel in some serious style. Check this awesomeness out!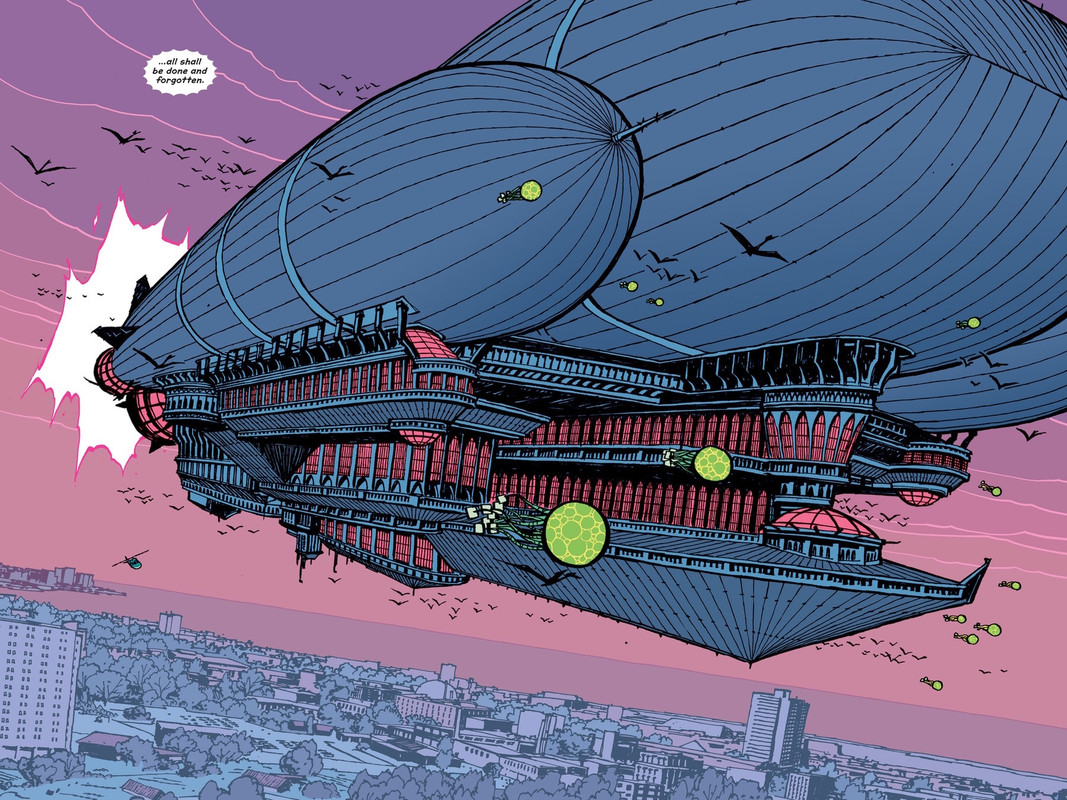 We even get a glimpse of the future in this Volume and while it looks pretty interesting, it appears global warming has followed through on at least one of its promises.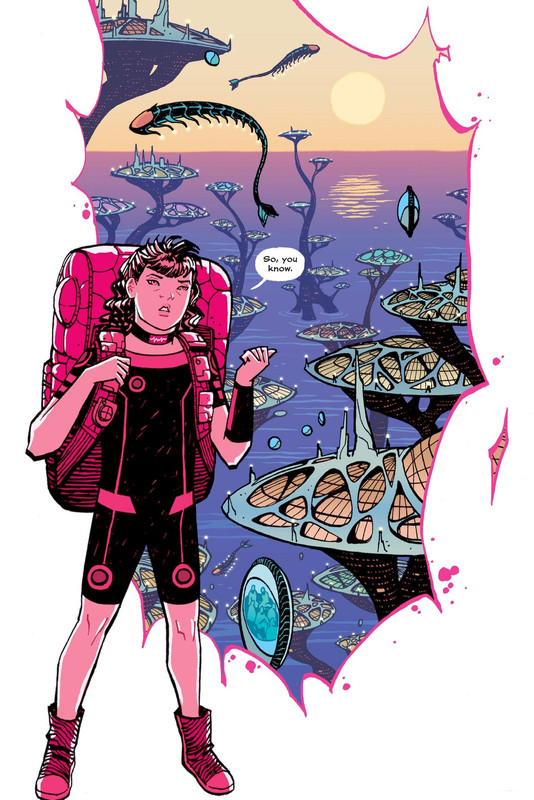 While I'd much rather read a book than keep up with what's happening in the world of politics I did appreciate the not so subtle political jabs included in this Volume.
Raising all sorts of fun Back to the Future-ish quandaries and space-time continuum conundrums, including what to do if you find out you don't exist in the future, I found this second Volume a lot easier to follow than the first. I'm now keen to continue the series, despite and maybe even because it raises interesting and potentially scary questions, like what your kid self would think of the adult you became and what you'd want to tell your kid self if you met them now.
Content warnings include some graphic violence and mention of mental health and racism.
Once Upon a Blurb
After surviving the strangest night of their lives in the Cleveland suburb of Stony Stream, intrepid young newspaper deliverers Erin, Mac, and Tiffany find themselves launched from 1988 to a distant and terrifying future … the year 2016.
What would you do if you were suddenly confronted by your 12-year-old self? 40-year-old newspaper reporter Erin Tieng is about to find out in this action-packed story about identity, mortality, and growing older in the 21st century.
Collects Paper Girls 6-10.