Everyone, please gather around and allow me to introduce you to my new obsession. It's fruit, vegetables and other healthy yummies! It's animals! It's an entire alphabet of whimsical food/animal combinations and this kid in the adult suit is absolutely delighted by it. I can't choose a favourite because they're all so imaginative and fun. That's fun spelled: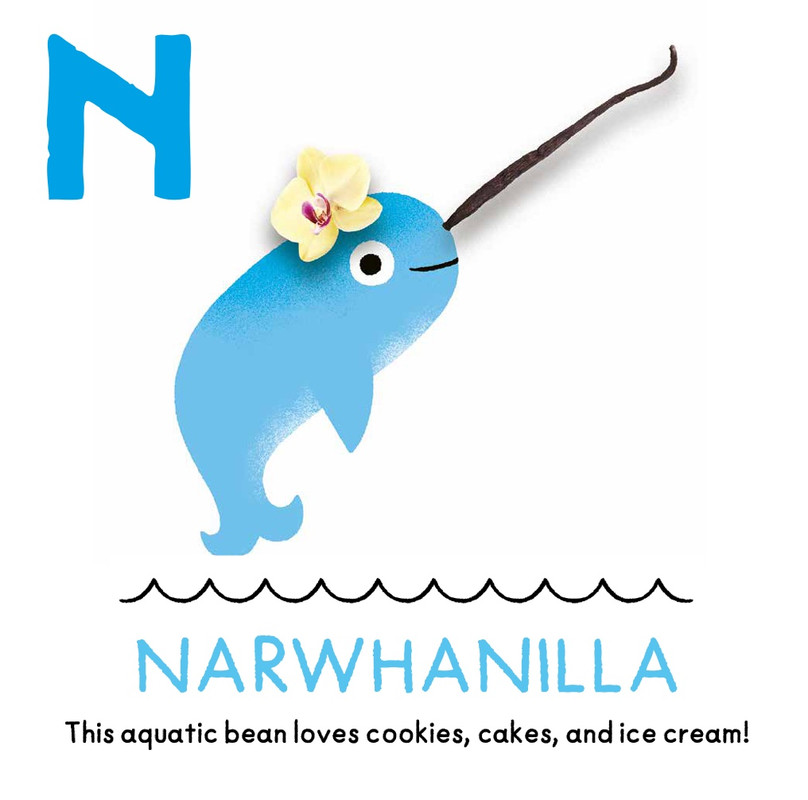 I wish I could spell the entire alphabet to you because this book is just so smile-inducing! It's times like this when I need to borrow someone's child so I can see the look on their face as they figure out what's made me so happy. Naturally they would then fall in love with the book too. Never fear, though; in the absence of a child I read this book to my mother instead. Because … that's how I roll apparently? Needless to say, Mum loved it too and we're both planning to reread it tomorrow.
Oh, and if you like your educational mixed in with your cute factor, you'll get a little fix of that too with Food Facts, bite sized (sorry, I had to get cheesy) pieces of information about every morsel you encountered as you made your way through the alphabet.
Thank you so much to NetGalley and Quarto Publishing Group – Walter Foster, Jr. for granting my wish to read this book. I think I'm in need of a sequel that teaches me how to count.
Reread 24 March 2020
I've finally managed to get my hands on this board book (I love my library!) and it's just as cute as I remember. My favourite letter during my reread was D: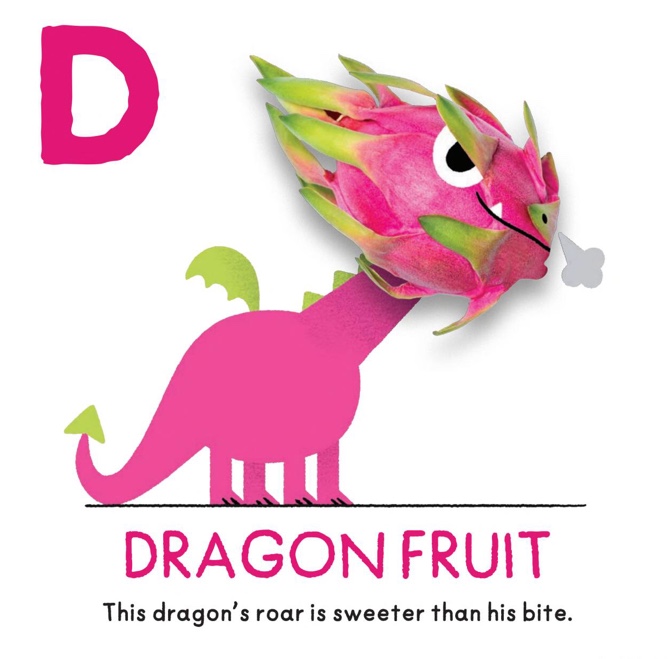 Once Upon a Blurb
A is for Apricat is a fun, creative way for kids to learn their ABC's. Combining photos of fresh fruits and vegetables with cute illustrations of animals, illustrator Mauro Gatti has created a whole new kind of critter! The Apricat has the round, fuzzy body of a real apricot, with the adorable whiskers and face of a kitten. And the Turkale may have the head and neck of a turkey, but its body is fresh and green.
Each page features a letter with a new fruit or vegetable creature, paired with simple text to help kids learn the letter, the animal, and the food. A food facts page at the back explains the health benefits of each featured food with playful, kid-geared language.
Promoting healthy eating and imaginative thinking, this unique, lighthearted take on a basic concept will be enjoyed by kids and parents alike.