On a Sunbeam is a 2019 Hugo Awards finalist in the Best Graphic Story category.

Mia is the new kid. The lady introducing Mia to everyone is Alma. Elliot (Ell) is the mechanical genius with the blond hair; they're non-binary and don't talk. Jules is the one with ice skates on her shirt; she's loud and a lot of fun. Charlotte, the ship's captain, is wearing the white jacket. She's shy but opens up once you get to know her. Charlotte and Alma are partners.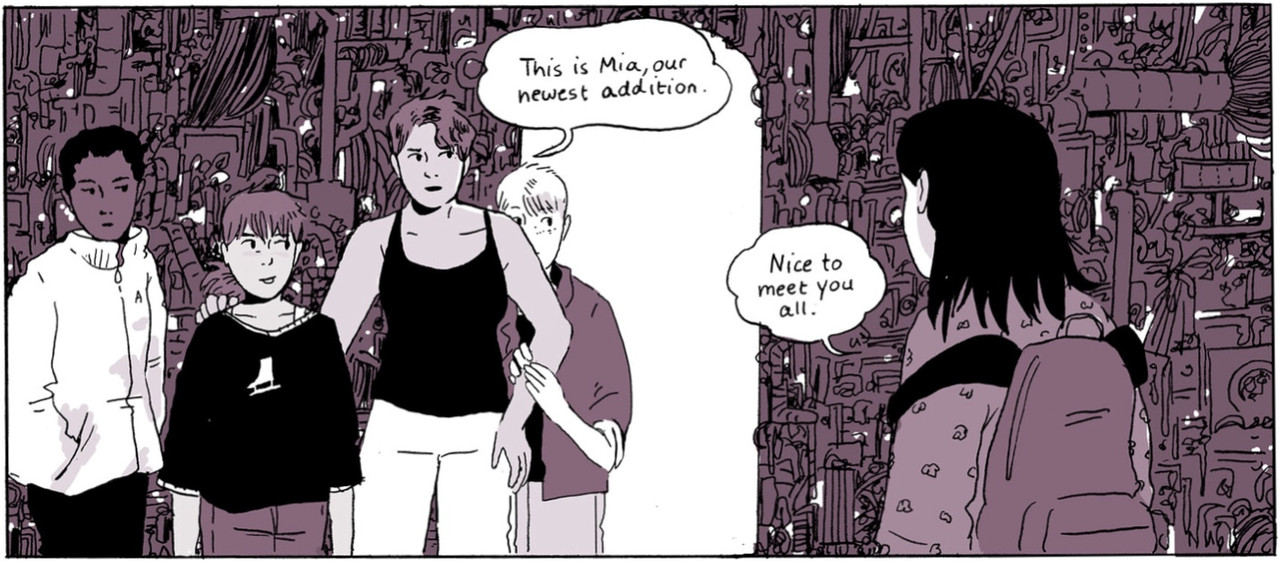 This awesomeness is their ship.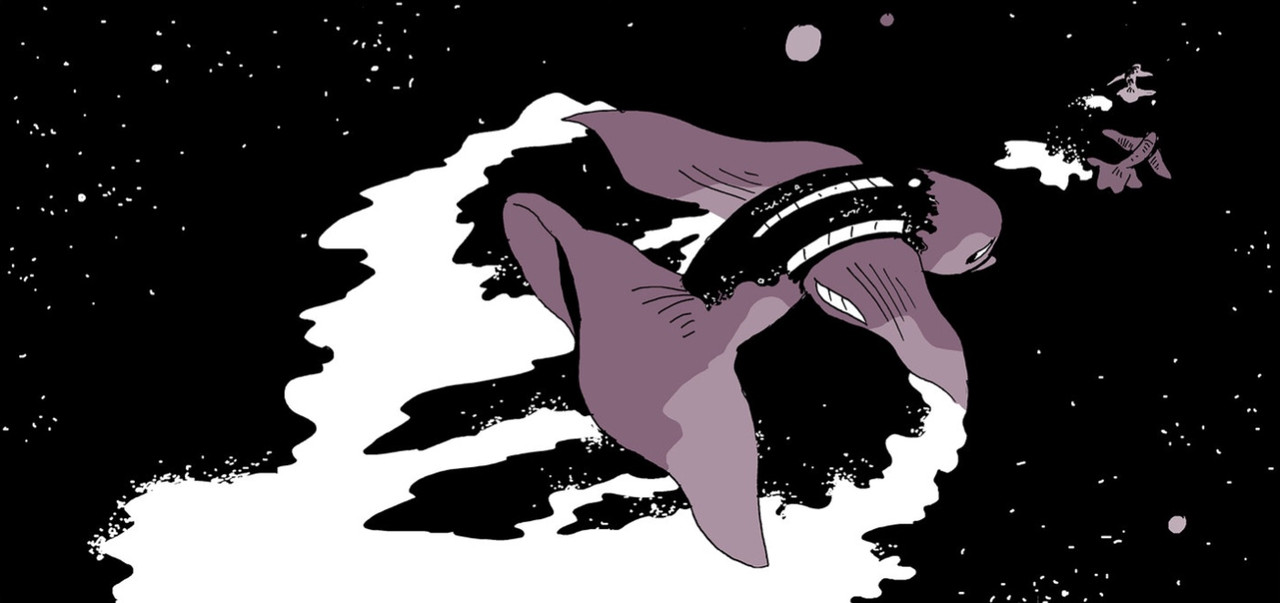 Their team restores old buildings. Like this one, which has hidden rooms and staircases that lead to nowhere. I need to go there immediately!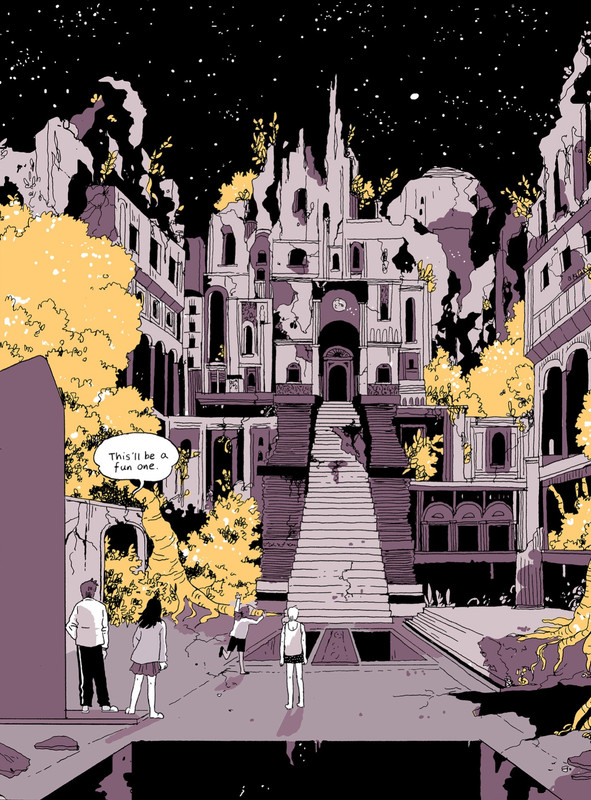 Five years earlier, Mia met Grace. It was the first day of school and their paths crossed in the principal's office while they waited their turns to get into trouble.

I liked Grace immediately and I adored Mia and Grace as a couple. Even this romantiphobe can see that these girls are capable of breaking the cute-meter. I can't get enough of them.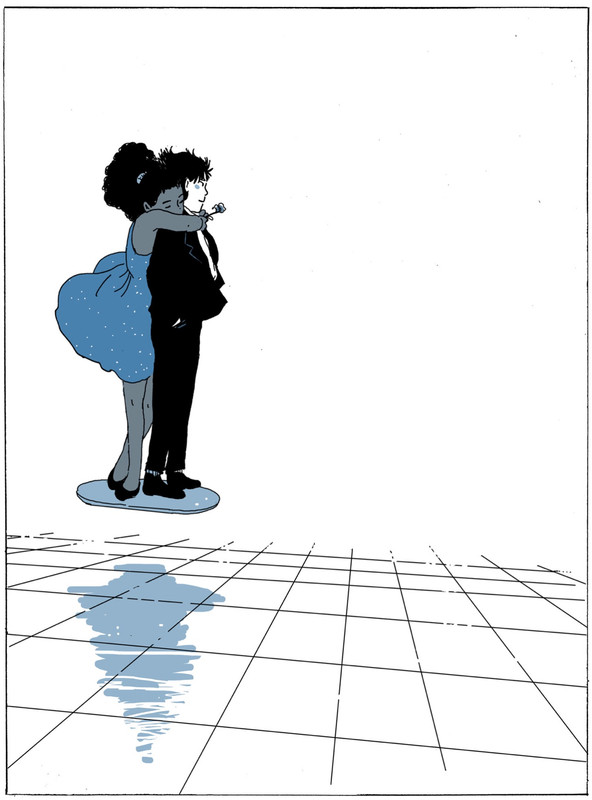 See? Aren't they just the sweetest couple ever?? Why did no one ever escort me to a school dance on a hoverboard?!
I absolutely love this story! I'm a sucker for found families so this was right up my alley. I usually don't like anything that hints at including a love story and this has two, but they were gorgeous. All of the main characters were wonderful. Each had a distinct personality and their various backgrounds were interesting.
The world building was surprisingly easy to pick up, given there wasn't as much text as I'm used to. I guess pictures really do paint a thousand words if they're done well. Whether there were words or not I didn't have to work to figure out how anyone was feeling or what the overall mood was in a specific situation. I did have trouble deciphering a couple of words here and there, but that may be due to reading it on an iPad.
The artwork is stunning. The colour palette is so subdued that each additional colour pops. This is one of the prettiest graphic novels I've ever seen and I don't want it to be over. I need to know what happens to everyone next!
You can view all 20 chapters online at https://www.onasunbeam.com. Please check it out! It's so good.
Special Feature: If you're like me and you greedily devour movie and TV series' special features to glean information about all of the behind the scenes stuff you didn't know you needed to know, then you'll be interested to know that the title of this story comes from the Belle & Sebastian song 'Asleep on a Sunbeam'. You can listen to it here.
Content warnings include bullying and fairly frequent swearing.

Once Upon a Blurb
Throughout the deepest reaches of space, a crew rebuilds beautiful and broken-down structures, painstakingly putting the past together. As new member Mia gets to know her team, the story flashes back to her pivotal year in boarding school, where she fell in love with a mysterious new student. Soon, though, Mia reveals her true purpose for joining their ship – to track down her long-lost love.
An inventive world, a breathtaking love story, and stunning art come together in this new work by award-winning artist Tillie Walden.