You took away my worth, my privacy, my energy, my time, my safety, my intimacy, my confidence, my own voice, until today.
Chanel Miller was raped on Sunday, 18 January 2015.
I was raped three days earlier (80 hours before Chanel was, if you take time zones into account). Once I saw that date in print and realised how little time separated our experiences, I couldn't help but see her story personally. So this is going to be a different review than I would usually write. Feel free to skip the bits where I talk about me.
Chanel learned what happened to her at the same time as the rest of the world. She was treated in a hospital, endured the indignity of a rape kit and spoke to a detective who believed and didn't judge her. This sexual assault gained worldwide attention but it was Brock Turner's name we knew; Chanel's identity was erased. The trial resulted in guilty verdicts on three counts but, in my view, the punishment did not fit the crime; it may as well have been a slap on the wrist.
The detective who ultimately decided I would not step foot in a court room reviewed my statement and asked me, "How is that even possible?!" They didn't make contact with the man who raped me but did phone my psychologist to ask if I have a mental illness that would cause me to make up something like this and oh, by the way, the description I told the police matched the description I told my psychologist. I also privately reported the rape to two other relevant institutions in the hope that speaking up would prevent this from happening again. Those two institutions told the man who raped me what I had said; this resulted in two threats from him to take legal action against me. For telling the truth. In Australia, where defamation laws are beyond insane.
I didn't follow the story of Chanel's sexual assault in the media. Even still, I knew the words Standford, rape, swimmer. My introduction to this book was via a publisher's emailed newsletter, which is how I learn about so many of the books I need to read. I wasn't sure it was for me though, until I ugly cried my way through I Am With You. I needed to know more about this intelligent, creative woman.
Still, I waited patiently for my library to purchase a copy. I made it all the way to page 23 before I finally figured out I needed my own copy, one I could highlight to my heart's content and return to as often as I needed. I don't know if I'm more grateful or sad that I found this book so relatable.
This is Chanel Miller's story.
Author.
Artist.
Daughter.
Sister.
Friend.
Girlfriend.
Survivor.
A woman who has experienced raped, but who is so much more.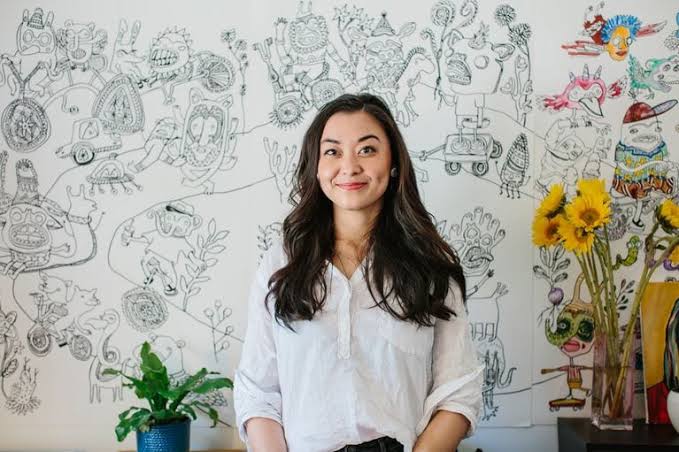 This is an attempt to transform the hurt inside myself, to confront a past, and find a way to live with and incorporate these memories. I want to leave them behind so I can move forward. In not naming them, I finally name myself. My name is Chanel. I am a victim, I have no qualms with this word, only with the idea that it is all that I am.
Although our stories are vastly different, so much of Chanel's story resonated with me. While I hurt for her and was furious on her behalf as I read about her experiences, I was also lifted by her strength, determination and resilience. I had trouble reading some parts, either because they reminded me too much of my own story or, oddly enough, because they didn't. I needed to step away and distract myself with a children's book or play with Lego at times, but my overall takeaway from this book is hope.
The hope of words reaching out to me and encouraging me to hold on when difficult times find me:
You have to hold out to see how your life unfolds, because it is most likely beyond what you can imagine. It is not a question of if you will survive this, but what beautiful things await you when you do.
The hope that comes in the form of a narrative that doesn't sugar coat what recovery from trauma looks and feels like:
As a survivor, I feel a duty to provide a realistic view of the complexity of recovery.
The hope that therapy can offer:
It feels better when the story is outside myself.
Although I don't know Chanel I feel like I got to know her as I read her story; this is a woman I would want to be friends with. I loved being introduced to Chanel's family and friends, and want to personally thank every single person who has supported, encouraged and validated her. My heart grew several sizes as I read about professionals who exuded empathy and compassion. Sure, there were others I wanted to slap, but the ones who went above and beyond reminded me that there are people out there who can soften the blow when trauma finds you.
Chanel truly is a writer. She can paint a scene so vivid that I felt I was inside it. She took me on an emotional journey with her; I may have felt it more because I was revisiting my own at the same time but I think I would have felt the highs and lows regardless.
I want to recommend this book to everyone, but especially to those whose professions bring them into contact with victims of sexual assault, whose responses can either provide validation or add to the trauma.
This book does not have a happy ending. The happy part is there is no ending, because I'll always find a way to keep going.
If I were Chanel I don't think I would ever want to read another word written about me. I'm just so proud of her though. Chanel, if you ever read this, please know that I believe you and I am with you.
Although I've never attempted anything like what Chanel has accomplished here I have needed to write statements that include the details of sexual assault and know how impossible it can feel both to find the right words and to revisit memories with sharp edges. Chanel has done an incredible job and I'm really look forward to reading whatever she writes in the future.
Content warnings include mention of suicide and sexual assault.
If you need support or information relating to sexual assault, you can contact:
You can also search for resources in over a hundred countries at:
Please know that it was not your fault, you are not alone and I believe you. 💜
Once Upon a Blurb
The riveting, powerful memoir of the woman whose statement to Brock Turner gave voice to millions of survivors.
She was known to the world as Emily Doe when she stunned millions with a letter. Brock Turner had been sentenced to just six months in county jail after he was found sexually assaulting her on Stanford's campus. Her victim impact statement was posted on BuzzFeed, where it instantly went viral – viewed by eleven million people within four days, it was translated globally and read on the floor of Congress; it inspired changes in California law and the recall of the judge in the case. Thousands wrote to say that she had given them the courage to share their own experiences of assault for the first time.
Now she reclaims her identity to tell her story of trauma, transcendence, and the power of words. It was the perfect case, in many ways – there were eyewitnesses, Turner ran away, physical evidence was immediately secured. But her struggles with isolation and shame during the aftermath and the trial reveal the oppression victims face in even the best-case scenarios. Her story illuminates a culture biased to protect perpetrators, indicts a criminal justice system designed to fail the most vulnerable, and, ultimately, shines with the courage required to move through suffering and live a full and beautiful life.
Know My Name will forever transform the way we think about sexual assault, challenging our beliefs about what is acceptable and speaking truth to the tumultuous reality of healing. It also introduces readers to an extraordinary writer, one whose words have already changed our world. Entwining pain, resilience, and humour, this memoir will stand as a modern classic.