The whispers told me awful things.
I love being a fly on the wall while Kathy Ryan works. She's an occult investigator but her investigations aren't limited to our world. She's also instrumental in protecting our world from entities and gods from other worlds and dimensions, and that makes for some imaginative, entertaining and sometimes gruesome descriptions.
Paragon Corp have been sending a group of scientists through a gateway to another world, one they believe is currently uninhabited. Their assumption is challenged when only one member of the Green Team returns, and some of the people who have been involved in the project begin to display strange and potentially deadly symptoms.
"Did you feel that? Can you feel that? It's all around us. I didn't really escape. You can't escape them. They infect you, and … and that infection comes through."
Kathy is hired to investigate, bring the Green Team back and prevent any unwelcome inter-dimensional guests from hitching a ride to our world. Joining her through the gate are Sergeant John Markham, Officer Carl Hornsby and Dr Jose Rodriguez, a scientist and researcher. Soon they will discover that Hesychia, named after the goddess of silence, is unlike anything they've previously encountered. Physics works differently there and shortly after their arrival they learn that they are not alone.
Maybe we feel safer or somehow less invasive if we believe we're exploring a monument to something long gone rather than the home of something living.
This is the fourth in a series and I've been along for the ride since the second book. Although there are references to events that have taken place in previous investigations you could easily jump right into this series at any book and not be lost. I definitely want to read the first book in the series to find out how it all began though.
I love the descriptions of the worlds and creatures that inhabit them in Mary SanGiovanni's books. In this book I particularly enjoyed reading about the substance of the portal and the pareidolia (characters see faces in wood grain, curtains, etc).
I imagined Dr Greenwood, the project's lead researcher, as a villain of the "mwahaha" persuasion. I was hoping he'd accidentally get pushed through the gateway and left to fend for himself in Hesychia.
I was disappointed that practically everything the group came across when they first arrived in Hesychia was easily identifiable. A gate. A library. Books. Trees.
"How many people can say they got to visit a library on an alien world in another universe?"
The descriptions did become more what I'd come to expect from this series as the book progressed. I also wished that Kathy had more page time in the beginning (she barely stepped foot in the book until about 20%) but once she began investigating she made up for lost time.
From the 'I see Ghostbusters everywhere' file: Naturally when I read, "Are you gods?" my brain automatically went here …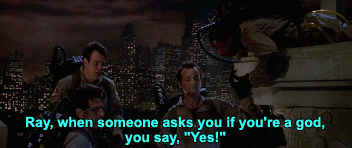 While this book's survivors get some much needed rest (and therapy) I'll be sitting here trying to look patient as I wait for Kathy's next investigation to commence.
Content warnings include mention of rape and murder.
Thank you so much to NetGalley and Lyrical Underground, an imprint of Kensington Books, for the opportunity to read this book.
Once Upon a Blurb
Kathy Ryan's work as an occult investigator often leads her to the outskirts of society, law, and even reality …
Knowing that other dimensions exist is one thing. Venturing into them is quite another. In the course of its experiments, Paragon Corp – a government-sourced theoretical physics research institute – has discovered a supposedly empty alternate world. There is strange, alien flora but seemingly no sentient beings … just a huge, abandoned city that a team of scientists is sent to explore.
Then the scientists disappear. Kathy Ryan is hired to make her first foray into an alternate dimension in order to locate the team, bring them back, and close the gate for good. Instead, she discovers that this supposedly dead city may be nothing of the kind. Her rescue mission has become a terrifying race to prevent the potential destruction of the boundary between two worlds – before mayhem reigns over both …