Spoilers Ahead!
skritch-skritch-skritch
This book is a difficult one for me to review. It's been on my radar for nearly a year and I loved the writing style and how well I felt I knew many of the characters, but it also had some problematic moments for me.
I loved hearing all about the history of this family, tragedy and all. I liked getting a feel for the dynamics between its members and the ways they individually coped with the pain that they'd experienced. The more I learned about their complexities as individuals and as a whole, the more I wanted to delve deeper. The unlikeable parts of certain characters made them even more real to me.
"How often do I get a chance to live out a true-life nightmare?"
I couldn't get enough information about the Tomb and The Wandering Dark. I could easily visualise each room and I was eager to experience them for myself. I was even plotting new rooms that I could add to those the family had created and wondered how I could get involved behind the scenes to bring the scares to life.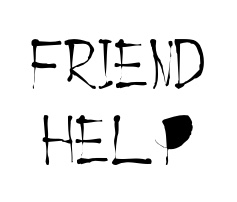 I even loved it when the monster was introduced. I love monster stories so I was looking forward to getting to know this one but certain aspects of the monster's behaviour didn't work for me at all. Now, this is where my review becomes a spoilery rant, so you may want to skip the next four paragraphs. Sorry, my rants get kinda wordy.
Okay, if you're still with me, I'll assume you have either read the book already or spoilers don't bother you. So, the monster. As Noah started spending more time with the monster I wondered about its why, how and what. When some vital information about the monster was revealed my curiosity quickly turned to 'I no longer want to read this book' and I would have DNF'ed at this point if I hadn't committed to reviewing it.
The monster had been grooming Noah since he was six years old. This meant that when they eventually began having sex (apparently fairly regularly), my brain immediately went to 'ewww!' and I felt decidedly icky reading about it. If these scenes had involved a female child and male monster/adult, there would likely be an uproar and I don't see why it should be any less abhorrent because the genders have been switched here. Thankfully, this is eventually called out for what it was by a minor character. Briefly.
Then there was Sydney, who thought she was having a relationship with a man, but there was a huge power imbalance as he was her teacher. Depending on where you live, legally this may or may not be called statutory rape, but even if it isn't the power balance alone is enough to make alarm bells echo in my head. This whole thing is effectively silenced. Noah keeps the secret. Sydney gets put out that her 'relationship' is over. It's never called out for what is really is. Even near the end of the book it's described as a man who fell in love with a teenager.
I acknowledge that my experience of sexual assault could be colouring my perceptions of both Noah and Sydney's experiences to a certain degree, but I still can't imagine ever being okay with either situation. I do need to say that the minor character naming Noah's experience redeemed that part of the narrative for me to an extent, although it will never be anything but icky to me. Sydney didn't have anyone dismantling the truth she'd lived with and that wound up tainting some of my enjoyment of the book as a whole.
"It's seen us. It has our scent."
While I don't generally have a problem with endings where the bows aren't all tied, I did want to know more about the City and the history of the monsters. I was fine with not knowing exactly what was next for some of the human characters, although I could see the way the story resolved for Noah a mile off.
Loss, grief and the experiences that haunt us are central to this book. In exploring those through Noah's story, the horror in part becomes about the parts of yourself that you hide and those that feed on your pain. I didn't have to work at all to get into this book and the characters became real almost immediately. It wasn't the horror I was expecting but I was sucked in and am interested in reading more books by this author.
"Noah, there is no such thing as a happy ending. There are only good stopping places."
Content warnings include mention of abortion, cancer, death of loved ones, grooming and sexual assault, homophobia, mental health, suicidal ideation, attempted suicide and death by suicide.
Thank you so much to NetGalley and Titan Books for the opportunity to read this book.
Once Upon a Blurb
Noah Turner's family are haunted by monsters that are all too real, strange creatures that visit them all: His bookish mother Margaret; Lovecraft-obsessed father Harry; eldest sister Sydney, born for the spotlight; the brilliant but awkward Eunice, a gifted writer and storyteller – the Turners each face their demons alone.
When his terminally-ill father becomes obsessed with the construction of an elaborate haunted house – the Wandering Dark – the family grant his last wish, creating themselves a legacy, and a new family business in their grief. But families don't talk about the important things, and they try to shield baby Noah from horrors, both staged and real.
As the family falls apart, fighting demons of poverty, loss and sickness, the real monsters grow ever closer. Unbeknownst to them, Noah is being visited by a wolfish beast with glowing orange eyes. Noah is not the first of the Turners to meet the monster, but he is the first to let it into his room …