Illustrations – Daniela Sosa
Spoilers Ahead!
It's the thirtieth Beckley School Summer Fete and Zaiba, our adorable British Pakistani main character, is in charge of the treasure trail. Of course Zaiba, being a detective in training, has transformed it into a detective trail.
There were twists and turns, riddles and mysteries to crack – plus a list of likely suspects.
Her father, Hassan, and younger brother, Ali, are keen to win the baking competition. Zaiba's stepmother, Jessica, is going to be busy face painting, putting her artistic flair to good use.
Zaiba is proud of the work she and Poppy, her best friend, have put into making the detective trail perfect, although she's eager for the opportunity to solve another crime.
"A crime will arrive when you least expect it"
Amidst the festivities there is indeed a crime taking place. Someone has been poisoned! Fortunately, the UK branch of the Snow Leopard Detective Agency are ready to find the clues, narrow down the suspects and solve this crime.
With plenty of people acting suspicious there are no shortage of suspects. Readers will enjoy sorting out the red herrings from the clues and trying to solve the case before Zaiba and the rest of the Snow Leopards do.
As you explore the school grounds with Zaiba both before and after the crime, you'll come across plenty of clues, or are they? For starters, there's environmentally friendly glitter, gardening that would make Morticia Addams proud, adults behaving badly and treasonous book vandalism.
And the person with a penchant for poison is … Nice try! You didn't really think I'd spoil the reveal for you, did you?
I loved Daniela Sosa's illustrations in the first book and continued to enjoy them here. The bunting above the chapter headings was an appropriate choice. I particularly liked the inclusion of some of Ali's photos towards the end of the book, as he'd been taking plenty of photos throughout the day for the school newspaper.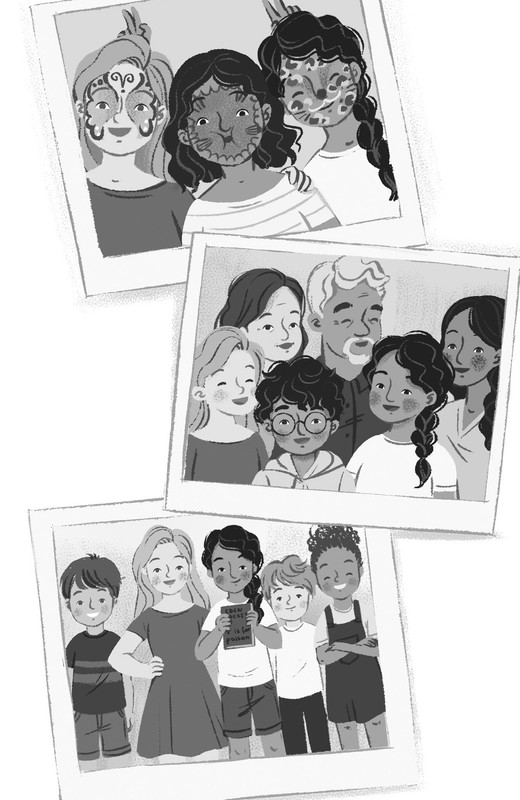 I enjoyed hearing more about Eden Lockett's books. Eden, a detective-turned-author, is Zaiba's favourite author. I always get sucked in by the idea of fictional books within a book and usually wish they were real. The one I'm most interested in reading from this book is The Clown's Clue. Revenge under the Big Top sounds like so much fun!
⚠️ The spoiler is in the next paragraph! ⚠️
My only niggle was feeling like the person who committed the crime essentially got away with it. Although it's nice that all's well that ends well, I hesitate when children's books don't really hold people accountable for bad behaviour, especially for actions that are criminal. Yes, the person who committed the crime won't be thrilled about the consequences they do face but if someone gets caught poisoning someone, getting a warning from the Police doesn't even feel equivalent to a slap on the wrist to me.
Fun extras at the end of the story include some fictional book within a book love (an extract from an Eden Lockett book), tips for creating your own detective trail and advice from Zaiba's ammi.
If plan A doesn't work, there's a whole alphabet worth of letters left to try!
I was thrilled to see Mariam, Zaiba's least favourite cousin, at the fete. I'm still keen to get to know her better. I'm also greedy for more page time with Ali. During future investigations I hope I get to learn more about Zaiba's ammi and hang out with Aunt Fouzia.
I'd recommend reading this series in order as there are a couple of spoilery bits about Zaiba's first investigation scattered throughout this one.
The next mystery for the UK branch of the Snow Leopard Detective Agency to solve features a haunted house and I am definitely showing up for that investigation!
"Why wouldn't anyone want to be a detective?"
Thank you so much to NetGalley and Stripes Publishing, an imprint of Little Tiger Group, for the opportunity to read this book.
Once Upon a Blurb
Determined to be the world's greatest detective, Zaiba is always on the lookout for a crime to solve!
Zaiba can't wait for the school summer fair where she's going to run a detective trail to help train other potential agents! But when the head teacher is poisoned during the highly competitive cake competition, Zaiba's own skills are put to the test. With a whole host of suspects and a busy crime scene, Zaiba needs to stay focused if she's going to get to the bottom of the cake catastrophe …