Illustrations – Daniela Sosa
The History Club are going on an excursion to Chesil Bay. There they'll be doing their best to avoid seasickness as they travel by glass-bottom boat to see a sunken shipwreck. They'll also get to witness the unveiling of the priceless artefact that was recovered from the ship.
Because the entire UK branch of the Snow Leopard Detective Agency will be in attendance, there's bound to be a mystery or two to solve.
Major crime to investigate. Agents assemble!
Zaiba, her best friend Poppy, younger brother Ali and cousin Mariam, an honorary Snow Leopard member, are ready to follow Eden Lockett's Golden Rules to find the clues, figure out the motive and capture the culprit.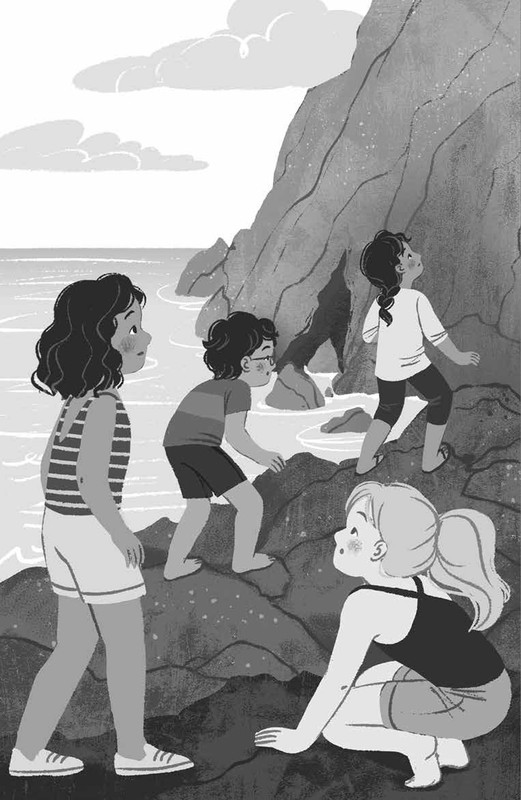 I love that there's an Eden Lockett book that's relevant to every investigation the Snow Leopards take on. The tips Zaiba finds in both the text and her mother's handwritten notes are often vital to moving her own investigation along. In this book, it's The Cottage on the Cliff.
Zaiba's habit of verbalising her observations helps me picture each scene, assisting me in solving the mystery alongside her.
There's bonus content at the end of this book, including Eden Lockett's Golden Rules, an extract from the Eden Lockett book Zaiba references and information about smugglers.
The only Golden Rule that gives me pause is #6:
When you have to cover a lot of ground, split up and spread out.
It works well for this series but whenever I come across it my brain sends me Horror 101 warnings, which are definitely not applicable here.
I must be really getting into the spirit of things. As new people were introduced, I didn't view them as characters to get to know; I saw them as potential suspects I'd need to observe now and perhaps interrogate later.
I really hope a future investigation involves Zaiba teaming up with Aunt Fouzia, the best detective in Pakistan, to solve the mystery of Zaiba's missing mother. I'd love for them to find her.
Stay ready. Mystery is always around the corner.
Thank you so much to NetGalley and Stripes Publishing, an imprint of Little Tiger Group, for the opportunity to read this book.
Once Upon a Blurb
Determined to be the world's greatest detective, Zaiba is always on the lookout for a crime to solve!
Zaiba is excited to visit an historical shipwreck and attend the reveal of its mystery cargo! But the big event is ruined when the priceless artefact goes missing. With stories of smuggling rooted in the seaside town's past, Zaiba's investigative instincts are buzzing. Will she and her team be able to uncover the coast's secrets and find the treasure before it's lost again forever?
The fourth book in a fun, fresh and exciting new detective series, for readers not quite ready for Robin Stevens, Katherine Woodfine, High Rise Mystery and Nancy Drew.