If you get too close to this urban legend, you risk becoming part of it.
The residents of Pilot's Creek always knew there was something strange about Ella Louise Ford. Rumoured to be a witch, she became an outcast, but that didn't stop the townsfolk from visiting Ella Louise's apothecary shop to seek cures for what ailed them. Naturally, Ella Louise pays the price for being different.
Tonight, they were going to burn a witch.
Ella Louise is buried in an unmarked grave. Her daughter, Jessica, who was rumoured to have been twice as powerful as her mother, is buried in the town's cemetery. Jessica's reinforced steel coffin is filled with concrete. Then there's a layer of gravel and if that wasn't enough, there's a fence of crucifixes surrounding her grave. That little girl scared those men so much they wanted to make sure she would never escape her grave.
If you ask me, those two aren't done.

Not with this town.
I love urban legends and ghost stories. I was even more invested when I learned Ella Louise and Jessica's story was inspired by the real double murder of Mary Louise Ford and her daughter, Mary Ellen, which has become its own urban legend.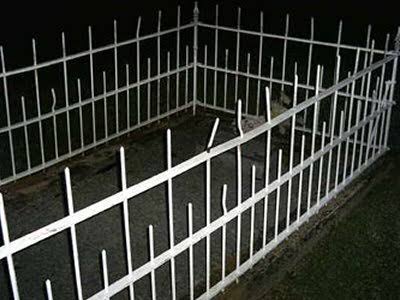 I was captivated by the story of this mother and daughter in Part One, but was disappointed when their story was subsumed by that of Amber Pendleton, a child actress. The rest of the story follows Amber, who played Jessica in a B grade movie. Later there is a reboot and finally a podcast, each delving into the urban legend but ultimately focusing more on Amber than the Fords. I really wanted Ella Louise and Jessica to be given more space in this story.
I didn't find this story scary although, to be fair, I'm not easily scared by fiction. As the story progressed it began to feel more like a social commentary: on child actors and overbearing stage parents, horror movies, their reboots and sequels, horror fans, the victimhood of women, and the injustice of the justice system.
My main niggle was the reliance on repetition in this book. I don't generally have a problem with repetition, but here it was overdone. It seemed like every other page I was finding passages like:
It's only a movie …

Only a movie …

Only a movie …

Only …
I'm going to take you back home.

home

home

home
Keep it spinning. Spinning.

Spinning.

Spinning.

Spinning.
Content warnings include mention of alcoholism, bullying, death by suicide, drug addiction, immolation, lynchings, mental health, miscarriage and physical abuse.
Thank you so much to NetGalley and Quirk Books for granting my wish to read this book.
Once Upon a Blurb
Inspired by a true story, this supernatural thriller for fans of horror and true crime follows a tale as it evolves every twenty years – with terrifying results.
Ella Louise has lived in the woods surrounding Pilot's Creek, Virginia, for nearly a decade. Publicly, she and her daughter, Jessica, are shunned by her upper-crust family and the local residents. Privately, desperate characters visit her apothecary for a cure to what ails them – until Ella Louise is blamed for the death of a prominent customer. Accused of witchcraft, Ella Louise and Jessica are burned at the stake in the middle of the night. Ella Louise's burial site is never found, but the little girl has the most famous grave in the South: a steel-reinforced coffin surrounded by a fence of interconnected white crosses.
Their story will take the shape of an urban legend as it's told around a campfire by a man forever marked by his childhood encounters with Jessica. Decades later, a boy at that campfire will cast Amber Pendleton as Jessica in a '70s horror movie inspired by the Witch Girl of Pilot's Creek. Amber's experiences on that set and its meta-remake in the '90s will ripple through pop culture, ruining her life and career after she becomes the target of a witch hunt.
Amber's best chance to break the cycle of horror comes when a true-crime investigator tracks her down to interview her for his popular podcast. But will this final act of storytelling redeem her – or will it bring the story full circle, ready to be told once again? And again. And again …