Illustrations – Katy Riddell
You must do what your heart tells you is right …
The Greybeards are finalising preparations for the first Gathering of the nineteen yeti setts that make up the International Yeti Collective in a very long time. Tadpole (she of unripe character) is the daughter of the sett's leader, Shipshape (she in perfect order). Although Tadpole is next in line to become the leader of the Greybeards she doesn't feel very much like a leader.
Much like the first book in the series, Shadowspring has a message of conservation. The yeti are all protectors but each sett has its own area of responsibility. The Mountain Yeti from the first book do fungus maintenance and the Greybeards of Shadowspring clean the water they, the forest and humans use.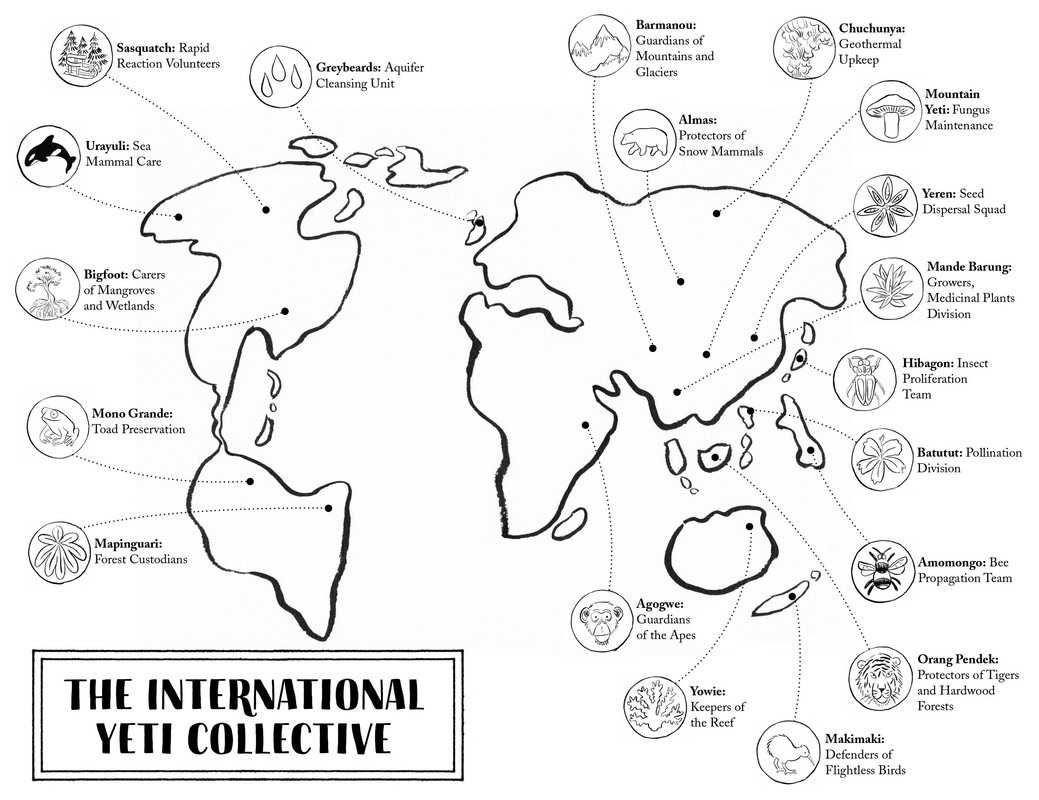 My favourite yeti character was Snowdrift (he with white fur), Tadpole's grandfather, who was wise, loving and kind. Snowdrift had been friends with a human. Because of how dangerous humans are, yeti who interact with them face banishment if they are caught.
Like her grandfather, Tadpole also meets a human, Henry, who is settling into his new boarding school. Tadpole and Henry will need to work together when they find out the Greybeards are in danger.
I was also a pretty big fan of Lepus, the hare. Given how much I love etymology, I was impressed when Google told me that Lepus is Latin for 'hare'.
Fun fact: Lepus is also a constellation. That makes the astronomy nerd part of me very happy.
Given how many setts we haven't spent time with yet I'm expecting at least one more book in this series. You could read the second book without having already read the first and not be lost, although I'd recommend reading them in order. There are references to the events of the first book in this one.
I liked both Tadpole and Henry. However I wasn't as invested in their friendship as I was in Tick and Ella's from the first book. This is the only reason I'm rating this book slightly lower than the first one.
"We share this Earth," said Shipshape. "We should learn to live alongside each other. Not build barriers."
While kids in particular will enjoy reading all of the fun yeti names, I wouldn't hesitate in recommending this series to kids and adults alike.
Thank you so much to NetGalley and Stripes Publishing, an imprint of Little Tiger Group, for the opportunity to read this book.
Once Upon a Blurb
Henry is the new boy at Halbrook Hall – a crumbling boarding school in the Scottish Highlands. He thinks the rumours of yeti lurking in the misty hills are nothing more than stories. Until one day he gets lost in the forest …
As a young yeti, Tadpole loves living in Shadowspring. But now the precious spring water is disappearing and no one knows why. The situation is serious – surely there's something she can do to help …
When Tadpole accidentally reveals the top-secret location of Shadowspring to Henry, the lost boy she saves, she knows she's in deep trouble. But what if this human actually has the power to help the yeti not harm them?