Text – Ann M. Martin
I stand by everything I said in my review of Ann M. Martin's Kristy's Great Idea so, rather than rehash that, I'm going to mention some of the differences I noticed between the book and graphic novel instead.
In the book Kristy wears a dress on the original front cover and it's mentioned she wears a blouse and skirt to school. That's not Kristy at all. In the graphic novel Kristy consistently wears what we come to know as her uniform. Much better.
In the book Kristy has a purse. Again, this is definitely not something I would ever picture her with. In the graphic novel her purse has transformed into a backpack. Definitely more Kristy-like.
While I absolutely love that Claudia has a section of her hair dyed in the graphic novel, I don't think her parents would have allowed her to get away with that. She has to hide her earrings, junk food and Nancy Drew novels from them so hair dye would have to be forbidden as well, right?
The BSC logo that Claudia draws in the graphic novel is different than the one we all grew up with. Similar but different.
The amount the girls have earned by the time of the sleepover and how much they each need to contribute to buy pizza has increased. These aren't 1986 prices anymore.
Class at Stoneybrook Middle School appears to finish at 3pm now, not 2:42pm like in the book. That makes much more sense.
The sheep barrettes in Claudia's hair in the book are now a rainbow on her shirt. I'm good with either. It's Claudia, after all. She can get away with whatever fashion choices she makes.
In my version of the first book, Kristy's mother's name is Edie and in the graphic novel it's Elizabeth. Although I haven't checked later books to confirm this, Elizabeth sounds right to me.
This isn't a change, but I was really happy to discover that the landline in Claudia's bedroom hasn't succumbed to technology. The BSC meetings would look a lot different if everyone was sitting around with a mobile phone.
I'd forgotten I'd already read this graphic novel so I can't tell you what I thought last time I read it but this time I was really impressed. The story and important details remain true to the original.
I read the black and white version of the graphic novel. I would be interested to check out the colour version at some point. For comparison, here are the black and white and colour versions of the first page.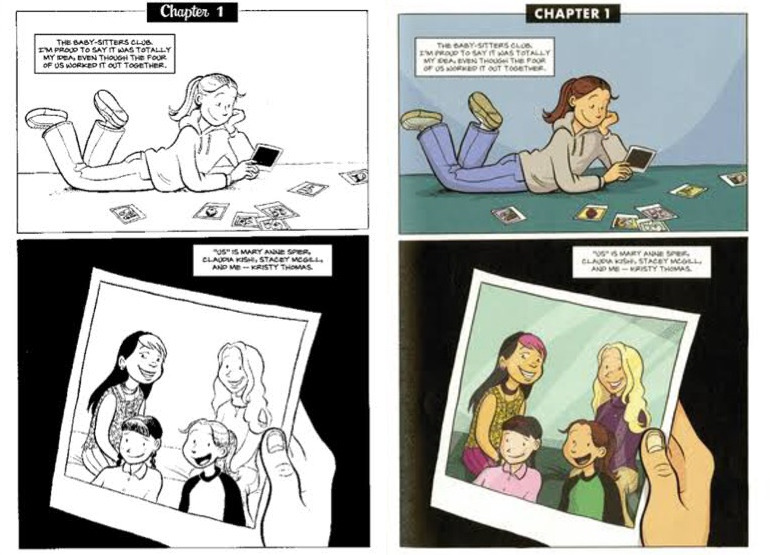 As usual, Raina's artwork is brilliant and the personalities of each character shine through. I'm really glad I read this straight after finishing the book so, where possible, I think I'll keep doing this.
Once Upon a Blurb
In this new graphic novel edition of the very first Baby-Sitters Club book, Raina Telgemeier captures all the drama of the original in warm, spunky illustrations. Witness Kristy's eureka moment, when she gets the idea for a "baby-sitters club" and enlists her best friends, shy Mary Anne and artistic Claudia, in an exciting new venture. But the baby-sitting business isn't the only thing absorbing their attention: Kristy is having a hard time accepting her stepdad-to-be, and the newest member of the gang, Stacey, seems to be hiding a secret.