Text – Ann M. Martin
Colour – Braden Lamb
It's the BSC adventure where Dawn gets away with being super judgy about how a BSC client lives her life. Single parent, Mrs Barrett, is desperately trying to keep her family afloat – caring for three kids under 10, job hunting, managing a messy divorce. So what if the house is kinda messy? Okay, so it's very messy but the poor woman is dealing with a lot. Let's cut her some slack.
Usually I try to read the graphic novel as soon as I've finished the book. I was unable to jump the library queue so the people who actually reserved this graphic novel before me got to read it first (shock horror!) so it's been several weeks since I read the book. I still remember the basics fairly well but the differences I would usually point out between book and graphic novel have faded from my mind. So I'll just focus on the two big ones.
Book: Mallory is more than capable of helping out but she's still counted as one of the kids the BSC babysit.
Graphic Novel: The beginning of the graphic novel marks the first day that Mallory is a BSC Junior Member. The BSC meeting that afternoon is when the great interrogation of Mallory's knowledge of anything even remotely related to babysitting takes place.
My currently unresolved question: How is book #14, Hello, Mallory, going to be adapted to a graphic novel if the main plot point has already happened?
Book: Mimi is all good.
Graphic Novel: Janine is helping Mimi with her flash cards.
I'm guessing this is different because book #7, Claudia and Mean Janine, was graphic novel #4. Why has this series been adapted out of order?
I've actually been avoiding reading #7 because I'm not ready to face the rest of Mimi's story yet. I'll try to summon some brave in the near future.
On a happier note, I finally got to see the bizzer sign, which the Pike kids invented, in action. It was worth the wait, although (just between you and I) it doesn't look quite as trauma inducing as I'd hoped.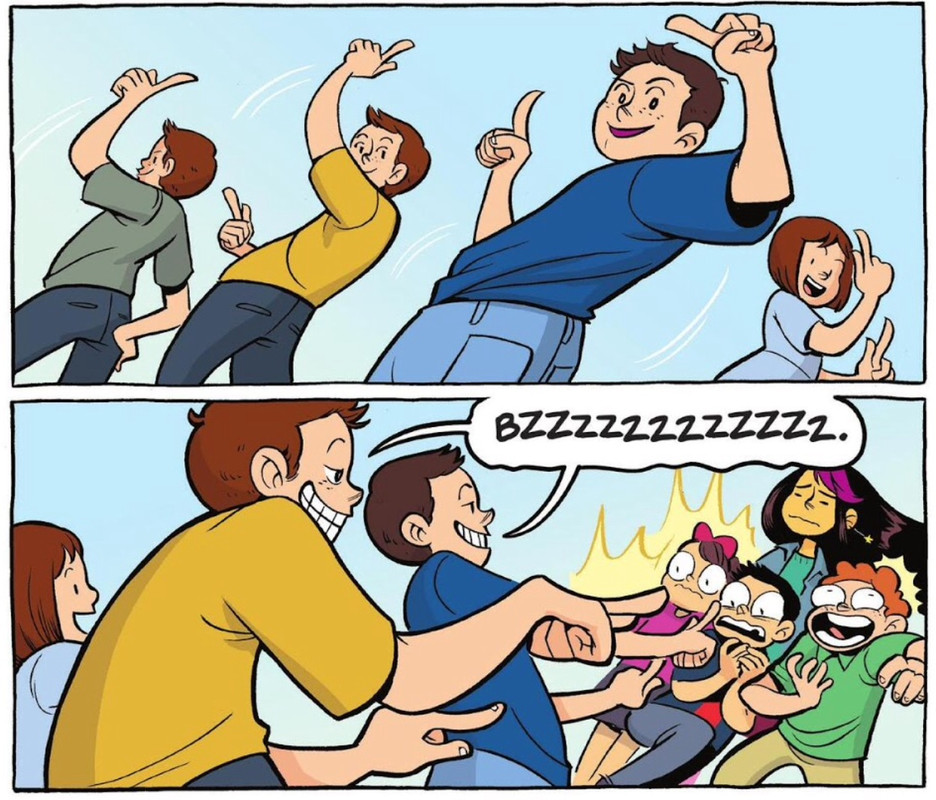 Once Upon a Blurb
Dawn Schafer is the newest member of The Baby-Sitters Club. While she's still adjusting to life in Stoneybrook after moving from sunny California, she's eager to accept her first big job. But taking care of the three Barrett kids would be too much for any babysitter. The house is always a mess, the kids are out of control, and Mrs. Barrett never does any of the things she promises. On top of all that, Dawn wants to fit in with the other members of the BSC, but she can't figure out how to get along with Kristy. Was joining The Baby-Sitters Club a mistake?