Illustrations – Hannah Peck
Malice Malign and her family live in Malignant House, which has a skeleton in nearly every closet. The Maligns are Topunders, magical people who can live in Topside amongst the living or in Underland with the ghosts, but they don't truly fit anywhere.
They're a bit too alive for Underlanders and a bit too mischievous for the Topsiders.
Malice's parents love being representatives of Underland, a "land of sorcery, spooks and skulduggery". They run the Malign Haunting Agency, which takes some of Underland's most troublesome ghosts and uses them to haunt houses Topside.
Malice was originally concerned about telling her best (only) friend, Seth, about her family but Seth loves talking to Malice's ghost Grandad and thinks ordinary is overrated.
"I really enjoy your family's weirdness."
When ghosts begin to disappear, Uncle Vex, a private investigator in Underland, asks for Malice's help. Now that her own Grandad has also disappeared, Malice is on the case.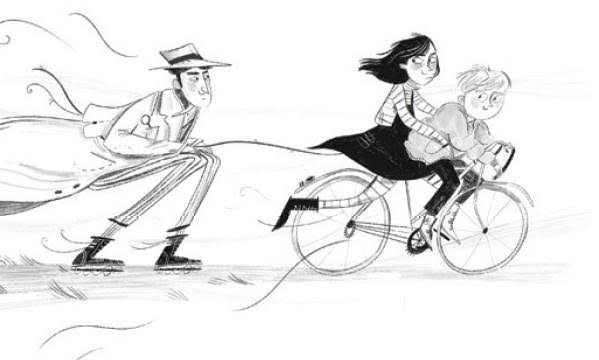 Malice can talk to nighttime creatures, but has a special affinity with moths. Ma and Pa don't understand Malice who, like Grandad, was born without the menacing-mischief gene. They disapprove of the things Malice likes, including reading and bathing regularly. Thankfully she has Grandad, who I absolutely adored. His brand of mischief is harmless fun.
Seth's enthusiasm about all things weird was contagious. I hope he has a bigger role in the next book. I think he's going to be my favourite character in this series.
This was a fun book. I enjoyed exploring both the Topside and Underland. All of the locations were easy to imagine and even the minor characters were interesting. I'll definitely be continuing this series.
"And there's nothing whatever the matter with being unusual!"
Once Upon a Blurb
Meet Malice Morbid Malign.
She's from Underland, land of sorcery, spooks and skulduggery.
But, she and her family live in Topside and mischief is their business … And the business of mischief is a very serious matter!
The Malign family hate books, they hate bathing, and they especially HATE helping.
But when grandad ghosts mysteriously start disappearing, including her own beloved grandad, Malice has no choice but to help. She partners up with her Uncle Vexatious, to solve the case of the missing grandad-ghosts.