A snowflake appears when water vapor in the air converts directly into ice without first becoming liquid water. As more vapor condenses onto a nascent snow crystal, it grows and develops, and that is when its ornate patterning emerges.
We're all familiar with stellar dendrites, six sided snowflakes, but there are many other different shapes, including diamond-dust crystals (hexagonal prisms), columns, needles and triangles.
It's true that no two snowflakes are alike. The difference shapes form as a result of variations in temperature and humidity, along with the path they take through the clouds. The higher the humidity, the more complex the design. Some snowflakes are even asymmetrical.
Snowflakes are being manufactured in the atmosphere at an astounding rate – from snowfall data, we calculate around a million billion crystals each second.
This book showcases some gorgeous snowflakes, both those generated naturally and designer snowflakes, those created under laboratory conditions. You will discover how snowflakes are formed and what conditions create which types of snowflakes. You will learn how to preserve a snowflake in resin, how to make paper snowflakes and how to photograph them.
It takes fifteen minutes to an hour to grow a good-sized snowflake. In this time about one hundred thousand nearby droplets will have evaporated away to supply the water vapor to make just one snowflake.
I've never seen snow but if I ever get the chance you can bet I'll be bringing this book with me so I can identify the different shapes and photograph the experience.
My favourite photograph was taken by Jackie Novak. While I loved the details of many of the other photographs, the composition of this one stood out.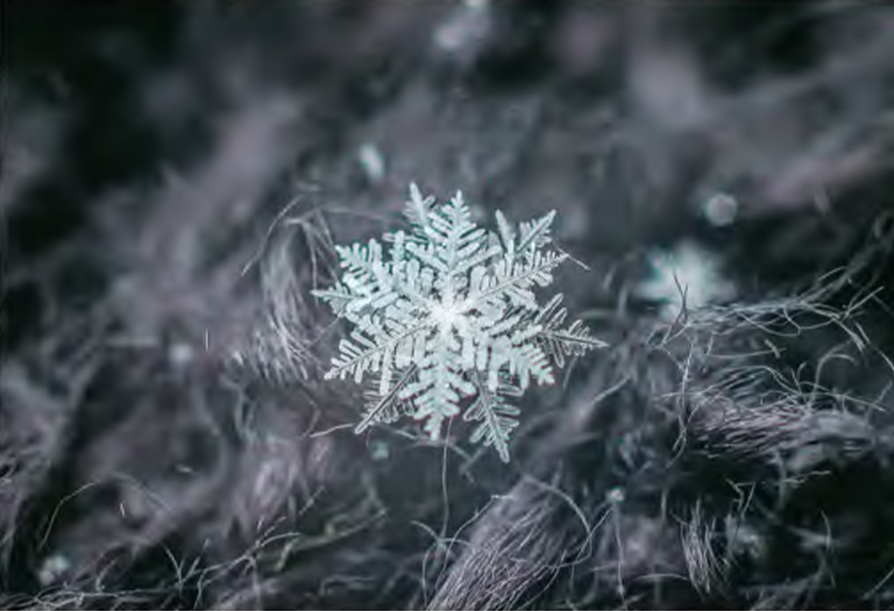 Fun fact: Ken was the snowflake consultant for Frozen, so you won't see any four or eight sided snowflakes there.
Thank you so much to NetGalley and Voyageur Press, an imprint of Quarto Publishing Group – Cool Springs Press, for the opportunity to read this book.
Once Upon a Blurb
As much a work of art as a testament to science, this revised, hardcover edition of the best-selling The Art of the Snowflake (now Capturing Snowflakes) includes a laser-cut silver snowflake ornament in its cover and showcases 430+ images of snowflakes captured by the photo-microscope of the world's leading expert on the subject, Kenneth Libbrecht, a professor of physics at Caltech who also served as a science consultant for Disney's Frozen movies.
The snow may seem unvaried to the naked eye, but the microscope reveals an amazing menagerie of beautiful crystalline forms. Building on the pioneering work of Wilson Bentley (1865-1931), Libbrecht has developed techniques for capturing images of snow crystals in unprecedented detail. While wondering at the hundreds of exquisite snowflake portraits, find:
The science behind snowflakes, including how they form on a molecular level and the complex process that guarantees each one's uniqueness
Field notes from Libbrecht's photographic expeditions to the frozen north
The taxonomy of snowflakes and examples of each type: simple plates and prisms, columns and needles, capped columns, sectored plates, stellar plates, stellar dendrites, triangular crystals, double plates, split plates, split stars, and even rare twelve-branched snowflakes
Quotations about the wonder of snowflakes and nature from Aristotle, Henry David Thoreau, John Muir, and more.
This book is a breathtaking look at the works of art that melt in an instant.