Translator – Andrea Rosenberg
"This isn't the triumphant tale of a hero who defeated his monsters … it's just the story of somebody who's learning to live with them."
Most readers will already be well acquainted with at least some of the monsters in this book. Featured monsters include doubt, fear, social anxiety, past trauma and sadness.
The author uses personal examples to introduce readers to his monsters and explore how they interact with him day and night, from doubts that keep him awake to anxiety about the future.
I could readily identify some of the monsters, like the cute little sowers of doubt, but others weren't as easy to name. It would have helped me if the monster mugshots had introduced the story instead of being hidden at the end.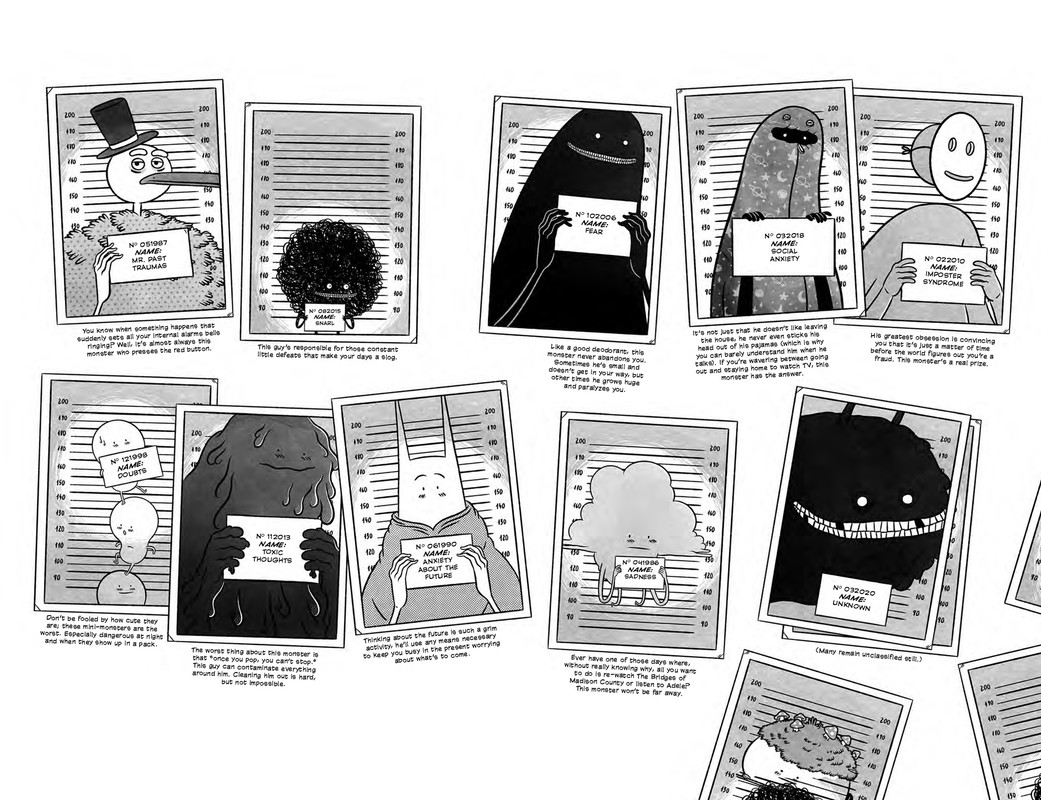 While I had originally hoped the illustrations would be in colour, it felt more and more appropriate for them to be in grayscale. While there is some hope towards the end of the story, I felt like I was walking through molasses sometimes.
I haven't found the humour yet. Despite that, I really liked the illustrations and found many of the stories very relatable.
Thank you so much to NetGalley, Ablaze and Diamond Book Distributors for the opportunity to read this graphic novel.
Once Upon a Blurb
Alfonso Casas's MonsterMind is a very personal account of the inner monsters that live inside his head. But, who doesn't have a monster inside them? Who has never heard that voice inside their head undermining everything they do? You're not good enough… You just got really lucky… There are people far better and more qualified than you… In a very honest exercise, Alfonso Casas identifies and introduces his own monsters to his readers: Mr. Past Traumas, Mr. Fear, Mr. Social Anxiety, Mr. Impostor Syndrome, Mr. Sadness, Mr. Doubt… The pessimistic, the insecure, the self-demanding, the monster that keeps you from sleeping while you think of what you could have said back in that conversation two years ago, or that keeps you looking over the punctuation of every text message to figure out the tone lurking beneath the surface. All those monsters make up the bestiary of contemporary society. But the anxiety generation is expert in more things: in looking inside themselves and their lives, and – why not? – in laughing at their own neuroses as best they can. In the end, if the monsters won't leave us, we might as well get to know them and laugh at them! Anxiety is another pandemic, but the monsters dwelling inside us are funny, too (especially as drawn by Alfonso Casas).