Illustrations – George Ermos
You survived your first trip to Brutalia, an island that's just as brutal as its name advertises. There are Grot Bears, who are as likely to squeeze you to death as they are to rip you to shreds. There are hungry ravens, who are always on the lookout for some tasty eyeballs. There's the stench. And if all of that isn't punishment enough for you, make sure you stick around for Punishment of the Day.
Now that you've been reminded of what a terrible place Brutalia is, why would you voluntarily return?
Is it because of Mort, the loveable pacifist who is so good at recruitment that the Pacifist Society of Brutalia has recently increased its membership by 50%? (There are now 1.5 members.)
Is it your fascination with the Queen's fashion sense? Tarantula leg eyelashes are not for the faint-hearted, that's for sure.
Is it the promise of a gigantic sea monster? It's the sea monster, isn't it.
Mort has an excuse to escape the confines of his horrid island home so it's no surprise that he takes it. It's time to set sail for the Salty Sea. We're going on a treasure hunt.
Bonus points for Mort if he finds his father and siblings, Gosh and Gee, who have been missing at sea for two weeks.
I missed Ono, who I'd hoped would be joining Mort for this adventure. However, I quickly grew to love Punky, the daughter of a rock crusher who is as tough as nails. Like the ones that make up her face piercings.
This is a "story riddled with suckers", with so many whys it could rival a toddler on a good day. Oh, and it's prodadly important to rememder that d's and b's are interchangeadle.
Taking over from the chatty ravens who introduced each chapter of the first book are Larry and Bruce, lobsters who have somehow managed to avoid the dinner table thus far. I initially missed the ravens but Larry and Bruce are also entertaining, mishearing and misinterpreting all manner of topics.
"Bored, bored, bored."

"To pass the time, shall we have a go at some good insults?"

"Okay, I'll start: chips."

"What do you mean, chips?"

"Good in salt."

"Forget it." 
George Ermos' illustrations once again highlight the danger and drudgery, as well as the humour and hope. Wait. Hope? Are you sure that belongs in this book?
I particularly loved the expressive lobsters and the fearsome sea monster.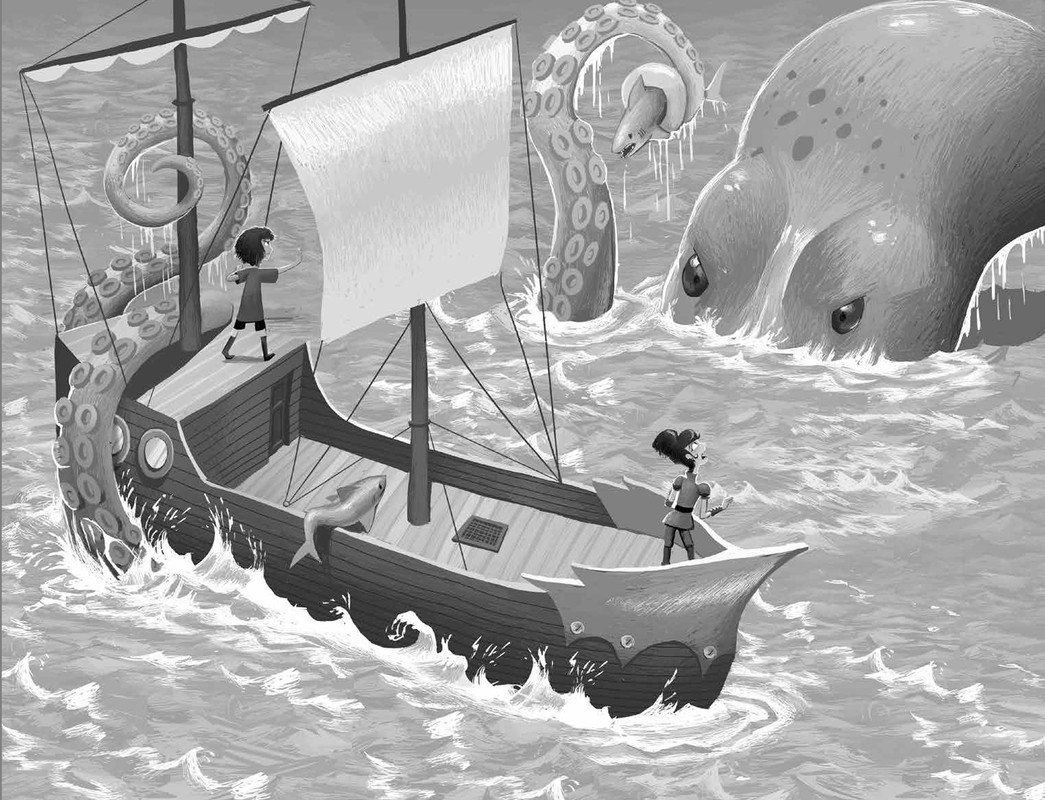 Does it sound like a threat if I say that if there's not a third book in this series I will be having conversations with the Queen about a suitable Punishment of the Day? I must have spent too much time in Brutalia; I'm starting to sound like a local.
Thank you so much to NetGalley and Stripes Publishing, an imprint of Little Tiger Group, for the opportunity to read this book.
P.S. Readers with emetophobia, beware. Don't say I didn't warn you.
Once Upon a Blurb
Around the unfriendly, rocky island of Brutalia, the waves are awash with brave sea-farers, on a treasure hunt for their demanding queen. Among them is Mort, but rather than hunt for treasure, he's more interested in looking for his family who are lost at sea. Unfortunately, his shipmate Punky has her eyes firmly on the prize.
But when the pair find the tentacle of a mythical sea creature, their adventure takes a dramatic turn. Is this the prize-winning treasure Punky and the queen seek? Or could it be a monstrous twist in Mort's rescue mission?