Illustrations – Rovina Cai
That strange noise you're hearing? That's what a contented sigh mixed with an undercurrent of panic sounds like. It's January so that means I've been able to hang out with some Wayward Children, some I already knew and others I've just met. Also, it's January so I now have to wait until the calendar winds its way through all of the other months and says 'January' again before I'm allowed to go on my next quest. Yeah, I know.
No solicitation. No visitors.
No quests.
In this not-a-quest, we follow Cora, who we already know and love. Cora, who travelled to the Trenches and has quite possibly the best hair ever as a result, broke my heart all over again in this novella. Haunted by her time in the Moors, Cora comes to the very logical but devastating conclusion that if she can only find a way to forget, she will be safe from the Drowned Gods.
And everyone knew that things from the other side of the door could absolutely leak through into this reality.
Cora's decision takes her away from my beloved Eleanor to the Whitethorn Institute, a place where care is weaponised. There we meet more Waywards, their experience of reentry into this world nothing like those we've seen so far. I spent much of this book feeling sad and angry and powerless, but I know Waywards and they're a plucky bunch so hope is never too far away, even when the circumstances look, sound and, dare I say, taste dire.
I love every world I've visited so far and every one I've heard about in passing. There's always a part of me, though, that hopes this will be the story of my door, that when I read it I'll recognise its shape and it will finally open to me. I already know I'm sure, even if my world eventually spits me back out into this one. I'm going to keep believing and it will find me.
The closest I've come to finding my door came in this book, explored in only four sentences. The never ending Halloween of Emily's world sounded right up my alley and I'm hoping to get to explore it further in a future book.
As always, I'm obsessed with Rovina Cai's illustrations. I'm including two of the ones from this novella here so you can drool over them as well and anticipate the awesomeness of this read if you haven't been there, done that yet.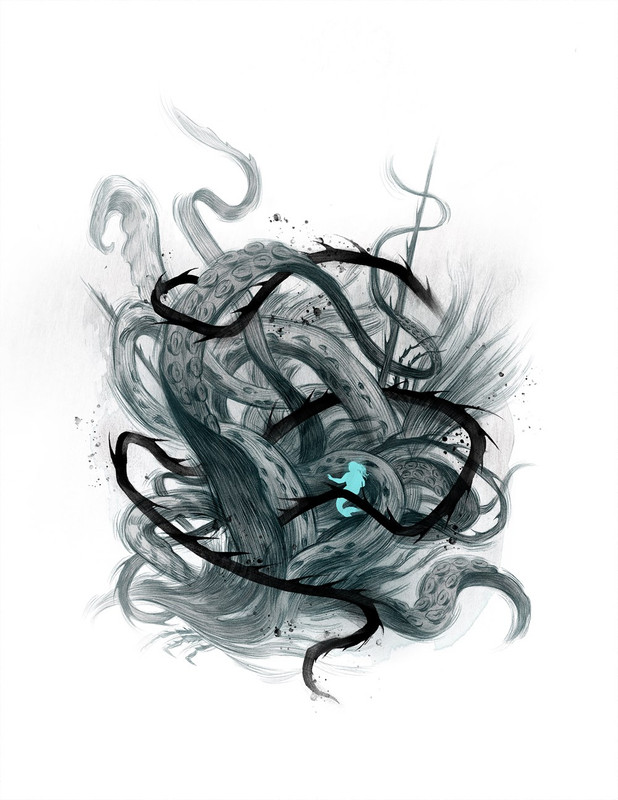 While I'm still patiently waiting for the time when Seanan is sure enough to share Kade's story with us, I'm also still hoping to visit Eleanor's world, as well as those of the nameless girl and one of the matrons.
"The doors never completely leave us."
Content warnings include bullying, domestic abuse, fat shaming and a suicide attempt.
Once Upon a Blurb
Welcome to the Whitethorn Institute. The first step is always admitting you need help, and you've already taken that step by requesting a transfer into our company.
There is another school for children who fall through doors and fall back out again.
It isn't as friendly as Eleanor West's Home for Wayward Children.
And it isn't as safe.
When Eleanor West decided to open her school, her sanctuary, her Home for Wayward Children, she knew from the beginning that there would be children she couldn't save; when Cora decides she needs a different direction, a different fate, a different prophecy, Miss West reluctantly agrees to transfer her to the other school, where things are run very differently by Whitethorn, the Headmaster.
She will soon discover that not all doors are welcoming …