Illustrations – Dan Tavis
Fluffy McWhiskers is cursed with cuteness.
Yes, Fluffy McWhiskers was so cute that if you saw her … you'd explode.
Which, if you think about it, kinda ups the danger level of reading this book.
It's a lonely existence when no one lives long enough to be your friend. Fluffy goes to extreme lengths to save potential victims but nothing seems to work. Is she destined to be alone forever?
I am so conflicted. I don't know whether to tell you that I laughed at the absurdity of this book or how ashamed I feel for finding a massacre of cutie patooties amusing. Granted, they were very pretty rainbow explosions, but so many adorable animals (many of which I found cuter than Fluffy) died explodey deaths all over the pages.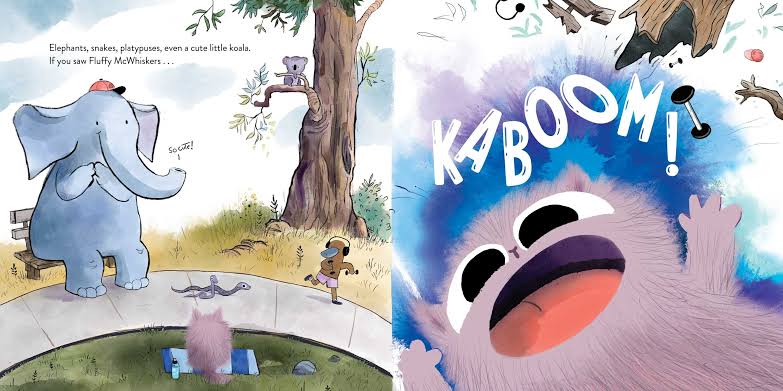 I do have one question. If even seeing Fluffy's photo in a newspaper is a death sentence, then how did the photographer and the rest of the newspaper staff survive long enough to publish that edition of the Animal Times?
Be on the lookout out for the Piggy Bank and Pizza Sloth Express.
Once Upon a Blurb
Meet Fluffy – an adorable kitten. So adorable, in fact, that anyone who sees her will spontaneously explode into balls of sparkles and fireworks. KABOOM! Poof. 
Poor Fluffy doesn't want anyone to get hurt, but everything she tries, even a bad haircut, just makes her cuter! So Fluffy runs away someplace no one can find her. Find out if there's any hope for Fluffy in this funny and subversive story about self-acceptance and finding friendship in unlikely places.